It's been another intense week as the global community continues to combat the coronavirus pandemic. I am proud of my team, working day and night to support our companies playing a part in this effort, mobilize our global community to join that effort in fighting the pandemic, and to identify selective opportunities to get in front of it. Read more about how OurCrowd is working through this period in my interview with CTech.
I highly recommend you watch the recording of the webinar we held last week, where, joined by members of our executive team, I shared our insider view into the impact of coronavirus on startups, implications for the market, portfolio companies fighting the battle, and OurCrowd's next steps. We plan on maintaining strong connectivity with our community and holding various more webinars in the near future – stay tuned on that.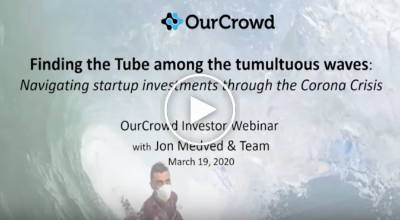 Furthermore, I believe that great companies are built in downturns and technology has a great role to play in solving and helping us get through this crisis. "From diagnosis, mitigation, patient tracking, contamination prevention, and protecting medical staff, to education and exercise for the homebound", check out Israeli startups, several of which we are proud to have in OurCrowd's portfolio, that are working to help defeat this pandemic.
With the above being said, and OurCrowd remaining aware as well as active in supporting the fight against this virus, read on for more tech updates.