Startup hiring spree continues in Q1 2022 but recruitment slowdown looms
High tech remains resilient despite economic and political turbulence
Recruitment trends in Q1 remain strong, but employers more cautious about the future
69% of survey respondents report no negative impact of global economic instability, inflation, and currency fluctuation
First weeks of war in Ukraine did not affect hiring and 86% see no impact of political instability in Israel on companies
"There was a lot of political instability in Israel recently with multiple elections, etc. This did not have any impact on our business. Seems like all governments, center, right or left, support high tech as a growth engine." – Startup CEO
Companies overwhelmingly need R&D/software hires, and have difficulty finding them, creating a strong job-seeker's market and increased awareness of the need for HR professionals
Remote work becomes increasingly permanent as hybrid home/office models become the norm and majority judge remote sales efforts a success
The OurCrowd High-Tech Jobs Index is a quarterly report and data series tracking vacancies and hiring patterns at high-tech companies in Israel and abroad. All data is based on a survey and the Portfolio Jobs section of the OurCrowd website, where more than 150 portfolio companies list current vacancies (Q1 2022 edition, published June 2022).
EXECUTIVE SUMMARY
Hiring remains strong but a slowdown looms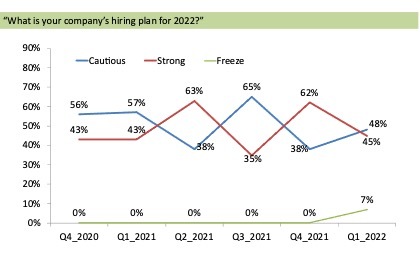 Strong hiring trends of recent quarters continued into Q1 2022, with 69% of respondents in our survey reporting hiring more staff in Q1 of 2022 than the same period last year. However, expectations for hiring through the rest of 2022 are more downbeat relative to Q4 2022. 48% report cautious hiring plans for the rest of the year, an increase from the previous quarter. For the first time, several respondents report a planned hiring freeze. 45% said they plan "strong hiring" in 2022, a decline from 62% in Q4 2021.
High tech sector shows strong resilience to local and global turbulence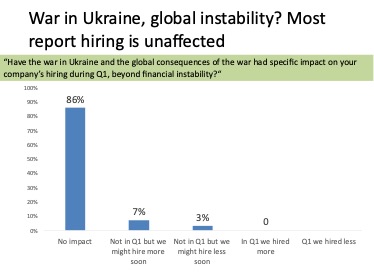 86% of Israeli startups in Q1 2022 say the war in Ukraine had no impact on their hiring plans. The same proportion of respondents are not concerned that political instability in Israel will affect their companies.
69% report that global economic uncertainty, inflation and major currency fluctuations have either a neutral or positive impact on their company. "There was a lot of political instability in Israel with multiple elections, etc," says one mobility startup CEO."This did not have any impact on our business. Seems like all governments, center, right or left, support high tech as a growth engine."
Stiff competition for R&D staff
The most sought-after hires are in R&D/software development, with 86% reporting active hiring in this department, twice as many as in product, which ranks second. R&D/software continue to be the hardest positions to fill. The companies are overwhelmingly seeking software hires with some experience; only one respondent indicates openness to entry-level hires. Three-quarters of the respondents believe that when considering the quality and quantity of candidates, this remains a job seeker's market.
Hybrid work remains hugely popular
The stiff competition for employees overlaps with a steady growth in hybrid models combining office and remote work. 86% report that by December 2022, they expect most employees to be working hybrid – a 20-point increase from Q4 2021, and a return to the level seen in Q4 2020 at the height of the pandemic.
Israeli startups increase staffing abroad
30% of respondents report that the majority of their open positions are located abroad, up from 21% in Q4 2021. 69% offer all or most of their open positions in Israel.
New awareness of HR needs
Several companies say they are paying closer attention to human resources and see it as a business priority. "HR is not something you can do on the fly. In any company the employees are THE most important asset and thus I recommend any CEO from small companies and bigger to have a professional HR recruited as part of the main hires," says Eran Atlas, Co-Founder and CEO of DreaMed Diabetes.
Remote sales efforts prove successful
After two years of travel restrictions when companies were forced to perform many of their sales meetings online, the majority say the remote efforts have proved successful. 62% report that remote sales operations work well or even very well.


The OurCrowd Jobs Index was prepared under the guidance of Dr. Dahlia Scheindlin of Independent Opinion Research & Strategy, who helped re-design the survey and analyze the findings.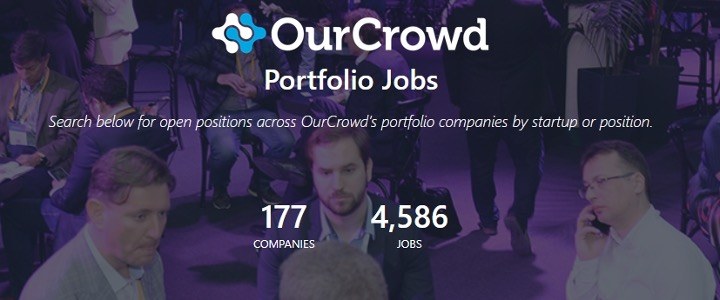 Job openings in OurCrowd portfolio companies, Q1 2022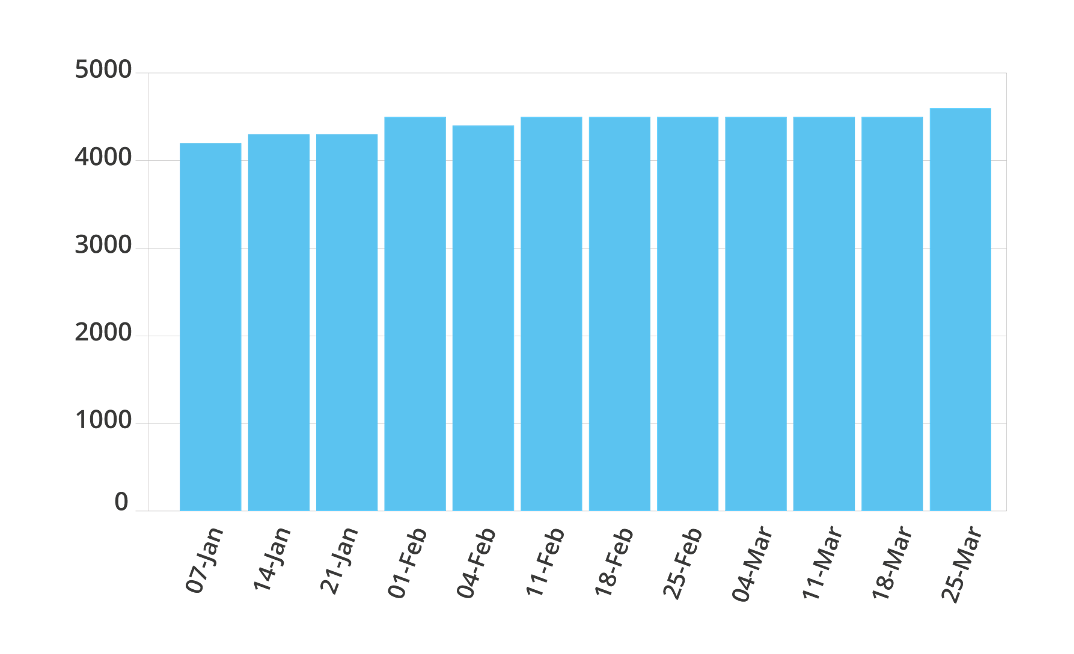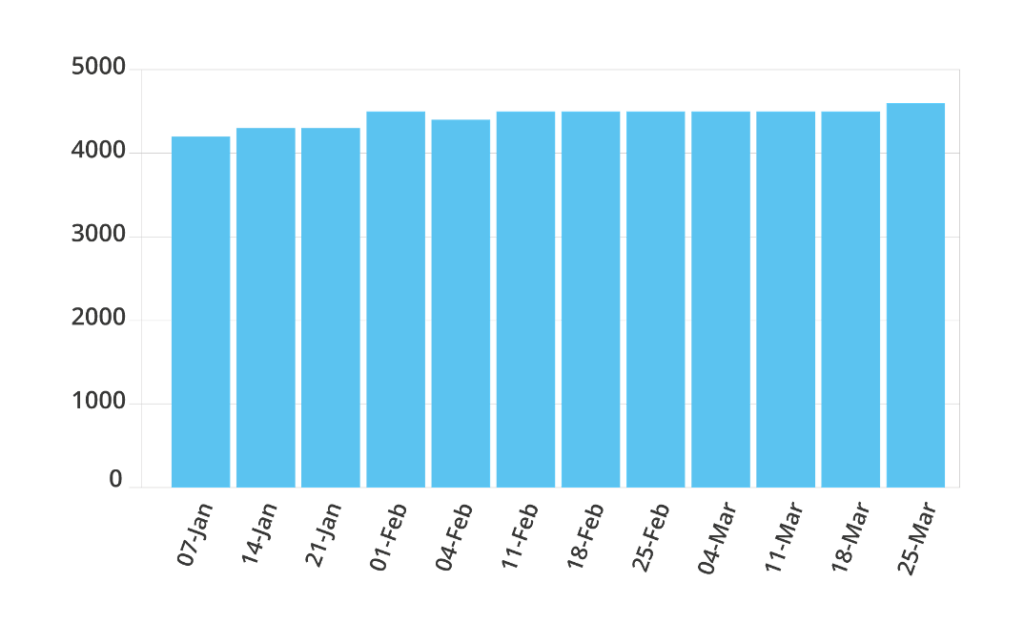 During Q1 2022, the number of open positions advertised by OurCrowd portfolio companies fluctuated only slightly, rising from 4,200 at the start of January to 4,600 at the end of March.
SURVEY RESULTS Q1 2022
Survey of OurCrowd portfolio companies, conducted May 2022, N=29.
1. Companies' hiring patterns in Q1 2022
Compared to this time last year, is your company hiring: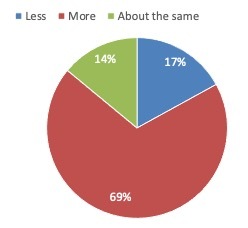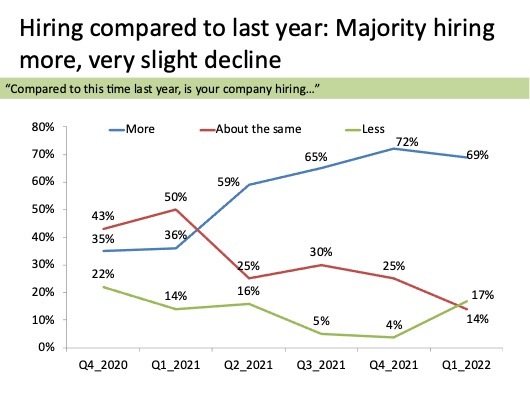 69% of portfolio companies report hiring more in Q1 than this time last year, while 17% report hiring less in Q1 and 14% report no change. Compared to Q4 2021, slightly fewer report strong hiring, while those reporting less hiring rose from just 4% in the previous quarter. Strong hiring increased from 36% in Q1 2021 to 69% a year later, while those hiring less rose from 14% to 17%.
2. Companies' hiring plans for 2022
What is your company's hiring plan for 2022?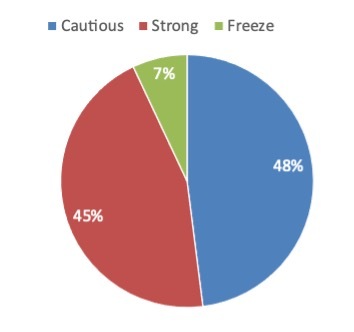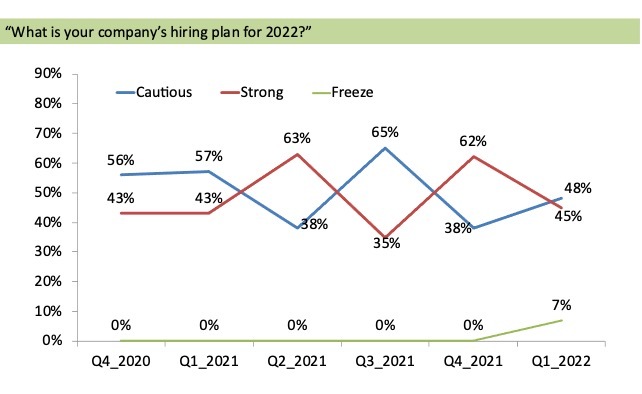 Since OurCrowd's first survey in Q4 2020, hiring expectations for the coming year have been erratic. In Q1 2022, a majority of companies expect future recruitment to be more cautious or plan to freeze hiring altogether. 45% expect to pursue a strong hiring policy for the coming year, a decline from 62% in Q4 2021, but a slight increase from the 43% planning aggressive recruitment during the same period the previous year.
3. Impact of global economic instability
What is the impact of economic uncertainty, inflation, currency fluctuation on your company?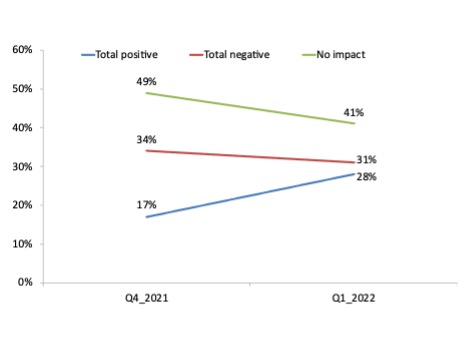 As in Q4 2021, the largest portion (41%) report that global economic instability and other economic pressures do not have an impact on their business. However, 28% in Q1 say that these factors have a positive effect, compared to 17% in the previous quarter. At the same time, nearly one-third of respondents indicate that these factors have a negative effect on their company.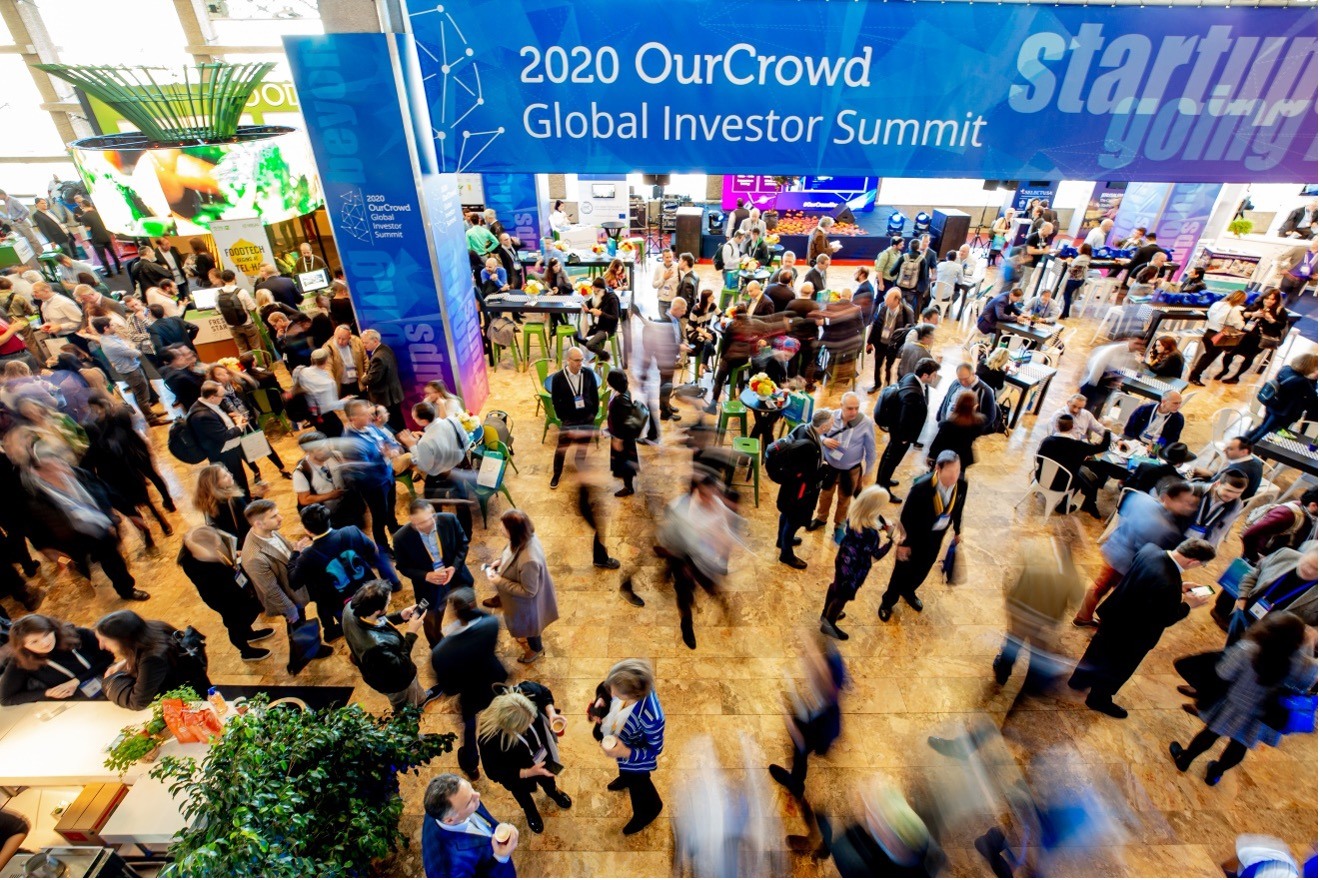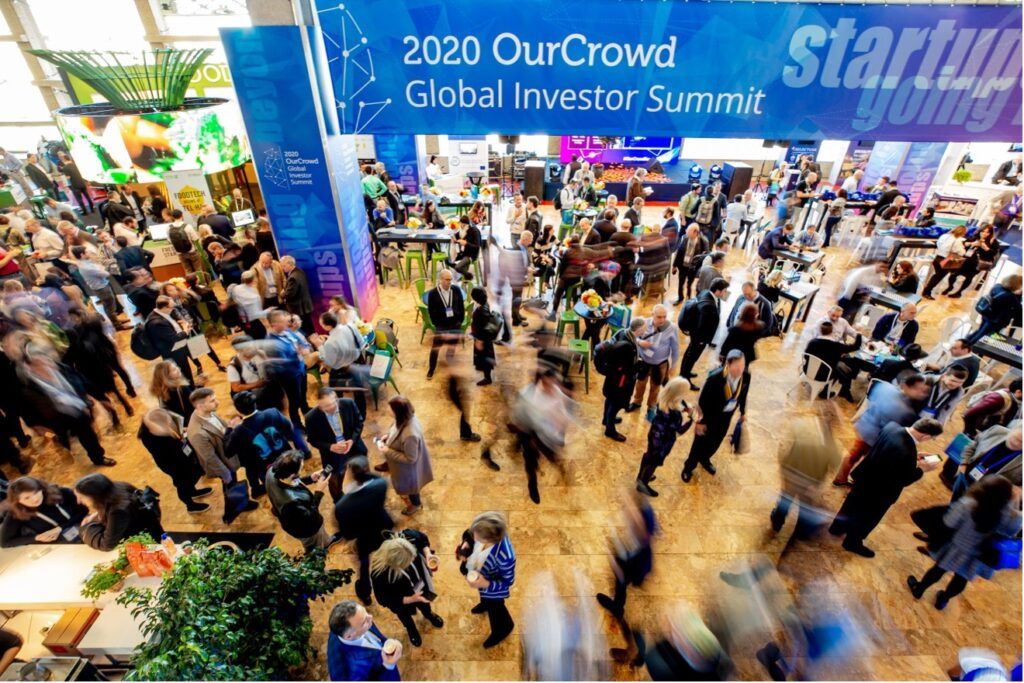 4. Impact of war in Ukraine on hiring
Have the war in Ukraine and the global consequences of the war had specific impact on your company's hiring during Q1, beyond financial instability?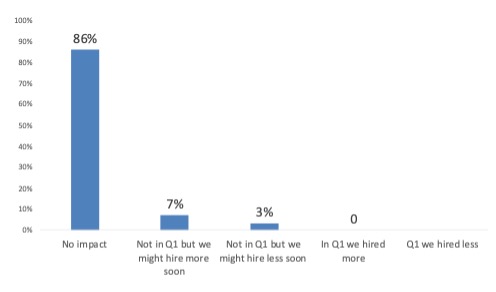 Russia invaded Ukraine on February 24, around the middle of this survey period. The vast majority of respondents report no immediate impact on their business during Q1.
5. Impact of local Israeli political crises
Thinking of the frequent political crises in Israel, are you concerned that political instability will affect your company?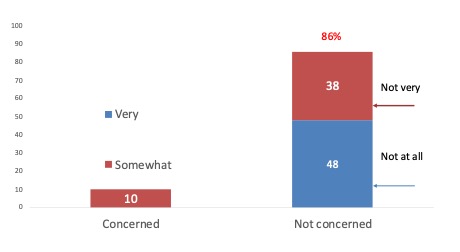 6. Remote vs. on-site work
Do you think that by September 2022 the majority of your employees will work: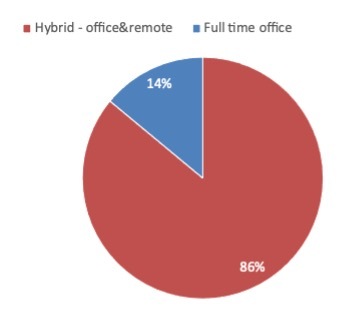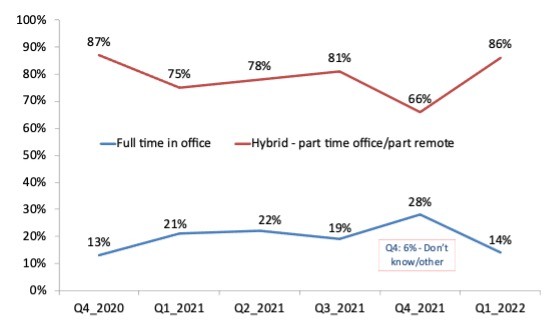 Hybrid work patterns combining part-time in the office with remote work have rebounded compared to Q4 2021. In Q1 2022, a strong majority of 86% forecast that by the end of 2022, most employees will be working hybrid, compared to two-thirds in the previous quarter. Just 14% indicate that they expect most employees will work full time in the office – a level not seen since the final quarter of 2020, prior to the widespread introduction of Covid vaccines. The overall trend throughout the last two years strongly favors hybrid work, despite a dip in Q4. A clear majority expect that most employees will continue to follow hybrid work patterns.
7. Market for job seekers or employers? Based on the hiring needs of your company and the quantity/quality of candidates that you are seeing, is the current job market in your opinion: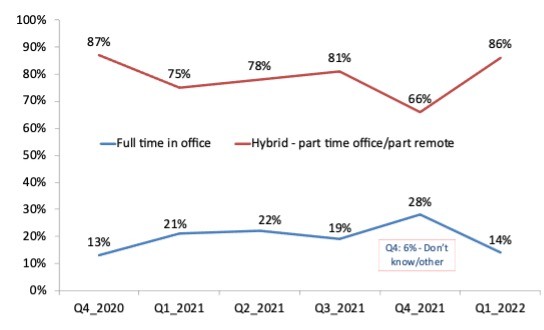 Since mid-2021, approximately three-quarters of portfolio companies view the employment situation as a job seeker's market.
Since the OurCrowd Index began asking this question one year ago, a solid majority of respondents have said we are in a job seeker's market.
In Q1 2022 one-fifth think the recruitment market is balanced, but only 3% believe this is an employer's market – the lowest since our surveys began.
Respondents report an increased awareness of HR as a fundamental business concern.
"HR is not something you can do on the fly. In any company the employees are THE most important asset and thus I recommend any CEO from small companies and bigger to have a professional HR recruited as part of the main hires," says Eran Atlas, Co-Founder and CEO of DreaMed Diabetes.
8. Main hiring sectors, main difficulties
Which departments are you hiring for in Israel? + Which positions do you find have been the hardest to fill in the first quarter of 2022?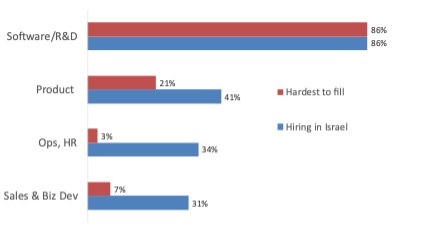 Software/R&D outstrips all other departments, with 86% reporting that their company is seeking software or R&D experts, but that these are the also the hardest positions to fill. Twice as many companies report seeking software and R&D hires as those who are seeking the next-ranked jobs, in product departments. This trend is consistent with the final quarter of 2021 and has become slightly stronger. (Respondents were allowed to list more than one department, hence the total is more than 100%).
9. Preferred levels of experience
What is the level of experience you prefer to hire for different departments: Software and product; sales and marketing; operations and office management?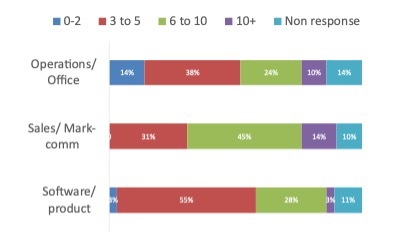 Portfolio companies show a very clear preference for employees with experience. Just one respondent expresses a preference for entry-level employees in software and product departments. None prefer entry level for sales and marketing, and only a small portion indicate a preference for entry level in operations or office positions. Yet in software and product departments, the largest portion prefer early-stage experience of 3-5 years.
10. Willingness to employ from the periphery
Over the last quarter of 2021, which response best describes the change in the number of employees hired from Israel's 'periphery,' rather than from the center?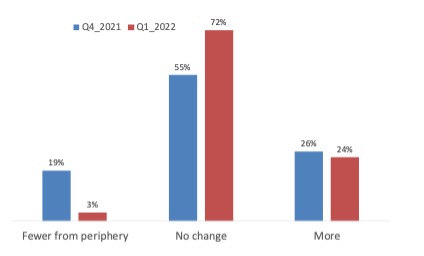 The trend in periphery hiring appears to have mostly stabilized – approximately one-quarter report hiring more from the periphery in Q1, very similar to Q4. However, most of the remainder indicate that there is no change in periphery hiring from the past. In contrast to the previous quarter, in Q1 just one respondent indicates that the company is hiring fewer people from the periphery.
11. Location of employment opportunities
What % of your current job openings are located abroad?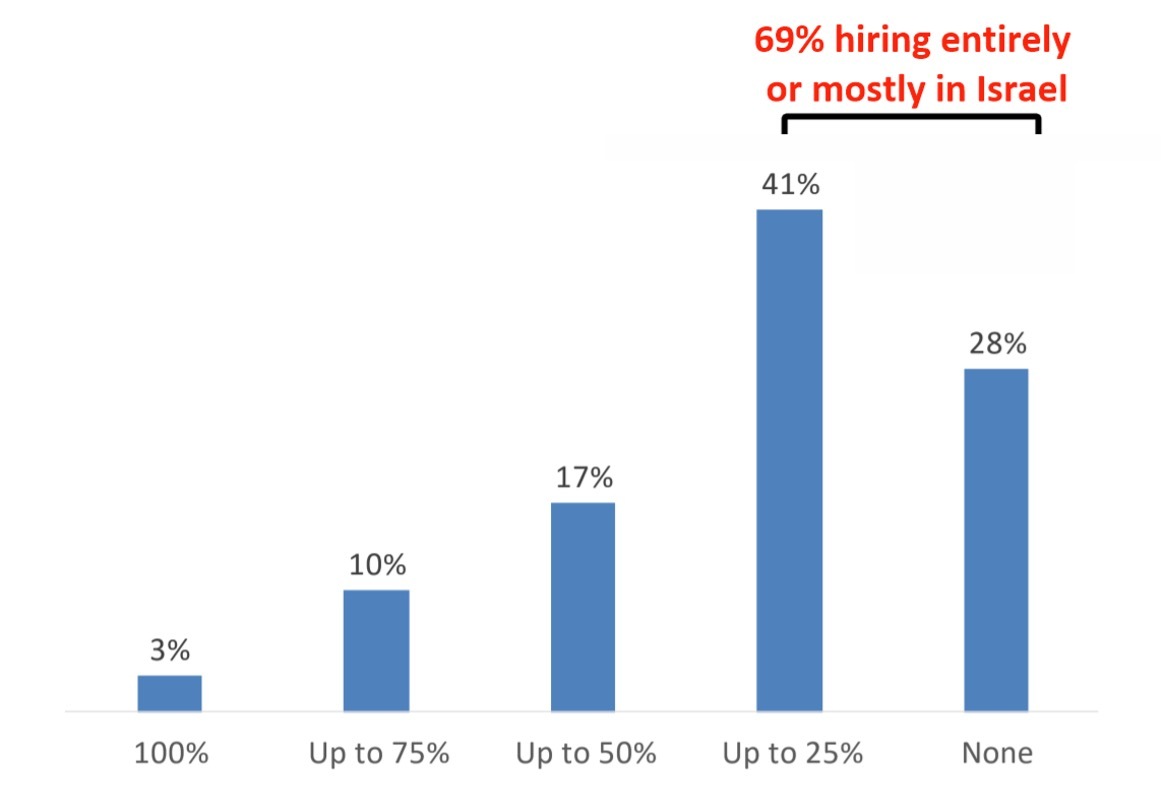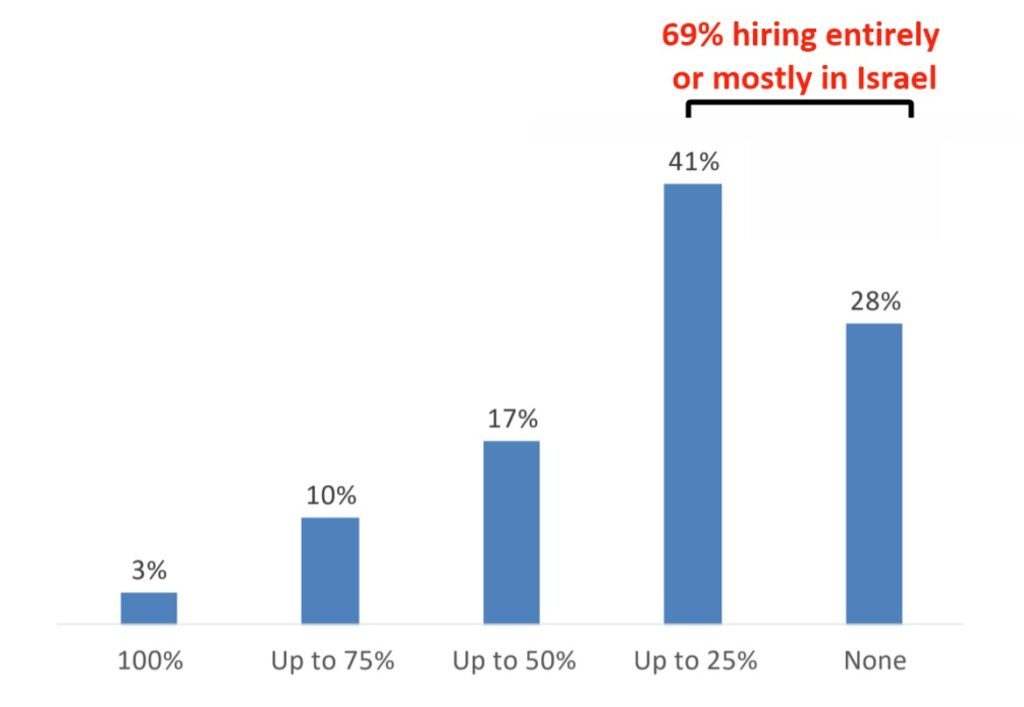 12. Pandemic impact on sales operations abroad
During Covid, travel limitations meant that many companies conducted more sales remotely. Did the increase in remote sales operations work well or not well for your company?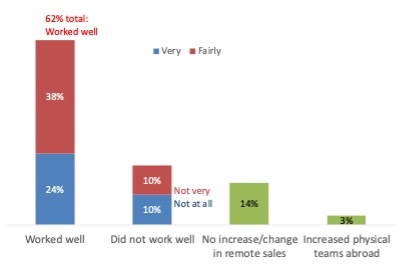 A majority of portfolio companies report that adopting remote sales operations due to travel limitations over the last two years was successful. One-quarter report that remote sales worked very well, and another 38% say the method worked "quite well." That's 62% in total, more than triple the 20% who say these efforts worked not very well, or not at all well. A small portion report no change in their remote sales operations, and one company reports increasing its physical sales team abroad.
13. Impact of remote work on productivity
Over the pandemic in general, has the increase in remote work affected employee productivity?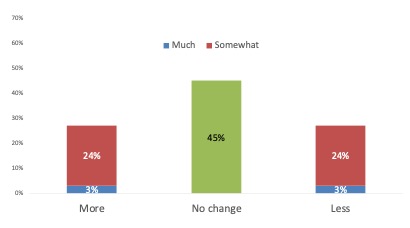 A 45% plurality report that remote work did not have a significant impact on productivity in Q1 2022, while the same proportion feels that remote work made the employees either more or less productive. The overall trend is almost unchanged from our previous surveys.