What's cool? 18 Israeli startups, according to Gartner. What's one of the world's best economies? Israel, according to Moody's chief economist. What's big? Elbit Systems will buy NICE System's Cyber Division. Read up on these news items and more, below.
Start getting this weekly newsletter via email: Subscribe now
Elbit Systems to buy NICE Systems Cyber Division for $158M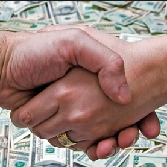 Elbit Systems announced that it has signed an agreement to acquire NICE Systems' Cyber and Intelligence division for up to $157.9 million. NICE's Cyber and Intelligence division offers solutions which provide law enforcement agencies and intelligence organizations with tools for creating communication intelligence. The division's yearly revenue in 2014 was in the high tens of millions of dollars. The Cyber and Intelligence division will be acquired by Elbit Systems' subsidiary Cyberbit. Learn more.
OurCrowd & Portfolio Companies in the News
Meet the top 5 Israeli mobile apps revolutionizing parking
Sick and tired of the parking woes in congested cities? Despair not, as a slew of new Israeli mobile apps have risen from tech-geek dens to quickly locate available curbside parking spots – and the fastest way for you to snatch them. NoCamels profiled six of the hottest parking apps developed in Israel. Using different methods, algorithms and platforms, these companies seek to help their users locate and pay for those often elusive spots, saving time, gasoline and money while doing so. See the full list.
Moody's chief economist Mark Zandi: "Israel one of the world's best economies"
In an exclusive interview with Globes, Dr. Mark Zandi, chief economist of Moody's Analytics, expressed great optimism about the economies of Israel, India and the US, alongside pessimism about China, Japan, Russia and Brazil. Mark was very complimentary about the Israeli economy, stating that "[t]he performance of the Israeli economy in recent years makes Israel one of the world's best economies." Hear more from Mark.
18 Israeli startups on Gartner's 'cool vendors' list
Out of 350 companies selected by leading American IT research firm Gartner as "Cool Vendors" in 2015, 18 of the industry-defining companies are Israeli. Historically, Gartner's list has been a prediction of the future success stories of some of the industry's most promising startup companies. This year, the Israeli companies that made the cut are producing novel technologies, mainly in the Internet of Things (IoT) space. See the full list.
12 Israeli digital healthcare startups to visit US
The Binational Industrial Research and Development (BIRD) Foundation, a cooperative effort of the US and Israel, and the Israel Ministry of Economy Foreign Trade Administration organized a delegation of Israeli digital healthcare companies to visit the US on May 18-22. The delegation met with leading parties in the US, including representatives of major hospitals and representatives of companies. Learn more.
OurCrowd's News Nuggets


Subscribe for weekly updates about the Startup Nation to your inbox.
See this week's original newsletter here.
[xyz-ihs snippet="HowToInvestInIsraelCTA"]