Surely you've heard of Google Glass, Apple's Smart Watch and of course, the Fitbit; there are lots of fitness wearables and it's hard to keep up. What was once reserved for only pro athletes and tech bloggers is now available to the exercising masses. As technology goes more mainstream, so do wearables with over 70 million devices sold in 2014 alone.
Here are 6 top fitness wearables that aim to up your game and be as vital to your daily existence as your smartphone:
1. Moov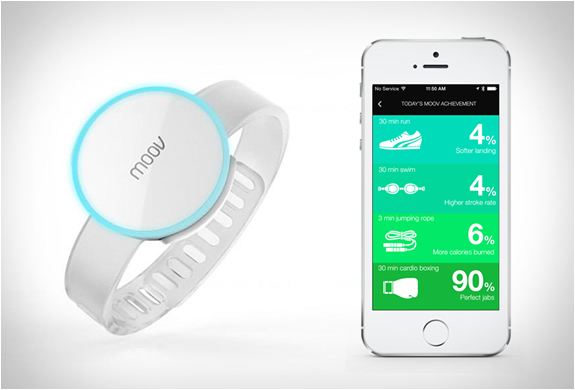 Can't afford a personal trainer? No problem. The $69 Moov wearable may be the answer to your problems. Stay on track with this all-in-one device that acts as a personal fitness coach, whenever, wherever. Its disc-like shape easily attaches to almost anything, and allows for the accompanying apps to record your every move in real-time. Apart from the standard tracking features: calories burned, steps taken, speed, distance, and time, Moov precisely measures your movements, form, cadence, landing impact, stride, and intensity with surprising accuracy.
This sleek, crowd-funded device (which by the way, raised over $4.2 million) is great for running, biking, cardio boxing, swimming, weight training, or whatever you fancy. There are over ten programs and 200 levels and variations, so you can get the most out of your training. The device's app will help you "make it count," with detailed reports on your training sessions along with instructional, interactive video and audio coaching. And, an added bonus, not only can you track your own progress, you can also challenge your inner competitor and match it up against your friends and family's stats; that's reason enough to keep on "Mooving!"
2. Zepp

Wanna throw a fast ball like Babe Ruth or swing like Tiger Woods? The Zepp multi-sport sensor will help you get there by tracking your sports performance moves. Get into the full swing of things by placing Zepp on your golf glove, tennis racket or baseball glove and give it your best shot. This tracking and analyzing device will measure attack angles, swing and ball speed, tempo, position, timing, and swing planes, and give you an accurate picture of how good your game is. Simply open Zepp's accompanying app on any smartphone or tablet and replay and review your moves in a 360-degree 3D visual image. You will immediately receive a personalized report loaded with feedback so that you make adjustments in real-time and improve your performance. The Zepp training center puts the power of a pro in your pocket by allowing you to compare your swing to the best athletes out there, so you will be well on your way to the big leagues in a flash.
3. Lechal Footwear

Put your best foot forward with Lechal Footwear, a Bluetoothed enabled shoe insert that links up with Google Maps to help you navigate where you're going. Via haptic feedback (vibrations and buzzes), you will be guided to your destination with ease. An added bonus, your steps and calories burned will be tracked simultaneously, so that you can go that extra mile and meet your fitness goals. Another plus? Proceeds from each sale go towards subsiding a pair for the visually impaired, since the company was originally created to guide the blind. Hit the ground running and pre-order yours now.
4. LifeBEAM Gear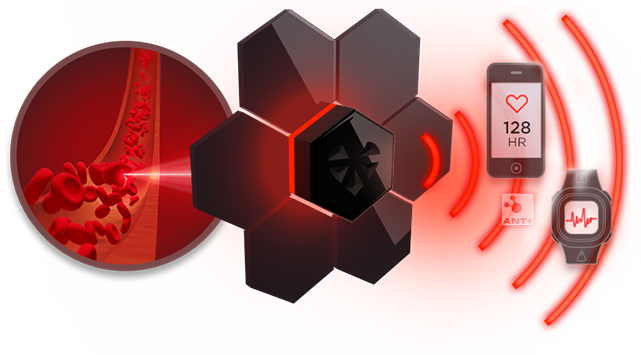 Even the name is cool: Presenting LifeBEAM's Smart helmet, sports cap, and visor, three precision monitoring devices that don't weigh down the athlete. Designed by two former Israel Air Force pilots, this headgears' integrated bio-sensing technology monitors your heart rate and calorie consumption, tracks your steps and cadence, and sends aerospace accurate measurements to your favorite smartphone apps or fitness watches that you already use. Now that's what I call state-of-the-art.
5. Smart Sensing D-Shirt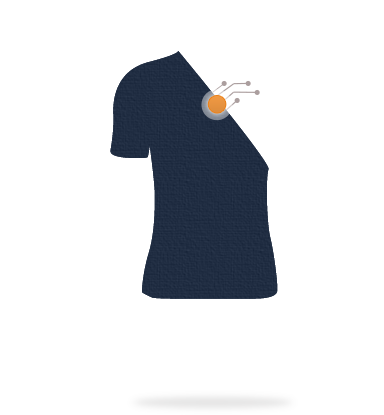 Fashion and fitness converge to form wearable tech with the Smart Sensing D-Shirt prototype. By weaving micro-sensors into the fabric, the D-shirt for short, allows you to monitor your temperature, calories burned, heart rate, speed, location, and acceleration. The tech, weaved right into this Smart Sensing fabric, integrates transmitters to textiles and sends the signals directly to your smartphone or tablet. Developers are currently working on placing heat, respiration, and perspiration sensors right into the D-Shirt with the aim to monitor blood oxygen and glucose levels. The company even promised you'd be able to charge the T's batteries by just washing it clean.
6. Bragi's The Dash
Listen up and lend an ear to Bragi's The Dash, a set of wireless shock and water resistant earphones that act as your personal fitness coach, health monitor, and DJ. By using the easy and intuitive controls, you can track location, distance, steps, pace, cadence, time calories burned and measure heart rate, oxygen saturation, and body temperature. By using the Bragi app, you can set workout goals and check your stats.  Listen to music, while the Dash listens to your body through Bluetooth or the 4 GB integrated music player.  With almost 16,000 supporters, The Dash is the most successful European crowdfunding campaign ever and winner of the 2015 Consumer Electronics Show "Best of Innovation award." Feel like a winner yourself and pre-order your own pair of the world's first smart, wireless headphones.
To find out more about investment opportunities on our investment platform, click here.
[xyz-ihs snippet="NancyEdid"]