It's not every day you hear about titans like Google and Facebook going head to head in a race to buy out a company.
This hasn't exactly been the case with Waze, the social navigation app. It's been rumored to have at least a couple big players knocking down its door.
The latest news in the Waze buyout saga says that the Facebook-Waze talks are on the fritz, due to the fact that Waze is opposed to moving its Israel-based operations to Facebook's HQ in California.
Whether the buyout will happen or not, there is no doubt that Waze — the technology — has changed the way we travel from point A to point B. So, for this blog, we've created a road map describing the origin and meteoric rise of Waze.
I've been living in a cave for 5 years, what is Waze exactly?
Waze is a GPS with a twist. Unlike a standard GPS that just displays a map (if you're really fancy, it also pulls satellite data to optimize your planned route), Waze rallies all its users into helping each other reach their destination faster.
For example, you're navigating home using Waze when you begin to realize that the highway looks more and more like a parking lot. What do you do? Submit a report to Waze's navigation system. Your report is used to notify other drivers and redirect all future traffic to an alternative route.
Another option available to Waze users is the ability to edit maps in real time – so instead of spending millions of shekels on maps, Waze lets the users do the work for them.
The system counts on its users to pay it forward; by helping others – you're helping yourself.
And the best part is – It's totally free!!
Where did Waze come from?

Founded in 2008 by Uri Levine, Ehud Shabtai and Amir Shinar with the original name Linqmap, Waze currently employs 80 people – 70 at their main offices in Ra'anana, Israel and another 10 in Palo Alto, California.
Who's funding this?
To date, Waze has raised close to $70M in three rounds:
Series A: $12M raised in early 2008 from Magma Venture Partners and Vertex Venture Capital
Series B: $25M raised at the end of 2010 led by Blue Run Ventures, with previous investors Magma Venture Partners and Vertex Venture Capital and new investor Qualcomm Ventures
Series C: $30M at the end of 2011 led by Horizon Ventures and Kleiner Perkins Caufield & Byers
The Waze'ers
Since its release, Waze has grown a community of 36 million drivers that have submitted a total of 90 million traffic reports in 110 countries.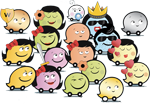 Waze wouldn't be Waze (try saying that 100 times) if it wasn't for the users, without them, it's just a bunch of pretty maps.
Wait, if the app is free, how does Waze make money?
Most Waze users won't really care about the business plan behind the app, but in case you were wondering, Waze has a location-based advertisement system set up in its navigation app, allowing local merchants and big brand stores to let you know: "Hey, since you're driving by, why not spend some money?"
In the future, Waze is planning to sell traffic data and the map data to its competitors.
If I were Facebook or Google, would I buy Waze?
According to recent reports, Waze's price tag is around $1,000,000,000 (yeah, 1 Billion).  That's a huge chunk of money, and some of us just don't understand why Google and Facebook won't create their own in-house app.
Facebook could very easily harness its huge social network user base and build its own Waze from scratch, and Google already has the Google Maps application up and running – Filling in the missing pieces on the way to social navigation system shouldn't be too difficult, right?
Well, with Facebook, it's not that simple.
Facebook just recently launched its mobile app, Facebook Home – which turns any Android operated smartphone into a constant Facebook platform. Sounds pretty cool doesn't it? Apparently not. So far the success rates of the app aren't really impressive, earning only 2.3 out of 5 stars on the Google play store.
Facebook is in urgent need of more channels to penetrate the mobile market, and fast. Building its own navigation platform would take time, time Facebook just can't afford to waste. So emptying out its wallet to buy Waze does make sense.
With Google, it's actually very simple. They have a great Map app, but are in desperate need of a crowd! Google's social network, Google+ just isn't strong enough on its own yet. Crowdsourcing is what makes Waze such a huge success, and if Google captures that power, it could be huge! (Yes, we know, they already are).
Whether Waze is worth $1 or $1,000,000,000, there's no doubt the company has built up a serious brand and provides a unique solution to the driving problem.
In a world where everything is social, Waze has definitely taken the wheel (I apologize for the puns).
[xyz-ihs snippet="DavidCitron"]