After opening our doors last fall, we've gotten to know so many of you: thousands of investors, entrepreneurs, and partners.
Particularly, we're seeing an incredible number of really high-quality startups. A huge percentage of these are companies founded by serial entrepreneurs with differentiated technologies and real tractions (with serious users, customers, revenues, etc.). An incredibly high number fit our investment methodology and criteria.
I thought it would be interesting to break down what our deal flow looks like (thanks to our resident geniuses, David S, David C, and Jeremy for pulling this data).
What Israeli entrepreneurs are working on now
So far, OurCrowd has seen:
Total deals
175 deals since Jan 1, 2013 (100+ deals per month)
 350 deals (received actual materials) since Nov 1, 2012
Maturity of deal flow
deal flow has ranged from seed investments to Series C, with sweetspot in the Series A range
Internationality of deals
while the vast majority of our deal flow comes from Israel, we have looked at deals from 9 countries
Sector breakdown of deals
 We're seeing the most activity in medtech, mobile, and Internet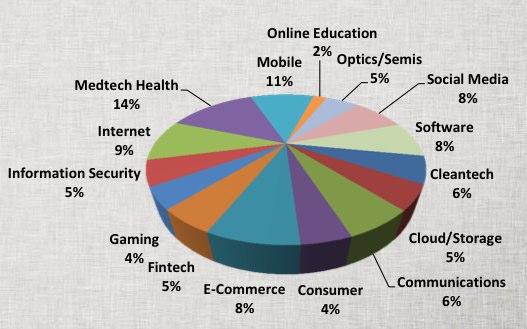 What are you working on? What are you investing in?
[xyz-ihs snippet="ZackMiller"]