Not for nothing is Israel the #2 startup ecosystem in the world — it has more high-tech startups and a larger venture capital industry per capita than any other country. Over the past few years, Israeli M&A has been (and still is!) on fire with a lot of excitement and hype around several multi-million dollar deals. The interest of international tech giants in Israeli startups is nothing new, and as we know, one of the major strategies for Israeli startups is to transform into appealing acquisitions for large entities knocking on its door.
Some of the top high-tech M&As in Israeli history have come straight out of the data storage industry. These companies working on developing various storage solutions (from software to hardware, and in between) typically exit in the mid-hundreds of millions of dollars range.
Here's an up-to-date look at the Israeli M&As in the data storage industry over the years: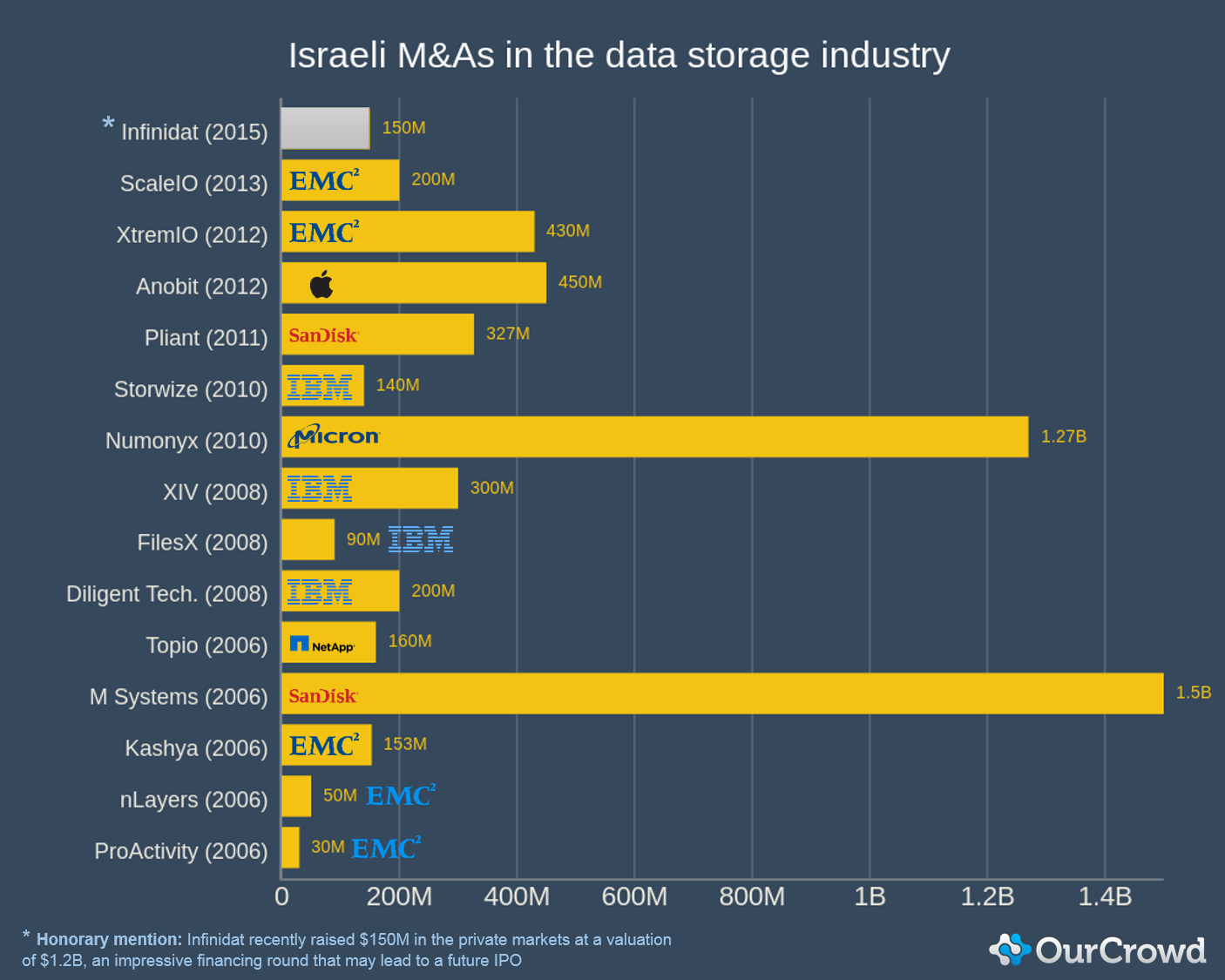 UPDATE: Storage giant Western Digital just announced (Oct. 21st, 2015) that it has agreed to buy SanDisk Corp for about $19 billion, marking yet another exit for Israel's data storage sector!
A look to the (near) future of data storage
Dell's recent $67B acquisition of publicly-traded storage giant EMC marked the largest single deal in the tech sector. As a prolific acquirer of storage tech, EMC's management and ownership change may well impact the future of startup exits in this space and has set market analysts buzzing about what the future holds.

We believe that OurCrowd's platform is the best model for people looking to invest in the booming startup scene, and we have a great ringside seat for seeing what's trending right now and finding the best investment opportunities there are to offer. OurCrowd is proud of its latest investment opportunity, NooBaa, an Israeli startup opening new frontiers in data storage by providing cloud storage and storage space sharing services.
To find out more about these investment opportunities and others on our investment platform, click here.