We've had a big week for OurCrowd as we continue advancing our tech cooperation with Asia. Watch my interview on CNBC at the Asian Financial Forum, or watch the full version in which I announce that KEB Hana, Korea's largest bank joins as our newest investor and partner, and discuss what the U.S.-China trade conflict means for deal flow and venture capital investments. 
We are very excited to share that enVerid won the Product of the Year award at AHR Expo, the most prestigious award in their industry, right after securing the 2019 Innovation Award; they are addressing the air quality crisis by cleaning indoor air and saving energy.
Startup Nation and beyond
2018 was a record-breaking year, continuing a quite remarkable five-year run of steady increases in capital invested in Israeli tech startups: Read thoughts from me and others in Forbes, on what comes next
This just in: 2018 Innovation Report from the Israeli Innovation Authority
Great outcome for team ForceNock and congratulations to the team at Labs/02, our new incubator on their first exit in their first year of operations
Top tech news this week 
News from the industry 
The 30 Best Pieces of Advice for Entrepreneurs in 2018. (First Round Capital)
"Collaboration with internal stakeholders is crucial to the success of any new product or feature" — Techniques for Making it Easier to Manage Stakeholders. (Aleph) 
Pulse Check on Consumer Tech Trends 2019, CES and Beyond. (Andreessen Horowitz) 
The latest from OurCrowd
Read why Uber acquired JUMP in this piece from our Corporate Innovation Report and be sure to download the full report for more, like 6 IoT trends to watch in 2019.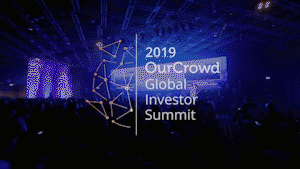 Looking to connect
We currently have 500+ open positions at our global portfolio companies. Here are a few of the most exciting:
To search, filter, and apply head to OurTalent here.
---
Subscribe to receive a weekly curated roundup of top news, direct from the desk of OurCrowd's CEO & Founder and  curated by startup investing insiders.