Startup of the Week: Leading carmaker joins Foretellix round

'I would have been splattered if not for Ride Vision'

July 13: Top 10 Post-Pandemic Tech Trends

What's driving the flood of Israeli IPOs?

Securing the base of Israel's high-tech pyramid

TytoCare: Helping children's healthcare from Leeds to Mexico

Superpedestrian's LINK e-scooters ride into Baltimore

Zebra Medical Vision wins landmark approval for AI radiology code

Zzapp Malaria wins $250,000 Cisco Global Problem Solver Prize

Cisco's acquisition of Kenna enhances hybrid work security

TetaVi selected for Microsoft for Startups

Ro Health acquires at-home testing startup Kit

Introductions

More than 2,700 high-tech jobs worldwide
Startup of the Week:
Foretellix: Leading European carmaker joins round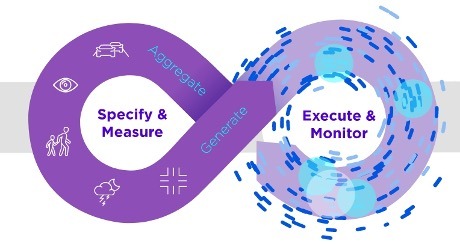 Safety is a key issue for autonomous cars. The industry has just now begun to establish software testing standards and languages for verifying autonomous vehicles because road tests take far too much time and money. Foretellix is setting the industry standard in safety testing for autonomous vehicles, with a platform that can validate automated driving systems software in hundreds of millions of scenarios. Foretellix is expanding its Series B investment round from $25M to $31M due to significant oversubscription. The round is led by MoreTech VC and a leading European carmaker has joined the round alongside a leading testing and tooling company with significant focus on automotive solutions, a Top-10 US insurance company, and a Japanese VC. Foretellix recently closed one of its largest contracts with a leading global truck OEM, following the completion of a successful POC. The company is also entering into a POC with a leading global autonomous systems provider that specializes in the automotive market. This company is already providing tools to other OEMs seeking end-to-end autonomous vehicle solutions, and has the potential to be one of Foretellix's largest customers. The company already has contracts with five top OEMs and Tier-1s including Volvo and DENSO, the world's second-largest automotive supply-chain manufacturer. This investment opportunity is closing soon. A small allocation still remains via OurCrowd. To secure your participation in this fast-growing company, please click below to sign documents and fund your investment before July 16th, 2021.
I would have been splattered if not for Ride Vision"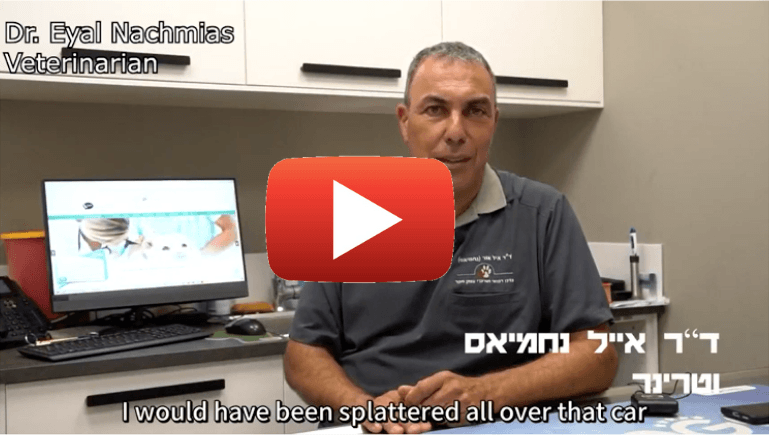 Without new motorcycle safety technology from OurCrowd portfolio company Ride Vision, Eyal Nachmias is pretty sure he would be dead – or badly injured. When a car stopped suddenly in front of him as he rode home tired in the early hours, it was the system's warning signal that jerked him back to full attention. "Without this Ride Vision system I installed, I would have been splattered all over that car," Nachmias says. With 400 million motorbikes worldwide, OurCrowd is investing in Ride Vision to help save a lot of lives. Watch the full interview here and read the story here.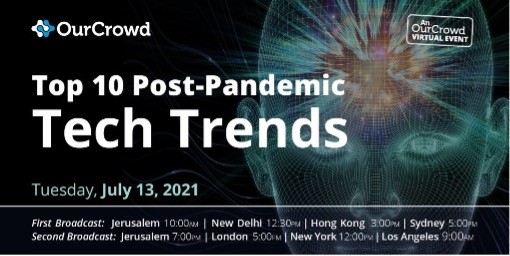 OurCrowd's Top 10 Post-Pandemic Tech Trends offers invaluable insight into what will be hot, disruptive and investible in startups for the coming 12 months. With industries and societies on reset across the world, we present key technology trends identified by the OurCrowd investment team and its global network. Top industry speakers highlight each trend with exclusive intel on the most innovative startups.
JOIN US ONLINE: TUESDAY, JULY 13
Broadcast 1: Jerusalem 10:00AM | New Delhi 12:30PM | Hong Kong 3:00PM | Sydney 5:00PM
Broadcast 2: Jerusalem 7:00PM | London 5:00PM | New York 12:00PM | Los Angeles 9:00AM
What's driving the flood of Israeli IPOs?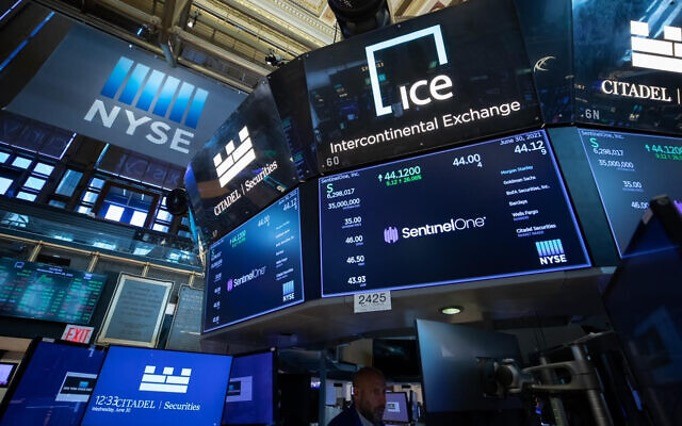 Israeli tech firms are storming the public markets, with $4.55B raised in June alone via 18 IPOs and SPAC deals, mainly in the US and Israel. "The extraordinary number of companies entering the US public markets in June through IPOs and mergers with SPACs has had two principal drivers: one financial and one economic," Alec Ellison, Chairman of OurCrowd US and a former chairman of technology investment banking at Jeffries LLC, tells The Times of Israel. "Financial markets are flush with cash from the Federal Reserve's continued easy money policies. In addition, the application of digital technology across all economic sectors has accelerated the growth of the many companies enabling this digital transformation. Public markets have a voracious appetite for such companies."
Securing the base of Israel's high-tech pyramid

From the summit, it is easy to be dazzled by the achievements of Israel's venture capital colossus. With a record $10.5 billion of investment in 2020 and on track to double to a staggering $20 billion this year, the tech ecosystem is the pride of Israel, the engine of its fast-growing high-tech economy and the envy of the world. But even as the peak of our high-tech pyramid expands, its base is crumbling. The surging growth is driven by late-stage startups. That is wonderful, but the total number of early-stage startups has slumped. Without fresh startups today, there will not be enough late-stage companies in 10 years' time. Read my three-point plan to revive Israel's seed-stage startup sector in my new 'Investors on the Frontlines' column on LinkedIn.
Top Tech News
TytoCare: Helping children's healthcare from Leeds to Mexico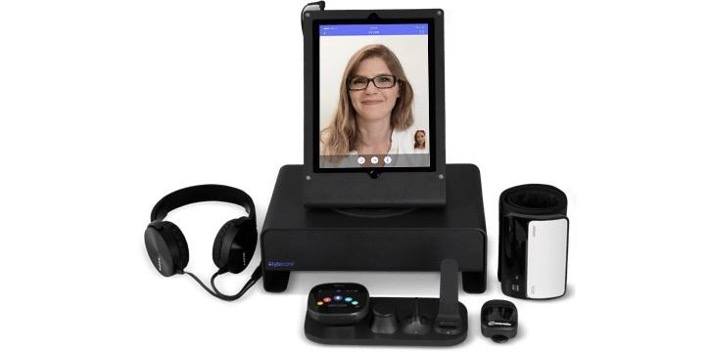 TytoCare, the telehealth startup in our Qure Health Fund portfolio, is helping orphaned children in Mexico get access to healthcare, thanks to its TytoClinic system that can turn any location into a remote clinic. Through TytoCare's partnership with Beam Healthcare and the Beam Up charity, four orphanages in Tijuana are now able to access care for their children. "Beam Healthcare's mission is to move medicine forward and to provide comprehensive and cost-effective physician services to critical access hospitals, micro-hospitals, primary care offices, skilled nursing homes, and charity organizations. TytoCare supports this mission by providing technology and software that enables providers to deliver the highest quality care virtually," Ashley Hefner, TytoCare's Senior Director of Business Development and Partnerships, tells Healthcare Global. Meanwhile, TytoCare is also helping physicians at Leeds Children's Hospital in the UK treat babies born with cleft lip or palate, the Yorkshire Evening Post reports.
Superpedestrian's LINK e-scooters ride into Baltimore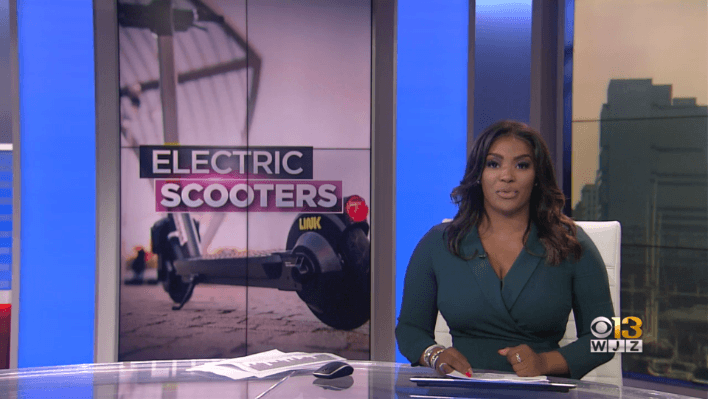 Baltimore residents and visitors will have a new way to get around the city when OurCrowd portfolio company Superpedestrian launches its LINK e-scooter service on July 15, following approval from the City Council, CBS Baltimore reports. LINK will provide connections to the MTA bus system, the Charm City Circulator and the Baltimore Water Taxi. Superpedestrian's patented active vehicle monitoring, self-protection technologies, and robust mechanical design, keep riders safe, extend battery life and increase profitability. By the end of July, its chunky green and grey Link scooters will be available in 40 cities, including Hartford, Cleveland, and Seattle in the US, and Lisbon, Stockholm, and Vienna in Europe, the Boston Globe reports.
Zebra Medical Vision wins landmark approval for AI radiology code
Zebra Medical Vision, an OurCrowd portfolio company that uses artificial intelligence to help diagnose a variety of medical conditions from scans and images, has won landmark approval of a Category III Current Procedural Terminology (CPT) code application from the American Medical Association. The code allows the use of AI to detect vertical compression fractures as an incidental finding in a chest CT scan. This is the first artificial intelligence CPT code specific to radiology and will become effective January 1, 2022. Osteoporotic fractures affect nearly 50% of men and 25% of women during their lifetimes, resulting in 2 million broken bones annually and an estimated $52B cost to the US healthcare system. Zebra Medical believes that 75% of these fractures go undetected. "The latest development regarding the CPT code approval by the AMA is an industry milestone in the effort to boost the adoption of AI in imaging for vertical compression fractures and other under-diagnosed chronic conditions," Zohar Elhanani, Zebra Medical Vision's CEO tells Diagnostic Imaging. "Radiologists will now be able to identify more patients with undiagnosed fractures and provide better care for patients who may be vulnerable."
Zzapp Malaria wins $250,000 Cisco Global Problem Solver Prize
Hot on the heels of winning the $3M IBM Watson AI XPRIZE, Zzapp Malaria walked off with the $250,000 top award from the 2021 Cisco Global Problem Solver Challenge. Zzapp is a fully-owned subsidiary of OurCrowd portfolio company Sight Diagnostics. "Zzapp Malaria has developed an artificial intelligence-based system for planning, executing, and monitoring of large-scale, cost-effective malaria elimination campaigns," says Tae Yoo, Senior Vice President of Corporate Affairs at Cisco. "Zzapp Malaria has been working in several countries, providing protection for more than 200K people, and is now launching an operation in São Tomé and Príncipe, islands in the Gulf of Guinea, to fully eliminate the disease. If successful, this will be an unprecedented achievement in Sub-Saharan Africa."
Cisco's acquisition of Kenna enhances hybrid work security
Cisco has completed its acquisition of OurCrowd portfolio company Kenna Security, CRN reports. With the addition of Kenna Security's risk-based vulnerability management platform, Cisco customers will solve critical security posture challenges by working cross-functionally to rapidly automate prediction, identification, prioritization and remediation of cybersecurity threats. "Cisco is helping customers and partners reimagine a future of work that is hybrid. As they work from anywhere, continue their transition to the cloud and manage the rapidly evolving threat landscape, we are focused on radically simplifying security. By taking a risk-based approach to vulnerability management, we are able to speed and automate threat detection and response, allowing users to quickly address the most pressing issues first," says Jeetu Patel, Executive Vice President and General Manager, Cisco Security and Collaboration.
TetaVi selected for Microsoft for Startups
TetaVi, the OurCrowd portfolio company that takes 3-D volumetric video out of the studio and into a smartphone, has been selected to join the Microsoft for Startups program, which helps young companies scale quickly, EIN News reports. "Tetavi's mission to address an unresolved problem in one of the fastest-growing segments of the immersive content industry is a great fit for the program. We look forward to helping Tetavi deliver their innovative solution to our joint customers," says Microsoft for Startups.
Ro Health acquires at-home testing startup Kit
OurCrowd portfolio company Ro added to its expanding virtual health capabilities with the acquisition of Kit, which provides at-home, self-administered testing kits, Fierce Heathcare reports. The move will enable Ro to facilitate primary care for more health conditions and support chronic and preventive care, virtually and in patients' homes. "Ro's mission is to build a patient-centric healthcare system, and Ro's acquisition of Kit is an important step in bringing that future into reality," says Zachariah Reitano, Co-founder and CEO of Ro. "When I used Kit for the first time, it felt like I was living in the future. Kit is a complete paradigm shift to the current status quo for at-home testing. No longer do you need to go into a doctor's office for routine health data collection, from blood to saliva to blood pressure to weight—you can do it all from the comfort of home."
Introductions
Your portfolio gets stronger when the OurCrowd network gets involved. Visit our Introductions page to see which of our companies are looking for connections that you may be able to help with.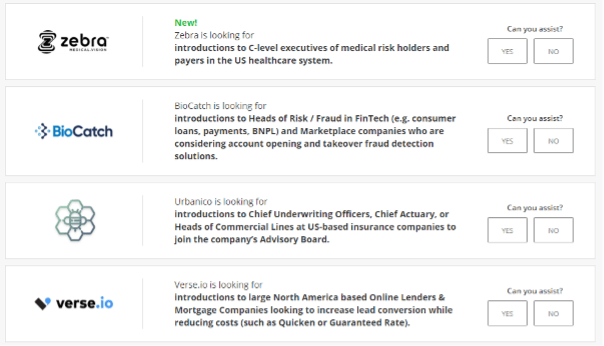 More than 1,200 High-Tech Jobs
Read the OurCrowd High-Tech Jobs Index Q1 2021 here.
Despite the coronavirus pandemic, there are hundreds of open positions at our global portfolio companies. See some opportunities below:
Search and filter through Portfolio Jobs to find your next challenge.