The coronavirus crisis has created heightened awareness of healthcare challenges, which will cause more money to flow to what we have seen as traditionally underfunded areas – medtech, digital health, and research. Historically, venture investing right after major market downturns – such as after the Internet bubble burst in 2000-2002, and after the financial crisis of 2007-2009 — has proved lucrative because you're buying at a discount. That's a very good entry point for new venture investors. However this time, there is also a fundamental re-set and expansion of social and economic trends causing major disruption that will lead to further opportunities for those companies leading the change. Read my and others' thoughts on "Recession, Reinvention and Opportunity" in this Israel21c piece.
As organizations increasingly move their business processes online, threats to data and privacy have exploded. Join us for a webinar Thursday, May 14 at 9:00AM PDT, 12:00PM EDT, 7:00PM IDT on Cybersecurity & Insecurity: The New World of COVID-19 where experts from some of the leading cybersecurity companies around the world will explore the challenges for organizations protecting themselves and their clients from attack.
Daily Dose
Here's the latest from Daily Dose: one-minute insight videos based on the news, technologies, and stories I'm seeing and hearing each day. For the whole playlist, click here and catch up. 
Top Tech News
Protecting businesses, governments and individuals from data breaches and identity theft – with unique military-grade technology and hardware architecture, Hub Security raises $5M Series A for its cryptography platform. Congrats to this team, and our partners at Labs/02.
Following working with Maccabi Healthcare Services in March, Kryon works with the Clalit health fund to automate the process of uploading coronavirus test results to its central database. Instead of taking lab workers up to ten minutes to manually enter the data for of each test, Kryon's robots process each record in less than one second.

Now, more than ever, big consumer companies need to know what their customers want and Signals Analytics is the solution….Israeli firm tells Nestlé and Roche what consumers want.
By combining breakthrough LED technology, artificial intelligence, and edge computing, Juganu is making smart cities a reality across the world…Juganu Wants to Light the Way Forward in the Digital Revolution.
NBA All Star turned ADvantage Sports Tech Fund venture partner Michael Redd now brings his all into startup investing. Read more.
An exciting new acquisition for Israeli tech: Intel is buying urban mobility platform Moovit in a $900M deal. 
Watch the latest from OurCrowd
Working from home exposes company data to hackers via weaknesses in home computers. Attacks are rising. ITsMine Data Breach Protection is free of charge during the pandemic and it's quick and easy to install, CEO Kfir Kimhi shares in this interview. Check out our blog post for more on the topic, and click here to learn more about why OurCrowd is investing in this company.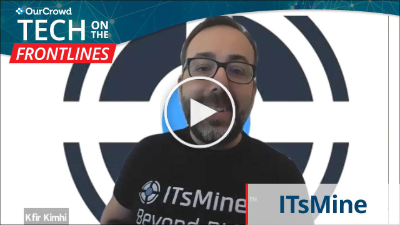 Looking to connect
Despite the coronavirus crisis, 40 new jobs in Israel were added in the past month to the OurTalent job board. See a few recent opportunities below.
Search and filter through OurTalent to find your next challenge.
---