Startup of the Week:

IXDen, securing Europe's largest utility

Startup of the Week: Tabnine, AI autocomplete for coders

High-tech job vacancies soar 300% despite Covid

Sep 1: Fireside chat with Waze investor Yahal Zilka

YuLife: Life insurance for millennials

ICON prints 3D Mars base for NASA, raises $207M

OncoHost wins Frost & Sullivan Tech Leadership Award

SmartAsset raises $110M in Series D funding

Orbital Insight launches supply chain intelligence tool

Introductions

3,300 high-tech job vacancies
Startup of the Week:
Tabnine: AI autocomplete for coders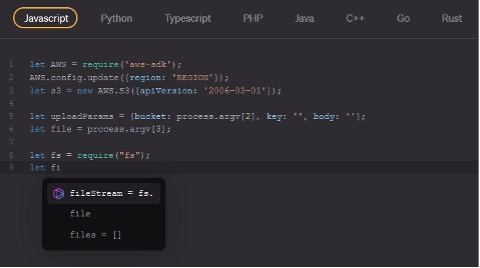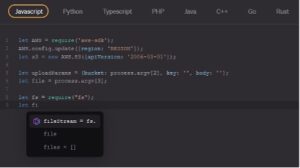 In a world where everything is going digital, there is a significant and growing shortage of software developer talent, with 920,000 job openings in the US alone. OurCrowd is investing in Tabnine, an Israeli startup whose AI-assistant for software development substantially improves productivity and quality of developers by saving them the time-consuming task of scouring depositories for strings of relevant code. Tabnine's AI autocomplete assistant brings relevant code completions right into the developer's toolbox. It goes much further than other autocomplete tools for software development, understanding both the context and the purpose of the code, while suggesting an entire code string. Tabnine gets rave reviews and already has 630,000 monthly active users. Two percent of all developers are already using Tabnine and it is generating an estimated 0.86% of all new code currently created worldwide. The company began commercial sales this year and is on track to reach six-figure revenues by the end of December. Previous investors include Headline (formerly e.ventures), Khosla Ventures and TPY Capital. Funds from this round will be used to build the company's sales and marketing team and to close on team and enterprise accounts.
Sep. 1: Fireside chat with Waze investor Yahal Zilka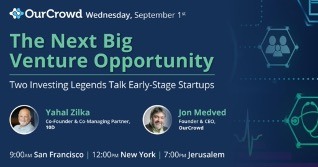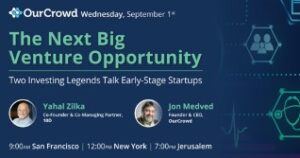 Yahal Zilka, the lead investor at Waze and other unicorns, Co-Founder and Co-Managing Partner at 10D, an early-stage VC, in conversation with Jon Medved, Founder and CEO of OurCrowd. In this can't-miss fireside chat, you'll get exclusive insights into trends in the private markets, tectonic changes brought about by the pandemic, new business models and disruptive technologies, as well as investment opportunities in early-stage startups, particularly in digital health. Yahal Zilka is a successful entrepreneur who led VocalTec's deal with Deutsche Telekom that led to the global adoption of VOIP and a NASDAQ IPO. As an investor and VC, he has invested early and overseen the growth of Waze, Innoviz, Valens, Fundbox, Drivenets and other early-stage startups to unicorn status.
Wednesday, Sep. 1 at 9AM SF / 12PM NY / 7PM JM
High-tech job vacancies soar 300% despite Covid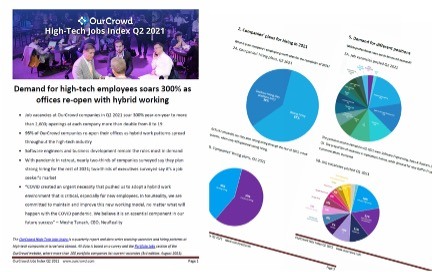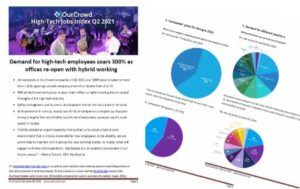 The OurCrowd High-Tech Jobs Index for Q2 2021 shows strong demand for startup recruits despite the ongoing Covid-19 pandemic, with a 300% year-on-year increase in the number of jobs advertised from Q2 2020 to Q2 2021. There are now more than 3,300 jobs advertised on the OurCrowd Portfolio Jobs page. OurCrowd portfolio companies have no plans to slow down their proactive hiring strategy – more than 60% are growing their teams. Software engineering and business development are the sectors most in demand. Hybrid working continues across the industry. While 95% of companies have reopened their offices, only 13% are in the office full time while 80% allow employees to work from home part time. 77% of Israeli companies surveyed say they expect the hybrid model to continue at least until December. "As the spread of the Delta variant throws workplace planning in doubt once again, the widespread adoption of remote working patterns suggests many high-tech companies will be able to continue their business activities with minimal disruption," says Laly David, Business Development Partner at OurCrowd. "Most important, the trend of hiring employees from peripheral geographic areas is here to stay and fortunately even grow."
YuLife: Life insurance for millennials
"Life-insurance companies in the US and UK are waking up to the fact that they have a young-people problem," The Atlantic reports in a profile of OurCrowd portfolio company YuLife, which it describes as "something of a cross between Fortnite and a Fitbit… But YuLife isn't some "freemium" game subsidized by ads and microtransactions. The ultimate goal is to… sell life insurance." CEO Sammy Rubin says he hired King Digital Entertainment, the makers of Candy Crush Saga, to turn his life-insurance product into a game—and just like that, YuLife had created a life-insurance metaverse. The company now has 400,000 customers, and one in three who have downloaded the app opens it every day. OurCrowd investors can still participate in the company's $70M round. Watch our recent webinar with Sam Fromson, YuLife Co-Founder and COO, here.
Top Tech News
ICON prints 3D Mars base for NASA, raises $207M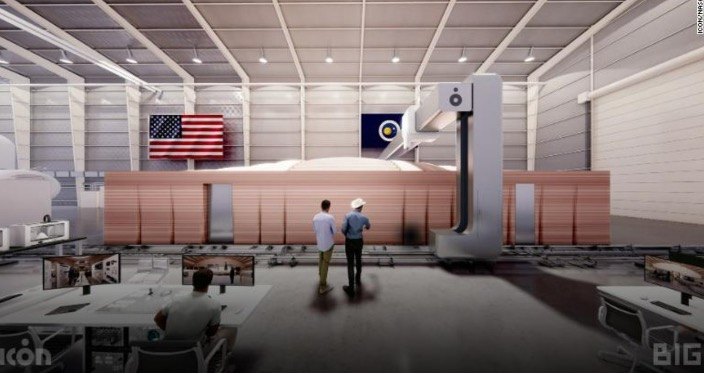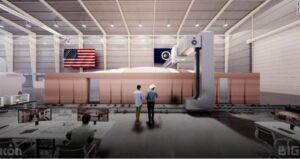 Pioneering 3D printing firm and OurCrowd portfolio company ICON is using its advanced technology to create a structure for NASA as part of a project designed to simulate life on Mars, CNN reports. ICON also raised a $207M Series B round, TechCrunch reports. The habitat, called Mars Dune Alpha, is being built at the Johnson Space Center in Houston. NASA tapped ICON's 3D construction technology to complete the 1,700 square-foot (158 square-meter) structure which includes separate living and working areas as part of a program to help NASA astronauts prepare for challenges they may face on Mars. "This is the highest-fidelity simulated habitat ever constructed by humans. Mars Dune Alpha is intended to serve a very specific purpose – to prepare humans to live on another planet," says Jason Ballard, co-founder and CEO of ICON. Future habitats used in space exploration will likely be 3D printed, saving the need to launch large, heavy building materials into space. Slightly closer to home, ICON's Project Olympus is a space-based construction system for future exploration of the Moon and "to imagine humanity's home on another world," the company says. "Our goal is to have ICON tech on the Moon in the next decade," Ballard tells TechCrunch.
SmartAsset raises $110M in Series D funding
OurCrowd portfolio company SmartAsset raised $110M in a Series D funding round, AlleyWatch reports. SmartAsset is a personal finance engine that distributes content, tools and calculators related to everyday finance issues, as well as a customer acquisition platform for the personal finance industry. Each month, the company handles over $100M in customer interactions and originates $1.5B in new assets under management. "With a total addressable market of $20B per year, our vast target market gives us plenty of opportunity for continued growth," says SmartAsset Co-founder and CEO Michael Carvin.
Orbital Insight launches supply chain intelligence tool
Geospatial analytics company and OurCrowd portfolio company Orbital Insight launched a supply chain intelligence tool that gives customers end-to-end supply chain visibility and highlights vulnerabilities, PaymentsJournal reports. By using AI, multi-source data and location analytics, the system can uncover hidden risks, monitor upstream or downstream activities and reveal movement patterns across facilities all over the world at scale. Organizations can now better detect connections between specific areas over time, including supply chains, global migration patterns, commutes, tourism activity and other factors affecting the movement of goods or people.
Amazon vehicles guru Tom Kaminski joins Phantom Auto as CTO
OurCrowd portfolio company Phantom Auto, a provider of long-range remote operation software for unmanned vehicles, appointed Tom Kaminski as Chief Technology Officer, Modern Materials Handling reports. Kaminski was most recently Director of Robotics, Worldwide Automated Guided Vehicles at Amazon and has over 20 years of experience in the robotic and autonomous vehicle industry. "It's a very exciting time to join the Phantom team," Kaminski says. "Teleoperation is the critical missing link to scale autonomous and unmanned vehicles in a variety of domains. I look forward to supporting Phantom's mission to deliver advanced technical solutions that address our customers' critical challenges around safety and productivity."
Introductions
Your portfolio gets stronger when the OurCrowd network gets involved. Visit our Introductions page to see which of our companies are looking for connections that you may be able to help with.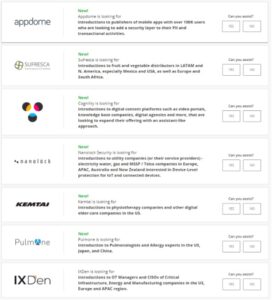 More than 3,300 High-Tech Jobs
Read the OurCrowd High-Tech Jobs Index Q2 2021 here.
Despite the coronavirus pandemic, there are hundreds of open positions at our global portfolio companies. See some opportunities below:

Search and filter through Portfolio Jobs to find your next challenge.