Congrats to Hailo on the launch of Hailo-8, their deep learning processor for edge devices. MultiVu raised a $7M seed round for its next-gen 3D sensor, led by OurCrowd, Cardumen Capital and Hong Kong-based Junson Capital. In other big news, Zebra Medical Vision received FDA approval for the world's first AI chest X-ray triage product. 
Startup Nation and beyond
Top tech news this week
News from the Industry 
The world's aging population is larger than ever before and growing. Can the ailments of old age become a thing of the past due to the rise of groundbreaking technology? New Tech Tackles Old Age: An excerpt from OurCrowd's Q1 Innovation Insider (OurCrowd)
IPOs, M&A, and Forces of Growth — Here's Software 2019 (Battery Ventures)
From Textray to FDA: The journey from basic research to clinical outcomes (Zebra Medical Vision)
The latest from OurCrowd
Save the date! The 2020 OurCrowd Global Investor Summit will take place February 11-13, 2020 in Jerusalem, and include 3 days of jam-packed events, extraordinary content and plenty of ways to get to know Startup Nation. Apply now.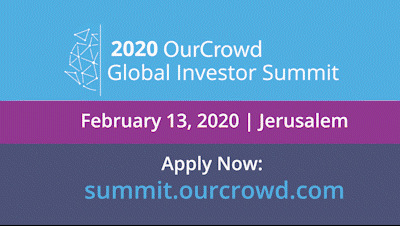 See which OurCrowd events are taking place near you on our Events Calendar.
Looking to connect
We currently have 500+ open positions at our global portfolio companies. Here are a few of the most exciting:
To search, filter, and apply head to OurTalent here.
---