Top investment opportunities
Startup of the Week: InsideTracker, optimizing human performance
Going beyond ESG investing
Laly David: Excited about FoodTech
FT: OurCrowd leading Israel's private sector in Gulf investments
Join us online Dec. 14 for VC 101 for US investors
CarDekho: Bringing AI to India's giant vehicle market
Airobotics drones will clean solar panels from the air
AI chipmaker Hailo inks North America distribution deal with KAFI
MedAware-Baxter study supports AI in infusion pumps
Carbon Health program remotely diagnoses diabetes patients
Introductions
More than 3,600 high-tech jobs
Startup of the Week:
InsideTracker: Optimizing human performance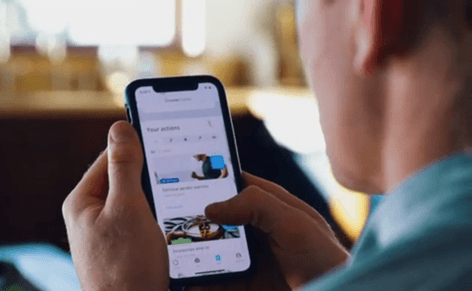 Consumers want to proactively take control of their health and wellness to optimize their healthspan. InsideTracker is a Cambridge, Massachusetts-based global leader in personalized nutrition and human performance. Founded in 2009 by top scientists in the fields of aging, genetics and biology from Harvard, MIT and Tufts, InsideTracker is a truly personalized nutrition and performance system, aiming to help people optimize their bodies from the inside out. It is the only system that integrates and analyzes users' personal data from blood, DNA, fitness tracking and self-reported habits and goals. This biometric data fuels InsideTracker's proprietary AI engine, the result of 12 years of R&D. The company's revenue is growing by more than 100% YOY. Its blue riband customer base includes the US Olympic Committee, US Military Special Operations and other branches, plus professional sports teams in the NFL, MLB, NBA & NHL, and tens of thousands of private consumers. InsideTracker's Founder and Chief Scientific Officer, Dr. Gil Blander, is a world-renowned expert on the biology of aging, who received his PhD in biology from the Weizmann Institute and completed his postdoc research on aging at MIT. This is a hot sector, which includes 23andMe with its $3B+ valuation. Join OurCrowd's investment in this $15M round which will be used to drive consumer growth, develop the next version of the product and expand the company's market position.
Going beyond ESG investing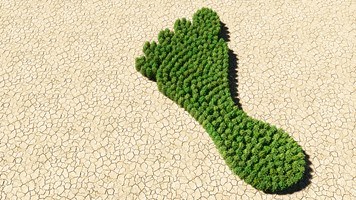 Israeli Prime Minister Naftali Bennett was right when he told COP26 in Glasgow that Israeli technology can make a "mighty" contribution toward mitigating the climate crisis by focusing its entrepreneurial smarts on the problem. It's not enough to invest in companies that are environmentally aware, reducing pollution, working toward zero carbon and have diversity on their boards. Investors must focus dollars on the technologies necessary to make the climate revolution a reality. Read my latest LinkedIn column on the limits of ESG.
Laly David: Excited about FoodTech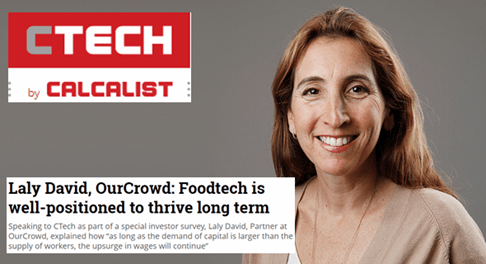 "The supply of available workers in tech hasn't grown as fast as the capital coming in. Until this changes, the wage spiral will increase," Laly David, OurCrowd Partner and Head of Business Development, tells Calcalist in a wide-ranging and fascinating interview that touches on the potential of FoodTech startups and what investors are really looking for.
Read more here.
FT: OurCrowd leading Israel's private sector in Gulf investments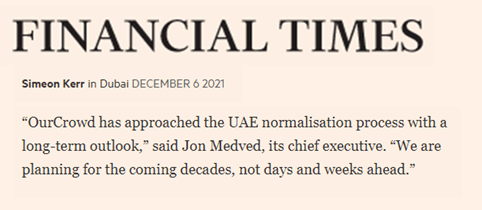 The Abraham Accords have brought about a flurry of trade deals between state-sponsored actors but the private sectors in Israel and the Gulf countries have been sluggish to develop new business opportunities, Simeon Kerr reports in the Financial Times. The FT identifies OurCrowd as the exception. "OurCrowd has gone against the prevailing direction of travel, seeking to elicit investment into the emerging tech scenes of the Gulf," Kerr notes. Read more here.
Join us online Dec. 14 for VC 101 for US investors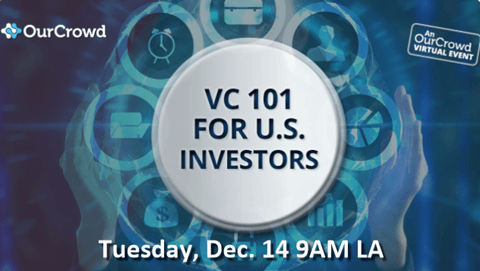 Join our virtual VC event with Rafi Schraer, VP Investor Relations in our California office, on Dec. 14 at 9AM Pacific Time to learn more about how OurCrowd bridges the gap for angel investors and wealth managers seeking access into venture capital investing, and how we can diversify through sector and stage.
Top Tech News
Zippin's AI-powered, autonomous checkout comes to JFK airport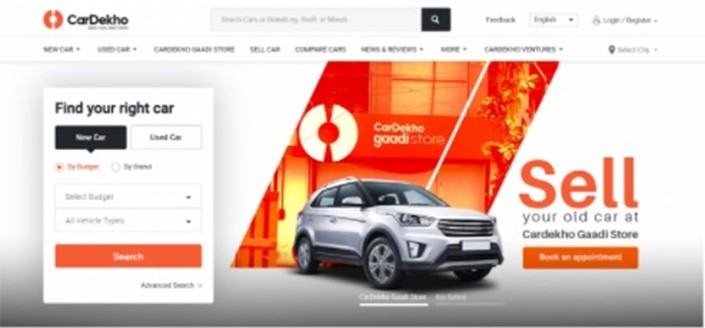 If If you are buying a car in India, it is likely you have visited CarDekho's website, India's answer to the $46B Carvana in the US. Some 86% of new car buyers in India visit the CarDekho site before purchasing a vehicle. The company's AI-driven technology is changing India's vehicle market, the Economic Times reports. CarDekho's machine learning-based model analyzes automotive prices, tracks inventory, and improves customer experience. The company has partnerships with auto manufacturers, more than 6,000 new and used car dealers, and numerous financial institutions to facilitate the purchase of vehicles.
Airobotics drones will clean solar panels from the air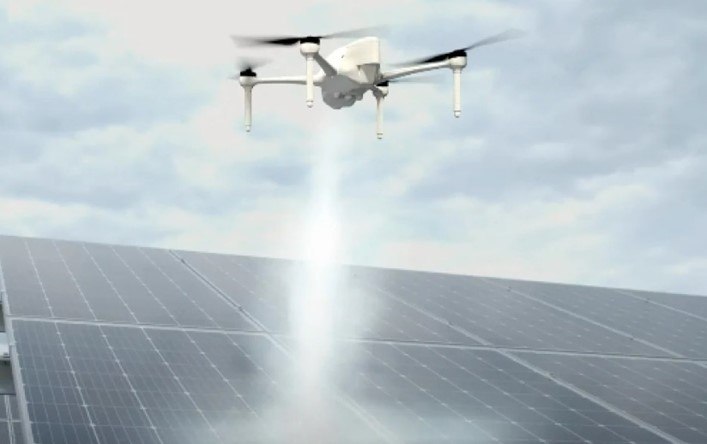 OurCrowd unmanned aircraft developer Airobotics is branching out into renewable energy. The company's new partnership with solar farm specialists Solar Drone will see the creation of a new drone system which will clean solar panels from the air, Israel Hayom reports. The fully automated system will include a drone docking station for automatic battery replacement and cleaning fluid replenishment, enabling it to operate continuously. The companies are forecasting multi-million-dollar sales in Israel, Europe, India and the UAE..
AI chipmaker Hailo inks North America distribution deal with KAFI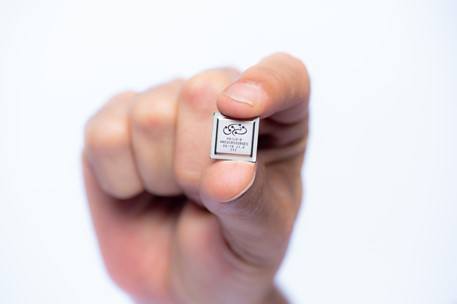 Our artificial intelligence chipmaker Halio is partnering with KAGA FEI America (KAFI), a leading semiconductor distributor, to promote and support Halio's edge computer products across North America, Aithority reports. The agreement helps Hailo strengthen partnerships with existing customers, while enhancing its sales channels to expand into other markets. "We are excited to partner with a top artificial intelligence company in the edge space like Hailo, as we see huge potential for their innovative AI solutions," says Toyohisa Hoshino, President and CEO of KFAI.
MedAware-Baxter study supports AI in infusion pumps
Software developed by OurCrowd portfolio company MedAware played a major role in a broad study by US healthcare giant Baxter, Mass Device reports. MedAware's algorithms were used to analyze more than 3.8 million medicine infusions performed using over 20,000 Baxter smart infusion pumps during a 10-month period to see if patients were receiving the prescribed amounts of drugs. The conclusion: AI can help prevent overdoses and increase patient safety. "Baxter is eager to further explore the use of machine learning and other digital health platforms to generate real-time insights that support individualized clinical decisions," says Dr. Douglas M. Hansell. VP Medical Affairs for Baxter's Medication Delivery Business.
Carbon Health program remotely diagnoses diabetes patients
Our virtual healthcare provider Carbon Health is rolling out a hybrid assessment program aimed at finding people suffering from diabetes, Mobi Health News reports. After an initial screening, patients are equipped with a device which remotely monitors their glucose, nutrition and lifestyle. Once the data is analyzed, a doctor assesses the risk and can prescribe care. "It's critical we intervene early, help individuals learn how to manage their blood sugar levels, and enable primary care physicians to provide long-term, personalized care for every patient." says Myoung Cha, chief strategy officer and president of Omnichannel Care at Carbon Health. CDC estimates show that over 10 percent of the US population suffers from diabetes.
Introductions
Your portfolio gets stronger when the OurCrowd network gets involved. Visit our Introductions page to see which of our companies are looking for connections that you may be able to help with.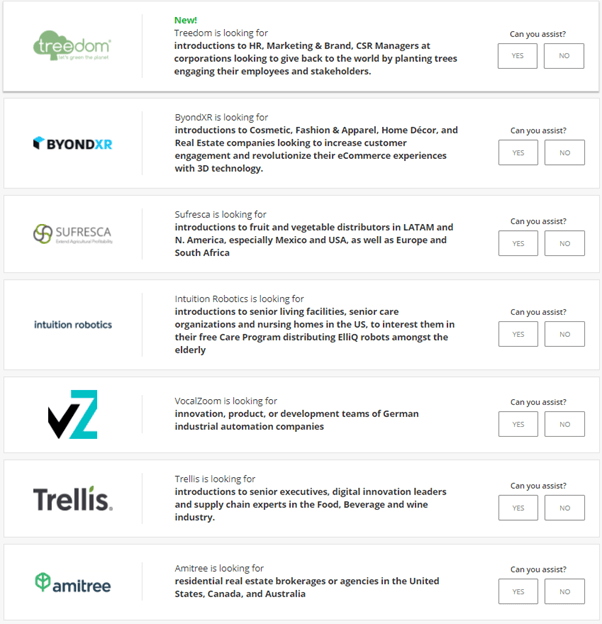 More than 3,700 High-Tech Jobs
Read the OurCrowd High-Tech Jobs Index Q3 2021 HERE.