It's been another intense week as the global community continues to combat the coronavirus pandemic. I am proud of my team, working day and night to support our companies playing a part in this effort, mobilize our global community to join that effort in fighting the pandemic, and to identify selective opportunities to get in front of it. Read more about how OurCrowd is working through this period in my interview with CTech.
I highly recommend you watch the recording of the webinar we held last week, where, joined by members of our executive team, I shared our insider view into the impact of coronavirus on startups, implications for the market, portfolio companies fighting the battle, and OurCrowd's next steps. We plan on maintaining strong connectivity with our community and holding various more webinars in the near future – stay tuned on that.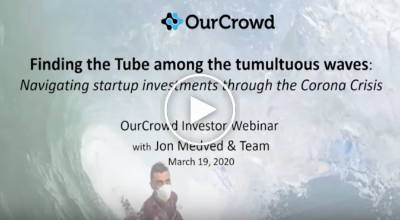 Furthermore, I believe that great companies are built in downturns and technology has a great role to play in solving and helping us get through this crisis. "From diagnosis, mitigation, patient tracking, contamination prevention, and protecting medical staff, to education and exercise for the homebound", check out Israeli startups, several of which we are proud to have in OurCrowd's portfolio, that are working to help defeat this pandemic.
With the above being said, and OurCrowd remaining aware as well as active in supporting the fight against this virus, read on for more tech updates.
Startup Nation and Beyond
With more and more offices all over the world converting to remote-working, can online conferences and events represent a valid alternative to in-person meetings? Read about this new reality in The Jerusalem Post, featuring thoughts from Eric Brand, Director of Corporate Marketing at OurCrowd.
"We must rally the technology and manufacturing capabilities of the Israeli industry to support the national effort and maintain public health," says Israel Innovation Authority CEO Aharon Aharon – The Israeli government is offering assistance to tech developers fighting coronavirus. Also read in the article about leading developers striving to bring their technologies to the forefront of the coronavirus battle, including OurCrowd portfolio company Sight Diagnostics.
Soon, this easy, in-home diagnostic device will be standard home equipment for every family – see this review on TytoCare, as featured in Wired.
Featuring OurCrowd portfolio company TechSee, read: How AR and remote video could assist technical support teams during the coronavirus outbreak.
Top tech news this week
News from the industry 
Congrats to Checkmarx and Insight on proving that huge deals can get done amidst the crisis: Israeli cybersecurity firm Checkmarx acquired for $1.15 billion.
Coronavirus and Israeli tech: Who'll prosper, who'll struggle?
The Founder's Survival Guide in the time of COVID-19.
The latest from OurCrowd
Stay tuned for announcements about OurCrowd's virtual event calendar, coming your way soon.
In the meantime, make sure to follow us and subscribe on YouTube, LinkedIn, Facebook, Twitter, and Instagram for more immediate stories, updates and content.
In our ongoing storytelling around breakthrough medtech companies: OurCrowd is proud of our portfolio company Alpha Tau Medical, which is revolutionizing treatment for cancer patients and showing impressive results. Watch this video for more about how the therapy works and for Leah's inspiring cancer journey with the technology.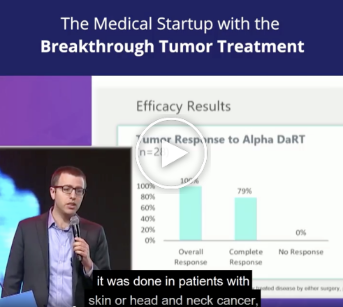 Looking to connect
We currently have 500+ open positions at our global portfolio companies. Here are a few of the most exciting:
Search and filter through OurTalent to find your next challenge.
---