As the global community comes together to combat the coronavirus, our thoughts are with those directly and indirectly affected. Israel has taken an active role in trying to prevent the spread of the virus and has reduced potential exposure in various ways. Read here how Israeli research groups are hard at work on a vaccine. OurCrowd is maintaining close contact with our portfolio and network to provide guidance in navigating this crisis. See here a note that Sequoia sent its founders and CEOs regarding the current situation.
Join me for a webinar next Wednesday, March 18th at 6 PM Israel, 12 PM New York, 9 AM San Francisco, about the impact of coronavirus on startups, how some startups are fighting back, and what steps we are taking as OurCrowd. Click here
"From healthcare to transportation; artificial intelligence to agriculture and food and fighting fires in Australia to protection from missiles, OurCrowd is saving and improving lives." Have a look at this piece – From cancer to coronavirus, OurCrowd innovates for humanity.
Up until the coronavirus outbreak, Israeli tech companies were off to a promising start, as they raised over $1.5 billion in the first two months of the year. Watch this video, where Nomura Chief U.S. Economist predicts a strong H2 recovery from the corona crisis.
Startup Nation and Beyond
In case you missed the big news: The FDA clears Israeli robotic standing wheelchair, UPnRIDE, for US sales. OurCrowd is very proud to be backing this company.
Congrats to Israeli AI chipmaker Hailo on the $60M raise, in which OurCrowd was happy to again participate.
Does OurCrowd portfolio company DouxMatok have the answer to the food and beverage industry's quest to cut sugar? Read about the mad scientists who engineered healthier sugar that actually tastes good.
Companies such as Barcode Diagnostics are one of a new class of companies building technologies that can put drugs into a 'nano-particle' to target specific areas of the body with treatment. Read up on today's innovation in healthtech software.
Top tech news this week 
News from the industry 
From Forbes: Israel Applies AI To Healthcare, Building On Leadership In Cybersecurity, Digital Medical Records.
Hillel's Tech Corner: Ride Vision: Making motorcycles safer.
Events & more
We were happy to showcase some of our portfolio at AIPAC 2020 with companies that are innovating in mobility, drones, communications, medtech and more. See photos.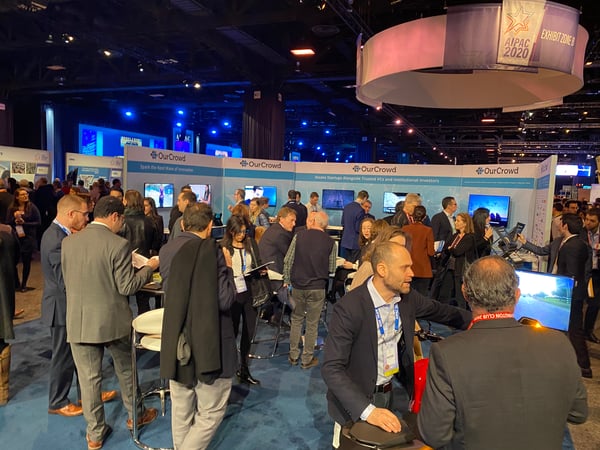 See which OurCrowd events are taking place near you on our Events Calendar
Looking to connect
We currently have 500+ open positions at our global portfolio companies. Here are a few of the most exciting:
Search and filter through OurTalent to find your next challenge.
---