Startup of the week: OncoHost cancer care

Me, Joe and a spoonful of sugar

OurCrowd teams up with BNZ for New Zealand clients

Join me live: Israel and the UAE in 2021

Superpedestrian raises $60M for smart e-scooters

Signals Analytics snapped up by Kenshoo

Arbe's radar revolution to fuel safer cars

Morphisec: shape-shifting software that

outwits

 hackers

Freightos integrates 'Freight-as-a-service' into websites
Startup of the week: OncoHost cancer care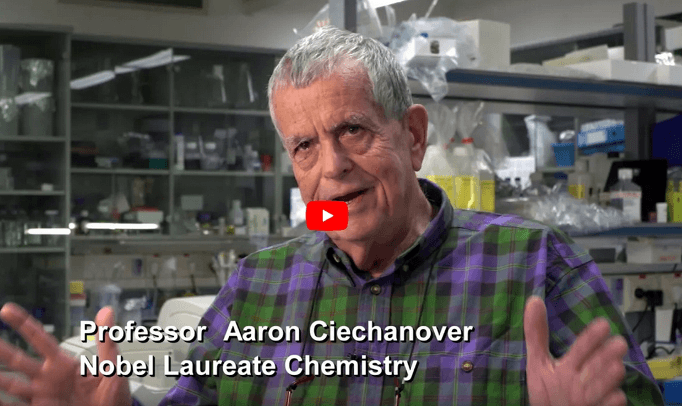 Nobel Prize winner Prof. Aaron Ciechanover has hailed the breakthrough in cancer immunotherapy developed by OurCrowd portfolio company OncoHost and joined their scientific advisory board. "Until now, cancer treatment has been what I call one size fits all. We bombarded the patient with chemotherapy, radiotherapy, with enormous side effects," Ciechanover said. "Now we are narrowing it. We are going to be much more precise. We are going to provide treatment that has much less side effects. And we may discover new pathways that are involved in carcinogenesis, enabling us to develop new drugs. They can really profile the patients into groups of patients that will respond to the treatment and those that will not respond. It looks rather promising." OncoHost revolutionizes immunotherapy treatment with a simple blood test for specific protein types. It then uses machine learning to comb through the data of thousands of patient blood profiles, identifying how different patterns of proteins were associated with success in various immunotherapy treatments. Trials are underway in Israel, the U.S. and are about to start in the UK, and the company hopes to bring its life-saving tests to market before the end of 2021.
Me, Joe and a spoonful of sugar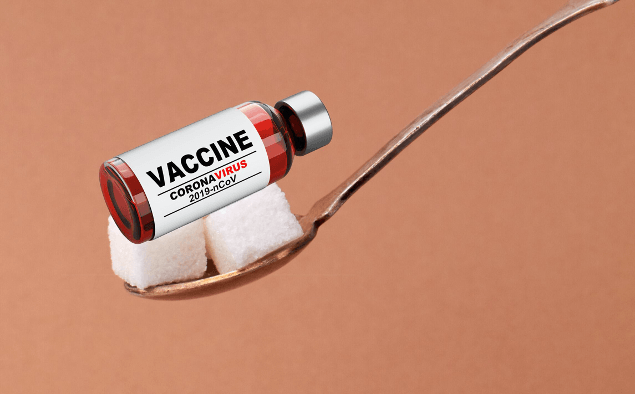 Since Israel rolled out the coronavirus vaccine less than two weeks ago, more than 800,000 people have been inoculated and more than 150,000 a day are getting the jab – the highest per-capita rate in the world. I was lucky to be among the first in Israel to get it, the same day as President-elect Joe Biden in the US. The breakneck speed at which the vaccine has been produced is a tribute to science and innovative technology. The sheer audacity and wonder of a program that produced an effective vaccine against a killer disease in less than a year left me so breathless with admiration that I wanted to be first in line. I also want to be free of the craziness that has warped all our lives in 2020. I think everyone should be vaccinated. It's a tribute to Israel's superb health system that I secured my front-row seat for this pharmaceutical premiere by simply going online. Venture capitalists enjoy taking risks in our daily business, but we are not considered a high-risk group for the virus. I joined thousands of other eligible patients and clicked for an appointment at my nearby clinic. For free. Now comes the next challenge – an oral vaccine that doesn't need sub-zero temperatures for storage. Read more in my Investors on the Frontlines Linkedin Newsletter here.
OurCrowd teams up with BNZ for New Zealand clients
Following OurCrowd's collaboration with National Australia Bank-NAB enabling access for Australian investors to OurCrowd's startup portfolio, we have joined with the Bank of New Zealand, part of the NAB group, to offer Kiwis the chance to invest in the best global tech startups. BNZ is one of New Zealand's most respected financial institutions, so we're delighted to provide its high net worth clients unparalleled access to invest and engage in leading global emerging companies. A year ago, OurCrowd joined the consortium behind NZ government sponsored Auckland agritech incubator Sprout. This new collaboration will provide more support to start-ups in New Zealand as well as delivering broad investor access to innovative companies tackling global challenges. It's the "first of its kind partnership in New Zealand," said Charlotte Noble-Beasley, BNZ GM Private Bank. "BNZ backs New Zealand tech, we understand the industries and the companies in it, and we're excited to be able to offer another avenue and service for our tech company customers with OurCrowd," she said. It's also another milestone for Dan Bennett, OurCrowd's Australia and Asia managing partner. "New Zealand is a strategically important market for us and this new collaboration with BNZ will be a real win-win to support providing BNZ high net worth clients with strong global connectivity," Dan said.
Join me live: Israel and the UAE in 2021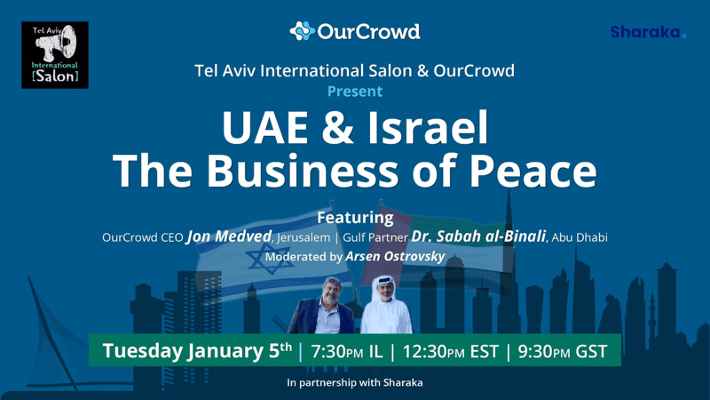 What will 2021 hold for the fast-blossoming relationship between Israel and the UAE – and other new friends joining the historic Abraham Accords? I'll be discussing these and other issues with OurCrowd's Abu Dhabi-based Gulf Partner Dr. Sabah al-Binali in a live discussion hosted online by Arsen Ostrovsky with the Tel Aviv International Salon and UAE-based Sharaka. Join the conversation by reserving your free place here.
Top Tech News
Superpedestrian raises $60M for smart e-scooters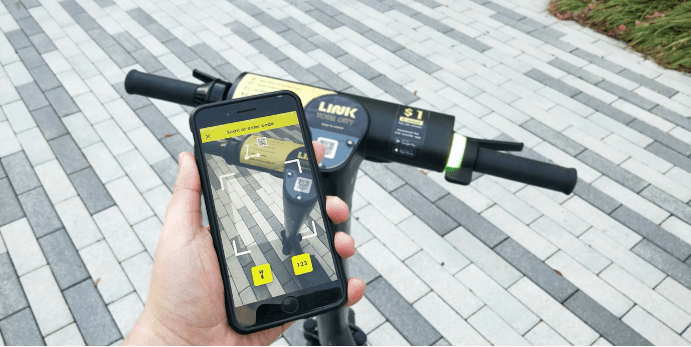 Superpedestrian, led by Assaf Biderman, raised $60M in a round led by OurCrowd, Citi, and Winthrop. Superpedestrian's LINK service uses their proprietary MIT-born, AI-driven e-scooter, which is smarter, safer and more profitable than any other on the road or sidewalk. The company launched its LINK scooter in January. Since then it has expanded to 11 other cities, including Seattle, Madrid and Rome, and is bidding for London, New York and other locations. Even though Citi sponsors New York's Citi Bike run by rivals Lyft, "People should have options and we believe that there's more than enough room for both," Ed Skyler, executive vice president of global public affairs at Citi, told the Wall Street Journal. 
Signals Analytics snapped up by Kenshoo
Kenshoo, a global leader in marketing technology, will acquire OurCrowd portfolio company Signals Analytics, a pioneer in AI-powered analytics for market intelligence. The acquisition positions the company to solve the biggest challenge brands face in the post-Covid-19 era: How to catch up with accelerated e-commerce adoption and be best positioned to understand, engage and transact with consumers regardless of channel. Congratulations to Gil Sadeh and the Signals Analytics team
Arbe's radar revolution to fuel safer cars
Our portfolio company Arbe Robotics believes its high-resolution system, now being installed in vehicles worldwide, is 50 times better than standard radar. The system recognizes objects, including people, up to 300 meters away, giving a driver – or an automatic braking system – ample time to stop. Unlike other advanced imaging and sensing systems, Arbe's technology also works in low-visibility conditions caused by bad weather or glaring sun, and can detect cats, dogs and other small objects, as well as hidden and unseen dangers, such as a child walking between closely parked cars. "It can really see and detect in a reliable way," said Kobi Marenko, CEO of Arbe, whose systems are being developed in partnership with major global automotive manufacturers and will be available in some vehicles from 2022.
Morphisec's shape-shifting software outwits hackers worldwide
Shortly after installing new security software from Israel-based Morphisec Technologies to protect thousands of computers and patient records across 30 facilities, Skip Rollins, chief information security officer at Freeman Health System, became worried: it was too quiet. "It was just like radio silence," Rollins said. Then his team realized that the program had indeed been doing its job and preventing cyberattacks — but it worked alone, without needing any response or action from the IT staff. The computers at Freeman Health, which runs medical facilities across Missouri, Oklahoma and Kansas, are among more than four million endpoints worldwide using Morphisec Guard to simplify and improve cybersecurity. Sara Toth Stub reports.

Freightos integrates 'Freight-as-a-service' into sellers' websites
Online freight marketplace Freightos has expanded its online business-to-business platform, enabling buyers and sellers to complete an e-commerce transaction without being required to visit the logistics provider's website to do so, Freightwaves reported. The platform, which Hong Kong-based Freightos calls "freight-as-a-service," allows companies in the business-to-business (B2B) ecosystem to place an order, view shipping options and prices, and manage the delivery's progress as if they were consumers ordering on sites like Amazon. 

Introductions
Your portfolio gets stronger when the OurCrowd network gets involved. Visit our Introductions page to see which of our companies are looking for connections that you may be able to help with.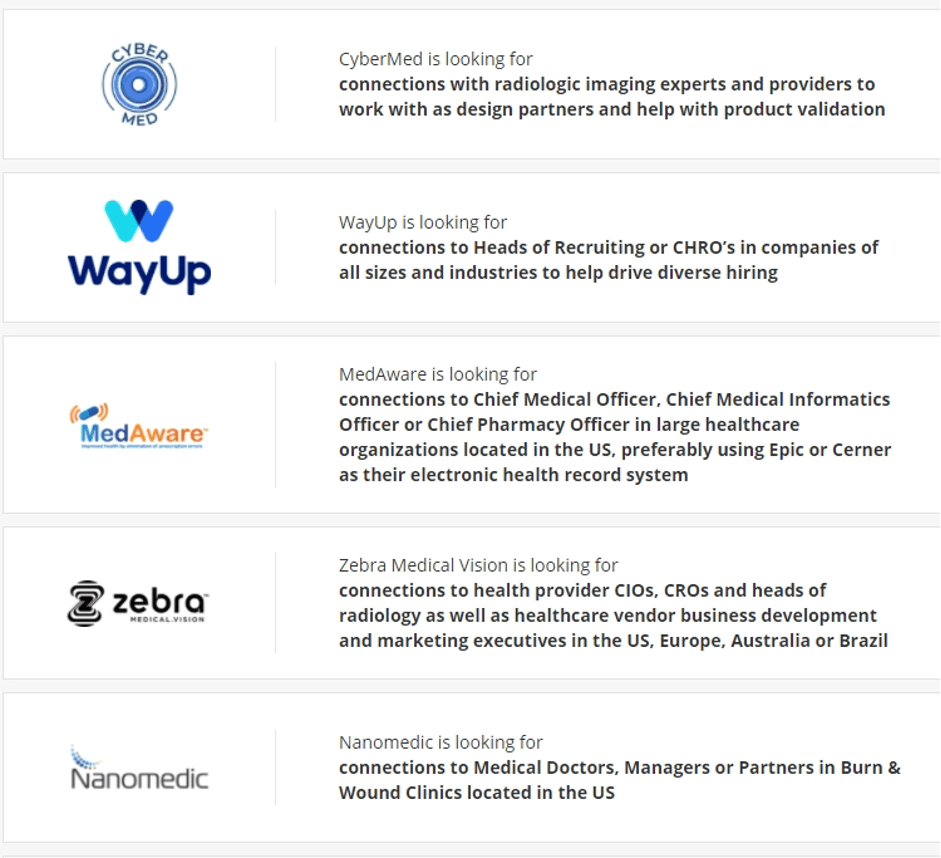 Job Vacancies
Despite the coronavirus pandemic, there are hundreds of open positions at our global portfolio companies. See some opportunities below:
Search and filter through OurTalent to find your next challenge.