OurCrowd joins SALT Talks
FDA approvals for two more OurCrowd startups
Amazon powers CropX to quadruple sales
A trip to the UAE: Signing deals and making friends
This week's top investment deals from OurCrowd
Varo offers small cash loans for free
Phantom Auto lets people WFH where you would least expect it
Foretellix joins Mobileye to keep autonomous driving in its lane
On video: How AgTech protects our food supply in a pandemic
OurCrowd & SALT Talks launch Pandemic Venture Investment Series
Medved meets the Mooch: We kick off first episode with the legendary Anthony Scaramucci of Skybridge Capital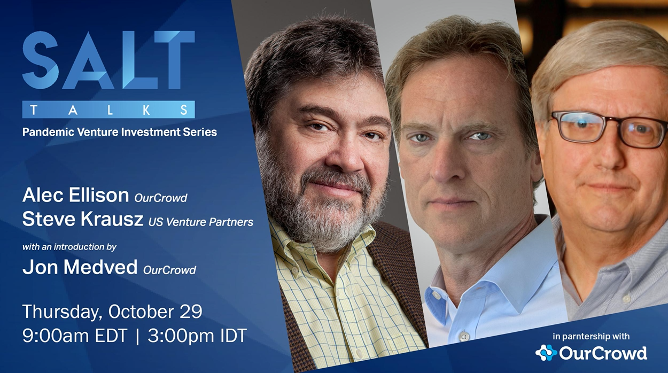 SALT, a global thought leadership forum, is teaming up with OurCrowd to present SALT Talks: Pandemic Venture Investment Series. SALT Talks is a series of digital interviews with the world's foremost investors, creators and thinkers. These conversations will take a deep dive into the challenges and opportunities arising from the COVID-19 crisis and feature breakthrough technologies addressing issues from coronavirus prevention and cures, social distancing and food supply, and how innovation can help us thrive in the new normal. I'll be kicking off the series on Tuesday, October 27 in a one-on-one with SALT Chairman Anthony Scaramucci. On Thursday, October 29, tune in for "Investing in the Pandemic and the New Normal," featuring Alec Ellison, Chairman of OurCrowd in the U.S. and Former Vice Chairman of Jefferies, and Steve Krausz, Managing Partner of U.S. Venture Partners.
FDA approvals for two more OurCrowd startups

Two OurCrowd startups announced US Food and Drug Administration clearances this week. Scopio Labs, which is making radical changes to the field of microscopy, received FDA 510(k) clearance for its Full Field Peripheral Blood Smear (PBS) application, adding to the CE mark certification granted earlier this year. Some 120,000 laboratories worldwide conduct 600 million PBS tests annually for the global population, predominantly via manual microscopes. Scopio's breakthrough technology automates blood smear analysis through AI-powered digital microscopy, unlocking the potential of in vitro hematology diagnosis, improving quality of care, consistency of results and reducing review time.
OSSIO, an orthopedic fixation company which is developing a bone regrowth implant, received its third FDA clearance for its OSSIOfiber® Intelligent Bone Regeneration Technology, this time for a compression screw portfolio, the only one on the market that is robust enough for bone fixation while fully integrating into the surrounding anatomy. Studies show that the company's implants provide easy insertion and secure fixation with rapid bone attachment in as little as two weeks following surgery, and gradual, safe incorporation and complete integration into the surrounding anatomy within 18 to 24 months. The compression screw helps keep fractures and bone grafts in place in the knee, ankle and foot while in a brace or immobilized.
Amazon Web Services powers CropX to quadruple its sales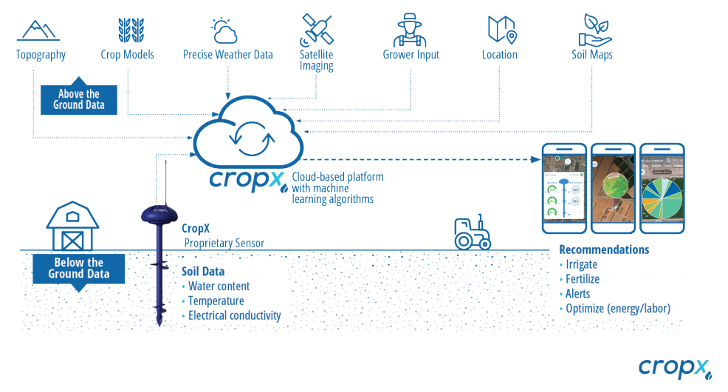 "We quadrupled our sales in the past year and we have expanded to dozens of countries because we can rely on AWS to manage the backend environment for our application," Matan Rahav, CropX director of business development, tells AWS. CropX sensors capture below-ground data on the soil beneath farmers' fields, combining it with satellite and other above-ground imagery to help growers reduce their water needs by up to 40% and increase yields by up to 10%. Information from CropX's nearly 9,000 sensors self-installed by growers is sent to a centralized cloud platform, Amazon Web Services reports in a recent case study. The data is analyzed by AI-based algorithms to provide analytical insights into soil readings, moisture levels, and root zones via the CropX web or mobile app. Farmers, breeding companies, agrochemical companies, crop insurers, and irrigation system manufacturers receive irrigation and crop nutrition recommendations for their crops. Farmers get alerts and notifications if their fields are too dry or too wet. "We don't need to travel to new areas for new projects or installations. As a startup, we wouldn't be where we are now if we weren't running on AWS," Rahav says.
A trip to the UAE: Signing deals and making friends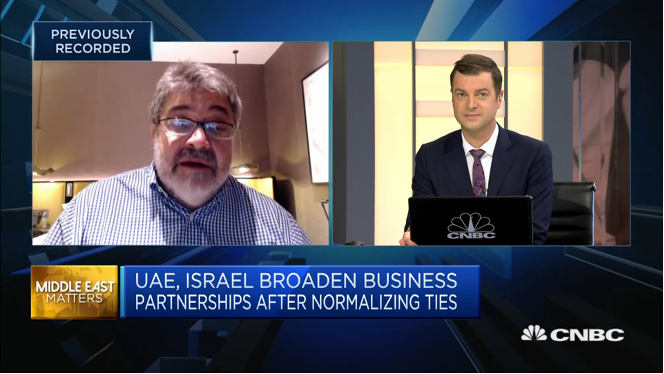 I predicted there will be over $10 billion of bilateral business between Israel and the United Arab Emirates once the relationship gets going, and it's going to be both ways, leading to the creation of a new Middle East tech hub. While this prediction may seem bold, the $3 billion Abraham Fund announced last week means we're almost a third of the way there. This has been a long-standing dream and it's happening now, I told CNBC last week during my first visit to Dubai since the Abraham Accords. As I told Reuters during my trip, the UAE is a potential gateway for Israeli business, not just to the rest of the Middle East, but to the wider Islamic world. All of a sudden, the Gulf has been transformed from an interesting, nice to have market, to a must have market for us – and many others in Israel.
What's New for Investors
Tevel makes easy pickings of forgotten fruit
Ten percent of fruit worldwide rots on the tree because there's no one to pick it. Labor shortages have increased during the coronavirus pandemic as countries restrict entry to seasonal workers. Israel's Tevel Aerobotics has developed a flying fruit picker – an artificial intelligence-driven robotic drone that gently picks fruit and performs other tasks like thinning and pruning, saving farmers up to 30% of their costs. At our recent AgTech webinar, Founder and CEO Yaniv Maor revealed how his tiny flying drones can pick several varieties of fruit faster and more efficiently than by hand. In a year when migrant labor is in short supply, leading to millions of tons of unpicked crops and wasted produce, Tevel's technology could not be more timely. Maor was a Program Initiator and Manager at Israel Aircraft Industries and was VP R&D for Lumio, an advanced-vision systems company. Chairman Eyal Desheh was the CFO of Checkpoint Software and Teva, and has been a board member of Mobileye, Stratasys, and ECI. With eight patents pending and unique knowhow, the company has a highly innovative solution to one of today's greatest pain points in agriculture. OurCrowd is investing in a $20M Series B round led by a strategic Chinese agricultural partner. We're hosting a webinar/conference call on Monday, October 26th for investors to meet Deshe and Maor and learn more about Tevel.
Top Tech News
Varo offers small cash loans for free
The all-mobile bank Varo Money, which this week ranked on CNBC's list of top high-yield savings accounts, has announced instant cash loans of up to $100 to its customers, many of whom cannot open a bank account. The move is aimed at helping customers manage their finances during a time when up to 78% of working Americans are living paycheck to paycheck. Loan charges start at nothing and go up to $5 for the full amount. Customers are not penalized for late repayment, nor does it impact their credit. "Offering a small-dollar lending program could help Varo—which recently attained a US bank charter—get off on the right foot with regulators. In March, regulators including the Board of Governors of the Fed and the Office of the Comptroller of the Currency issued a joint statement encouraging responsible small-dollar lending by banks in response to the pandemic," Business Insider notes.
Phantom Auto lets people WFH where you would least expect it
#StayHome may be the imperative of the pandemic year, and while that's doable for people in a range of jobs, it isn't the case for everyone. What about essential supply-chain workers, such as those working in warehouses and distribution centers? Driving a forklift is not something that looks like it can be done from home. Phantom Auto thinks otherwise. The Silicon Valley-based company is using remote-control technology to allow workers to control their machines from afar. "We have customers today where we are fully remotely operating those forklifts from remote locations," Elliot Katz, co-founder of Phantom Auto, told the BBC.
Foretellix joins Mobileye to keep autonomous driving in its lane 
Autonomous vehicle safety simulation and verification startup Foretellix has joined forces with autonomous driving leader Mobileye to market the first commercial implementation of the new Automatic Lane-Keeping System (ALKS) regulatory requirements published by the UN. The new regulations will kick into gear in January 2021 and will affect carmakers in 60 countries. Foretellix's ALKS solution deploys Mobileye's Responsibility-Sensitive Safety (RSS) model following a successful joint demonstration of ALKS safety regulation and compliance flow. Foretellix recently released its ADAS & Highway solution that provides a comprehensive verification package for different levels of autonomous vehicles, from Level 2 driver-assist technologies to Level 4 fully autonomous, Netflix-and-chill solutions.
Watch Now
Unprecedented investment opportunities in AgTech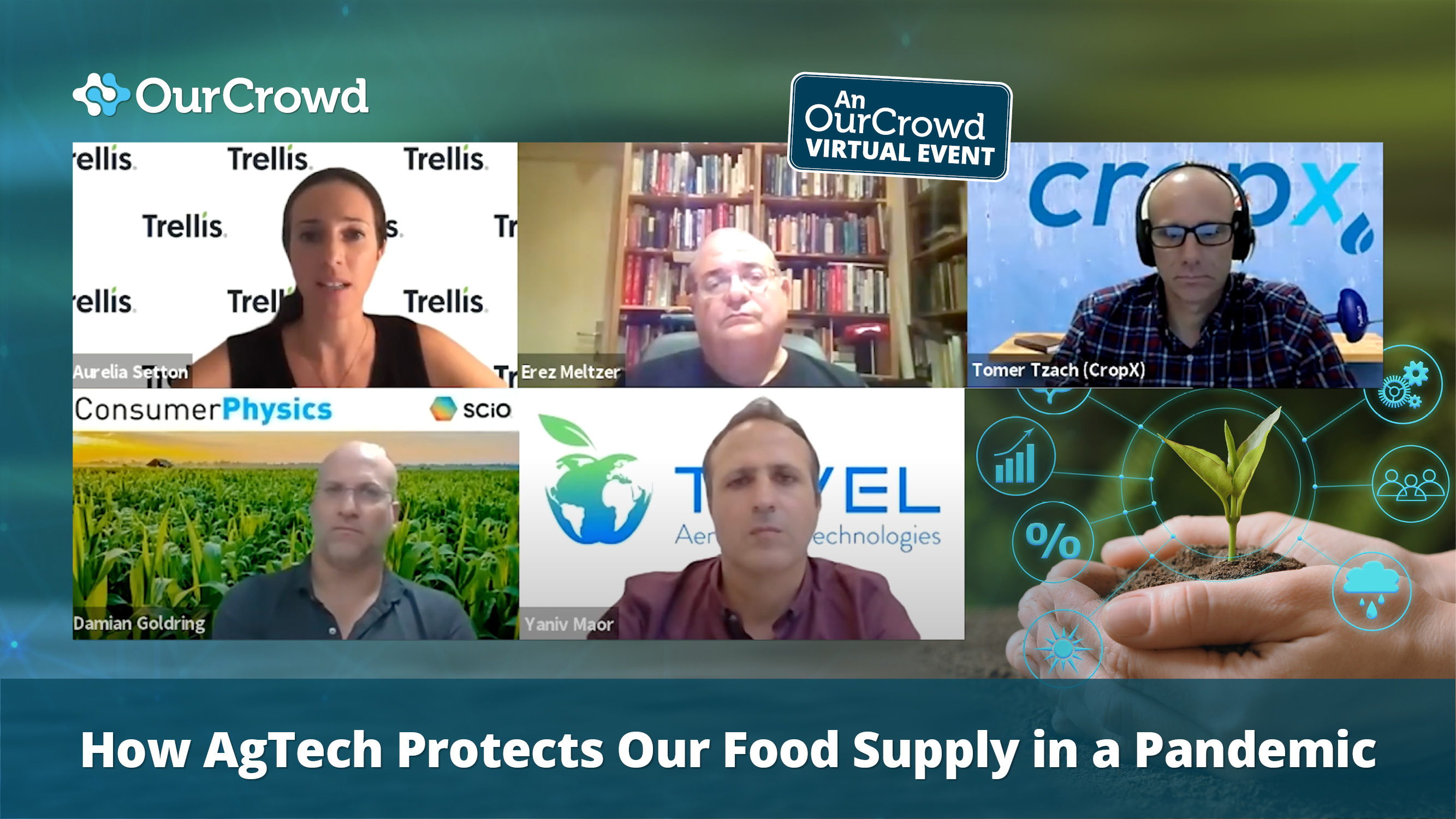 The coronavirus pandemic has further weakened a global food supply chain already under strain from increasing population and climate change. In this recording of last week's exclusive webinar for OurCrowd investors, executives from CropX, Consumer Physics, Tevel and Trellis explain how startup technology is increasing farmers' yields, easing distribution, automating harvesting and enhancing irrigation, creating unprecedented opportunities for investment in fast-growing AgTech companies. Learn how these advances in agricultural technology are being snapped up by local farmers and multinational corporations, and how you can invest in their success. (For accredited investors only – register on the OurCrowd platform to view).
Introductions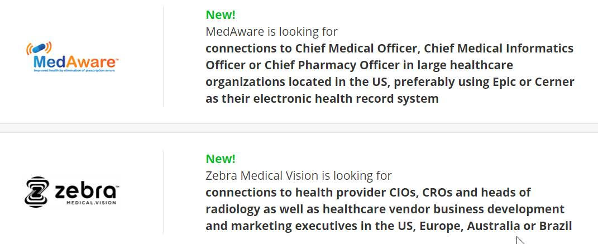 Your portfolio gets stronger when the OurCrowd network gets involved. Visit our Introductions page to see which of our companies are looking for connections that you may be able to help with.