Speakers announced for the upcoming OurCrowd Pandemic Innovation Conference on Monday, June 22; to name a few:
Dr. Paul Rothman, CEO, Johns Hopkins Medicine
Professor Joseph M. Jacobson, Head, MIT Molecular Machines Research Group
Dr. Ruth Atherton, Director, Bill & Melinda Gates Foundation
Sigal Kremer-Tal, MD, Chief Clinical and Regulatory Officer, MigVax (leading vaccine startup)
See more featured speakers, plus agenda preview. The online conference will explore the latest technological solutions to the coronavirus crisis, including vaccination, treatment, diagnostics and prevention of the disease. The sessions will also cover non-healthcare innovations addressing the changing nature of work and life brought about by the 'Pandemic Pivot' occurring in the global economy. 
Top Tech News
Insurtech leader Lemonade files for an IPO in New York, targeting $100 million.
More great news from leading Israeli coronavirus vaccine developer MigVax – welcome to the Board of Directors, Eyal Desheh (previously CFO of leading Israeli companies Check Point and Teva Pharmaceuticals).
MagniLEARN, another emerging star from Labs/02: The Israeli method that could teach China to speak English. 
Shouldn't there be better tools and technology today to know what treatments will work on what patients and what will not? Read about CytoReason, a platform based on a machine learning model to build a molecular level understanding of tissues in diseases on the cellular level.
Superpedestrian is launching a shared e-scooter service called Link.
Watch the latest from OurCrowd
In February 2020, Dr. Gilly Regev presented the OurCrowd Global Investor Summit with her lab results showing that nitric oxide completely kills different types of influenza within minutes – with the idea that it could potentially do the same for COVID-19. Weeks later, we found ourselves facing a full-blown global coronavirus pandemic, and now, Dr. Regev's team at SaNOtize is conducting Phase II clinical trials across Canada to get their coronavirus therapeutic proven, approved and ready for frontline medical workers and beyond.
See Dr. Regev on Monday, June 22, on the virtual stage at the OurCrowd Pandemic Innovation Conference. Register now.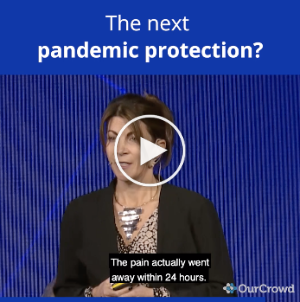 .
Looking to connect
Despite the coronavirus pandemic, there are open positions at our global portfolio companies. See some opportunities below:

Search and filter through OurTalent to find your next challenge.
---