The latest from the Startup Nation: Israeli high-tech exits reached an impressive $3.3B in the first half of 2016; check out the Israeli spacesuit that will protect help astronauts in space; hear from the CEO of Trendlines about AgTech and going public in Singapore;  and more…
Start getting this weekly newsletter via email: Subscribe now
Israeli startups sell for $3.3B in the first half of 2016

Israeli startup companies were sold for a total of $3.32 billion in the first six months of 2016. These 'exists' span 45 deals in which high-tech companies were either acquired or had merged with other companies. Learn more.
OurCrowd & Portfolio Companies in the News
The secret to protecting astronauts in space? A special suit that Israeli startup StemRad is building

Radiation suits are big business. StemRad's technology offers the first real protection against gamma rays and acute radiation sickness for emergency responders and astronauts. Learn more.
One-on-one with The Trendlines Group CEO, Todd Dollinger

Todd Dollinger, CEO of The Trendlines Group (an OurCrowd portfolio company), shares his insights on agricultural technology and discusses what led his company to list in Singapore. Learn more.
Meet Tomer Hen, Israel's brand specialist and MobCo's CEO

MobCo, an engagement-driven performance agency for mobile apps, is led by 21-year-old Tomer Hen, widely recognized as one of the world's foremost experts in exploiting the marketing potential of mobile devices. Learn more.
Running my own company at 17. Meet RapidPay's Iddo Gino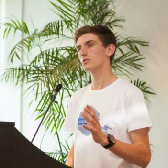 When he's not in high school, Iddo Gino heads RapidPay, a company with four employees thathave created a mobile in-store and online payment platform for customers without a credit card or bank account. Learn more.
OurCrowd's News Nuggets


Subscribe for weekly updates about the Startup Nation to your inbox.
See this week's original newsletter here.
[xyz-ihs snippet="HowToInvestInIsraelCTA"]