Can you taste it? The talk this weekend was Beyond Meat's IPO, debuting on the Nasdaq (BYND) last Thursday, exceeding expectations. In this Bloomberg interview, OurCrowd CEO Jon Medved explains that for us, it's not just about another exit – it's that individual investors got access to Beyond Meat before it went public by investing with OurCrowd.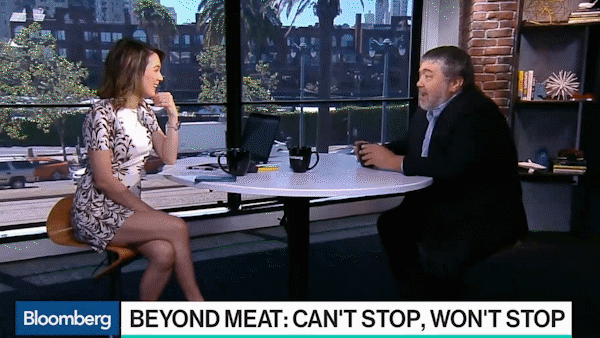 Meanwhile, read on about another hot topic, BOL Pharma and Israel's cannabis tech scene: BOL Pharma grows in a favorable climate that made Israel leader of $100B medical cannabis market. Two big sectors join to create new solutions: how self driving tractors and AI are changing agriculture, featuring Taranis in Forbes.
Startup Nation and beyond
Read this Israeli tech overview, including, "Israel has even invented a new type of venture capital, with a crowd-sourced venture fund named OurCrowd." Israel's High-Tech paradise: Built by the IDF, increasingly looking to Arab-Israeli talent.
Hillel's Tech Corner: Holograms saving lives; captures the essence of RealView Imaging's amazing new tech.
Israel announces its participation in World Expo 2020 in Dubai; the Foreign Ministry welcomes "the opportunity to… present Israeli innovations and trailblazing technology in.. water, medicine and information technology."
Top tech news this week
News from the Industry 
'Hope is A Global Thing': Nas Daily shares an impact message (OurCrowd)
Download The State of Innovation report on operating model frameworks, findings & resources for MNCs innovating in Israel (Start-Up Nation Central and PwC Israel)
Amazon's One-Two Punch: How Traditional Retailers Can Fight Back (Battery Ventures)

The latest from OurCrowd
Can't get enough Beyond Meat? This background on the meat-alternative industry should satisfy your appetite: 'This Is Not A Sausage': Plant-based proteins sizzle with startups like Beyond Meat (BYND)
Download the status of the impact investing market in Israel, a report by OurCrowd, in collaboration with Social Finance Israel, detailing Israel's current role and emerging prospects in the global impact investment ecosystem, a rapidly expanding $300B market.
Looking to connect
OurCrowd is seeking introductions to senior executives at logistics companies. We currently have 500+ open positions at our global portfolio companies. Here are a few of the most exciting:
To search, filter, and apply head to OurTalent here.
---