Last week, OurCrowd portfolio company Beyond Meat made its Nasdaq debut (BYND). The company is the first venture-backed 'meat alternative' startup to go public. If you haven't already been, it's time to pay attention to what is going on in this industry.
Startups creating plant-based proteins are upending the meat industry by appealing to vegans and omnivores alike, while dramatically cutting energy, water and greenhouse gas emissions. The numbers don't lie. Meat-free, meat-less, "flexitarian" eating is filling stomachs across the globe. So much so, that investors who hedge their bets on the next big thing are having a hard time arguing with a 20% growth margin in one year alone.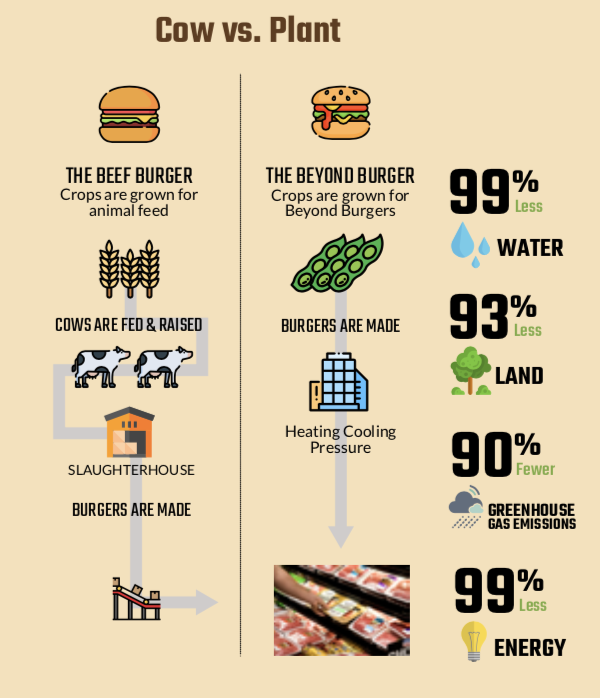 A recent report from the plant-based foods industry claims sales topping $3.3 billion in 2018. A new report out of the UK notes that it added an additional 200 million vegetarian and "meat free" dinners in the past year. In Australia, "vegan" was one of the country's most searched Google terms in 2019. In the US, six to eight million Americans have completely eliminated meat, according to a recent Harris interactive poll. 
So what is behind the craze? 
Did the UN's alarming 2018 report on climate change strike fear in the heart of the average consumer, raising awareness of the catastrophic effects of cattle-produced greenhouse gases? Did binge-worthy Netflix documentaries about the meat industry turn stomachs? Either way, it is impossible to ignore that advances in FoodTech are providing tasty, cost-effective meat alternatives — and driving exponential change. Meatless patties don't taste like cardboard anymore. 
Not just for hippies 
Sleek startups developing faux meats that smell, sizzle and even bleed are proving that the year's most transformative venture-backed technologies are not about AI, drones, or robotics — they are about food. Startups leading this march, like OurCrowd portfolio company Beyond Meat (which started trading on the Nasdaq (BYND) on May 3rd, 2019) and Impossible Burger (soon to reach $400M in funding), are becoming household names. Even Walmart and Target carry these brands. Furthermore, these meat-free alternatives are no longer relegated to the tofu and soy cheese sections, but are increasingly found next to the corn-fed chicken and rib- eye steaks. And it's no wonder: between August 2017 and August 2018, dollar sales of these alternative protein products grew 23%, according to Nielsen data. 
It's not all about burgers either. Startups are creating new tastes and textures to match every animal protein, driven by food geniuses like Good Catch, famous for its seafood alternatives, and pulled "pork" from cult favorite No Evil Foods. 
These new kids on the block are no longer competing for the tiny group of Americans who identify as fully vegetarian or vegan, according to a 2018 Gallup poll. They are going for the omnivores. Led by Beyond Meat — which tripled its production capacity in 2018 — ambitious startups are rolling out unprecedented flavor and brilliant in-your-face marketing targeted toward meat-eaters too. 
Beyond Meat could barely keep its product in stock at Whole Foods, and had to postpone its UK launch because it couldn't keep up with demand. In June, Dutch firm Vivera sold 40,000 vegan steaks within a week of hitting the shelves. 
These flexible meat-eaters are opening up to the idea of meat alternatives for health, sustainability and environmental reasons. According to Vox, turning to plant-based alternatives can be an economic decision. Earners making under $30,000 a year are more likely to follow a semi-vegetarian diet, presumably to reduce grocery budgets. With millennials earning significantly less (~20%) than their predecessors, startups creating budget-friendly, craving-satisfying options are banking on a long-term generational shift. 
Look-alike markets 
Investors have every reason to rejoice in the FoodTech revolution: many have already reaped the rewards of the un-dairy market. Finding soy milk used to be a chore and milk alternatives captured less than 1% of the market a decade ago. Now, they represent 13% of the market, and come from everything from peanuts to peas. These products are not replacing, but being consumed along with, traditional dairy. Oat lattes are now as common as skim cappuccinos in big cities like New York. 
Plant-based vs. lab grown 
Startups in FoodTech dare to go even farther. Though still not cost-effective, there have been real breakthroughs in lab- grown or "cultured" meat. San Francisco startup JUST offers cell-based, lab-grown chicken meat. Early-stage companies are hedging their bets that those unmoved by vegetarian options may still opt for meat that skips environmentally exhaustive cattle rearing and contamination in favor of slaughter-free, equally tasty stuff. Aleph Farms, an Israeli startup, is setting its sights on the first steak grown in a lab using animal cells. 
Naturally, these startups are inspiring hand-wringing in the traditional meat industry. Giants like Tyson and Cargill are facing flack for some of their less-than-sustainable livestock practices. 
While some Big Meat companies are investing in their soon-to-be competitors (Tyson Foods purchased a 5% stake in Beyond Meat), others are looking to use their multi- billion-dollar platforms to crush upstarts under the weight of regulation. The North American Meat Institute is arguing if cultured meat wants to bill itself as "real" meat, it must be subjected to the same US Department of Agriculture rules and regulations. 
Ever the wonder kid 
Far from California, the Israeli FoodTech industry boasts a 300+ company strong ecosystem. There are high levels of investment in the space, as startups raised $164 million in 2017 and $72 million in Q1 2018 alone. Like most FoodTech startups, the majority of these companies are still young (reporting less than $10 million in annual revenues). Still, investment has been steady. According to Forbes, there have been 19 to 33 venture-backed investment rounds in the country annually since 2014, and an overall yearly increase in total funding. 
The race is on to get the flavors right. American company International Flavors & Fragrances announced it was acquiring Israel's Frutarom, flavor and extract specialists, for over $7 billion in 2018, Israel's second largest exit in its history. The famously innovation- savvy government is planning a FoodTech incubator near Safed with an investment of over NIS 100 million (USD $28 million) projected over eight years. 
Making room for the next crop 
Many startups outside the alternative meat space are also expanding. Breakthroughs in AgriTech, Food Safety Tech, Health & Nutrition and Restaurant Tech are attracting investment. Consumer Physics, a company that first joined the OurCrowd portfolio in 2012, has developed a pocket-sized micro spectrometer device that analyzes the chemical makeup of animal feed, commodities, meats and dairy products, ensuring a cheaper way to regulate food and food production. Another OurCrowd portfolio company, Centaur Analytics, uses real-time data sensors to reduce waste in crop growing, moving with commodities throughout the entire supply chain. A recent addition to the OurCrowd mix, DouxMatok is challenging the notorious sweetener space with patented technology that reduces sugar by 40% without affecting taste.
Opening the meat market means impact 
Eating processed and red meat in large quantities is linked to the prevalence of over a dozen cancers and obesity. One theoretical study projected that a "vegan" world could cut greenhouse gas emissions by two-thirds, possibly hedging climate change. With grim predictions of food shortages and natural resource depletion as soon as the next 20 years, the impact of real investment in FoodTech could ensure profits and a better future. As the new proteins movement has shown, consumers are ready for the change. 
This is an excerpt from OurCrowd's Q1 2019 publication of Innovation Insider, which you can download in full here. 
---
About the Author
Fredericka Keiser
Portfolio Management Associate at OurCrowd, Israel's most active venture capital firm. Former Teaching Assistant to U.S. Secretary of State Madeleine Albright. Masters Graduate of Georgetown University's School of Foreign Service, the number one ranked International Relations graduate program in the world. Completed Georgetown's highly competitive certificate program in International Business Diplomacy. Experienced in alternative investments, international business strategy, and strategic communications. Regional expertise in Europe and Canada. Native German speaker and proficient in French.