How are breakthrough technologies overcoming coronavirus challenges – from prevention and cure to social distancing and food supply? What will the tech investing world look like in the future? Join us as we bring together the global tech ecosystem – online, and address these topics on June 22nd at the OurCrowd Pandemic Innovation Conference, which will be streamed twice to accommodate global participants. Register now.
You've used hand sanitizer – can a 'hand sanitizer for the nose' be next? Watch this CTV news feature about the potential COVID-19 "game-changer" by SaNOtize, and the Phase II trials of the company's nitric oxide nasal spray to determine if it can kill the virus in the upper airway before it can spread to the lungs. CTV News reports: "If the trial shows SaNOtize reduces the symptoms and duration of COVID-19 and it's approved by Health Canada, the company hopes it can be sold at pharmacies until a vaccine is found." We're re-investing in SaNOtize now – learn more.
Top Tech News
Trying to sell your car? Read 3 tips and 1 way to get a firm offer from your home in this post from Ravin, currently funding on our platform.
How can you assess a company's culture when your interview can't be face-to-face? Codility CEO Natalia Panowicz shares her insights.
Israel's healthcare service providers have successfully used AI in the country's fight against the coronavirus, using cutting-edge technology from companies like TytoCare and Kryon, as reported in CIO Middle East: Israeli HMO investments in AI pay off during the coronavirus crisis. 
Banks face a 25% surge in fraud during the pandemic. ThetaRay teams up with Microsoft Azure to provide speedy delivery of its FastStart solution, and says it can be up and running on clients' systems in 30 days.
"There are at least eight types of vaccines being developed. We'll only know when the first one succeeds in preventing infection," vaccine expert and MigVax advisor Ron Ellis tells ISRAEL21C: In the race for a coronavirus vaccine, first doesn't mean best.
SpaceX blasts off on historic crewed launch, opening commercial space travel era.
Watch the latest from OurCrowd
Our recent webinar on The Post-COVID Corporation: How Pandemic-Driven Innovation Will Change Everything provided clarity on how COVID-19 is reshaping tech adoption and the technologies that will change tomorrow's economy, with focus on air travel, retail, financial services, and supply chain. Watch now.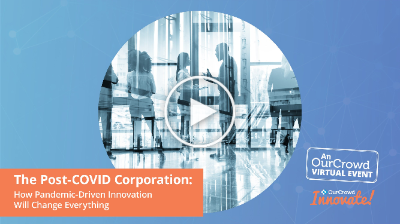 Looking to connect
Despite the coronavirus pandemic, there are open positions at our global portfolio companies. See some opportunities below:

Search and filter through OurTalent to find your next challenge.
---