This post was written by Karen Kozek from The Trendlines Group,  Israel's leading agritech and medtech incubator. 
It's that time again. A time to take a look back at Trendlines and our portfolio companies in 2013.
Last year, our portfolio companies raised ~$20 million (~NIS 70 million). Among these companies were LapSpace, Leviticus Cardio and MitrAssist. As well, ApiFix completed its second funding round. Last year marked the first time our companies received investments from Chinese investors. Since 2007, our portfolio companies have raised $140 million (not including government funding).
With our entrepreneur partners, we created 9 new companies in 2013. On the agritech side, BioFishency, FuturaGraft, Metabolic Robots, Saturas, and Valentis started up. And in medical, we established Arch2Fix, Omeq Medical, STS Medical, and VisiDome. Since 2007, Trendlines has started 52 medical and agricultural technology companies. Our portfolio now numbers 55, including 15 revenue-stage companies.
We announced 2 exits last year, and both involved major global players: Teleflex acquired Innolap and Baxter acquired FlowSense.
Awards & Recognition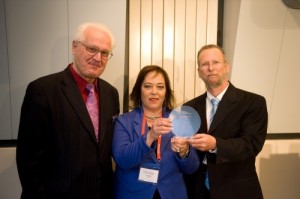 A number of our companies gained local and international recognition last year.
Israel's Office of the Chief Scientist named ApiFix and Sol Chip "Best Start-Ups." Sol Chip also received the award for Best Technical Development of Energy Harvesting at IDTechEx 2013 IDTechEx.
GreenSpense walked away two awards from the 2013 International Cleantech Open Ideas Competition in California: 1st place in the Chemistry & Advanced Materials Global Ideas category and 2nd place overall. Closer to home, Mem-Tech's founders, Prof. Raphael Semiat and Prof. Moris Eisen, were awarded the prestigious Innovative Applied Engineering Research prize by the Board of Governors of the Technion-Israel Institute of Technology.
A Dynamic Year for Trendlines Corporate
The year in review wouldn't be complete without mentioning events and conferences, from our 3rd Annual Investment Event in Israel that started the year off to our 2nd Annual Agrivest, an extraordinary finish. In between, we organized three U.S. Road Shows (medical in March and October and agritech in April), BioMed in June, and ICI in December. We addressed two conferences in China. Throughout the year, we regularly hosted groups and visitors from around the world at our Misgav headquarters.
Other highlights:
Marketing: We completed a major rebranding, including refreshing the Trendlines look, revamping nearly all our corporate identity pieces from business cards to brochures, and built a new website.
Operations: We completed a remodel and expansion of our Misgav headquarters, an expansion of our Tel Aviv area conference center, and new facilities and location for Trendlines Agtech.
HR: We welcomed several new professionals to our team in 2013.
We're looking forward to another dynamic year of activities, events, and successes for Trendlines and our companies!
Disclaimer: OurCrowd investors invested nearly $1M in The Trendlines Group in early 2013.