It's been a busy few months at OurCrowd! Throughout October, November and December of 2014, OurCrowd hosted numerous events worldwide, including our first Global Investor Summit, and we're taking a moment to review where we've been and who we invested in, and learn where we'll be next quarter.
We're so proud of what the OurCrowd community has accomplished over the past three months — from events hosted to the companies funded — and are looking forward to continuing this journey together in the months to come.
Without further ado, here is a glimpse into all the excitement happening at OurCrowd:
Where We've Been
Over the past three months, OurCrowd founder & CEO Jon Medved and team members have traveled the world, hosting various events with the CEOs of our latest startups and guest speakers.
We've held a total of 23 events, in 15 different cities, across 4 continents!
In case you missed them, here are some event highlights:
October 12th – Kicking off the quarter, OurCrowd held a special event for its fellow investors and scotch and wine connoisseurs in Jerusalem's first indoor sukkah at the Waldorf Astoria, along with CEOs of our portfolio companies.
October 28th – OurCrowd investors joined Eduardo Shoval, Venture Partner at OurCrowd, and Moises Benchimol, Investor Relations Manager for Latin America, in Mexico City. Hosted and organised by the Mexico-Israel Chamber of Commerce, attendees enjoyed breakfast and discussion with the OurCrowd team, covering the Startup Nation and the new wave of Israeli innovation.
November 13th –  OurCrowd CEO Jon Medved hosted a private roundtable breakfast in London, organized by UK Israel Business, and presented "Update from the Start-Up Nation: Current Trends in Israeli Tech," and discussed investment opportunities.
November 19th – Investors joined the Israel team and the founders of our newest portfolio companies at the LeumiTech offices in Tel Aviv for a private investor meeting titled, "Enhancing Voice Communication & Bio-Metric Security."
December 9th-10th– OurCrowd held its first annual Global Investor Summit at the Inbal Hotel in Jerusalem, which brought together almost 1,000 participants from 27 countries worldwide. The first day of the summit concluded with a gala cocktail party at Jerusalem's First Train Station, sponsored by the Jerusalem Development Authority and JNext. On the second day, summit participants fanned out across Israel in five different tours to view Israel's tech sector up close, meeting with leading public companies such as Google, Mobileye, Check Point and Evogene, as well as OurCrowd portfolio companies.
Upcoming events
Throughout the first quarter of 2015 we have a number of events scheduled around the world and an exciting slate of new deals on the OurCrowd platform. Take a look at the January-February events schedule. We hope to see you at one of our upcoming events!
Who We Funded
Over the last two years, OurCrowd, along with our community of 7,000 investors, has invested more than $100 million in 56 portfolio companies. This unprecedented access to early stage investments has made startups an investable asset, now included in individual investor portfolios — just like stocks and bonds.
In just the last few months, OurCrowd investors have funded 10 companies (of which four were follow-on rounds): enVerid, UP-n-RIDE, MUV Interactive, HIL Applied Medical, Curiyo, Highcon, Pixie, Clipfort, SoBi, and Corephotonics.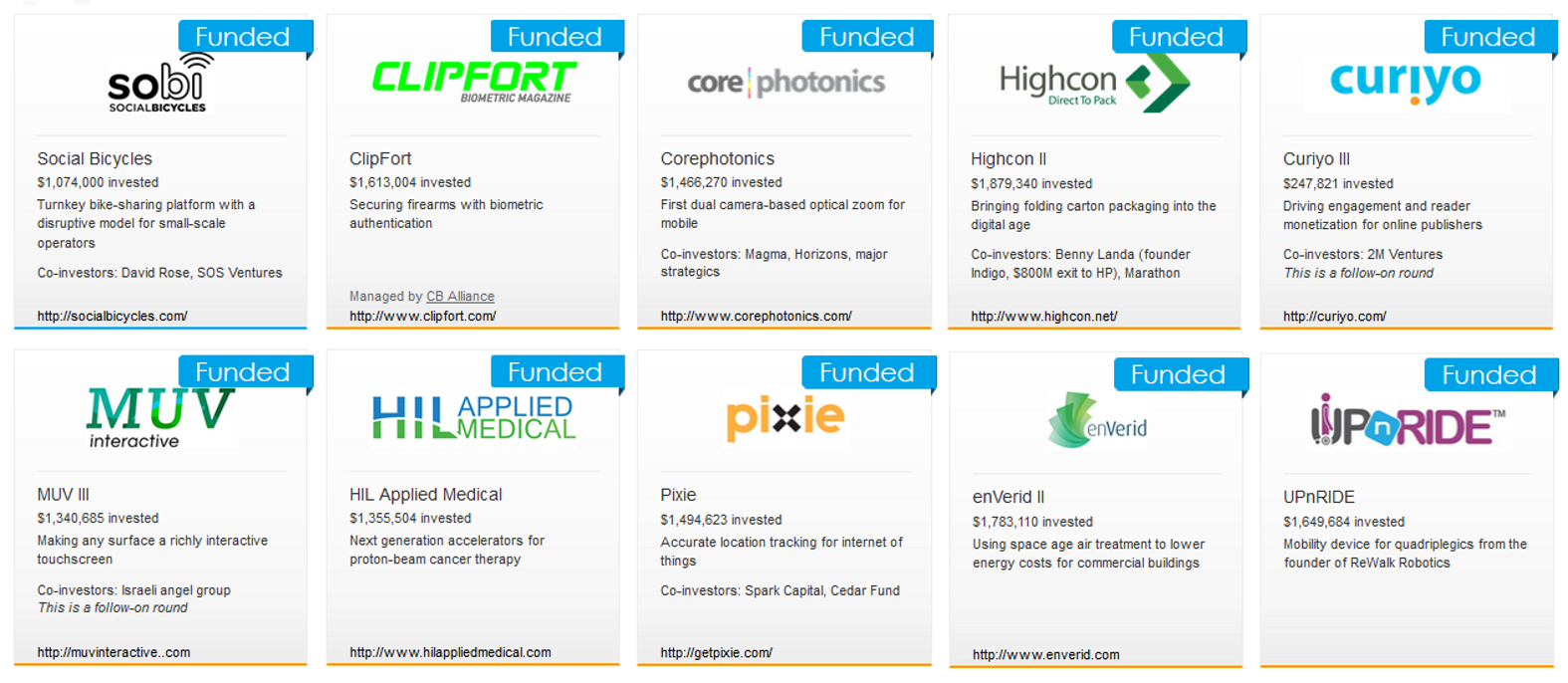 For a sneak peak into the current investment opportunities on OurCrowd, check out the latest edition of our monthly digest of our funding companies.
OurCrowd's 2014 Year in Review
In 2014, OurCrowd had an incredible year: we broke records in the equity crowdfunding space and achieved some tremendous milestones within our business and community. We have you to thank for that.
A few highlights:
OurCrowd ranked the top equity crowdfunding platform, by KPMG
Our deal flow team vetted 3,000+ startups
ReWalk, an OurCrowd portfolio company, was the first IPO for the equity crowdfunding industry
260 jobs were created in OurCrowd portfolio companies post investment
For more, see our 2014 Year in Review infographic and discover what we have accomplished, together.
Next Steps
We always look forward to seeing our investors, longtimers and newcomers, at our events and conferences. If you have any questions or would like to discuss other events and activities on the OurCrowd platform, please contact Investor.Services@OurCrowd.com.
Want to stay up to date on the latest innovations out of Israel, new technologies, rising-star entrepreneurs, and must-attend events? Sign up for OurCrowd's weekly newsletter.