Our man in Abu Dhabi hits the airwaves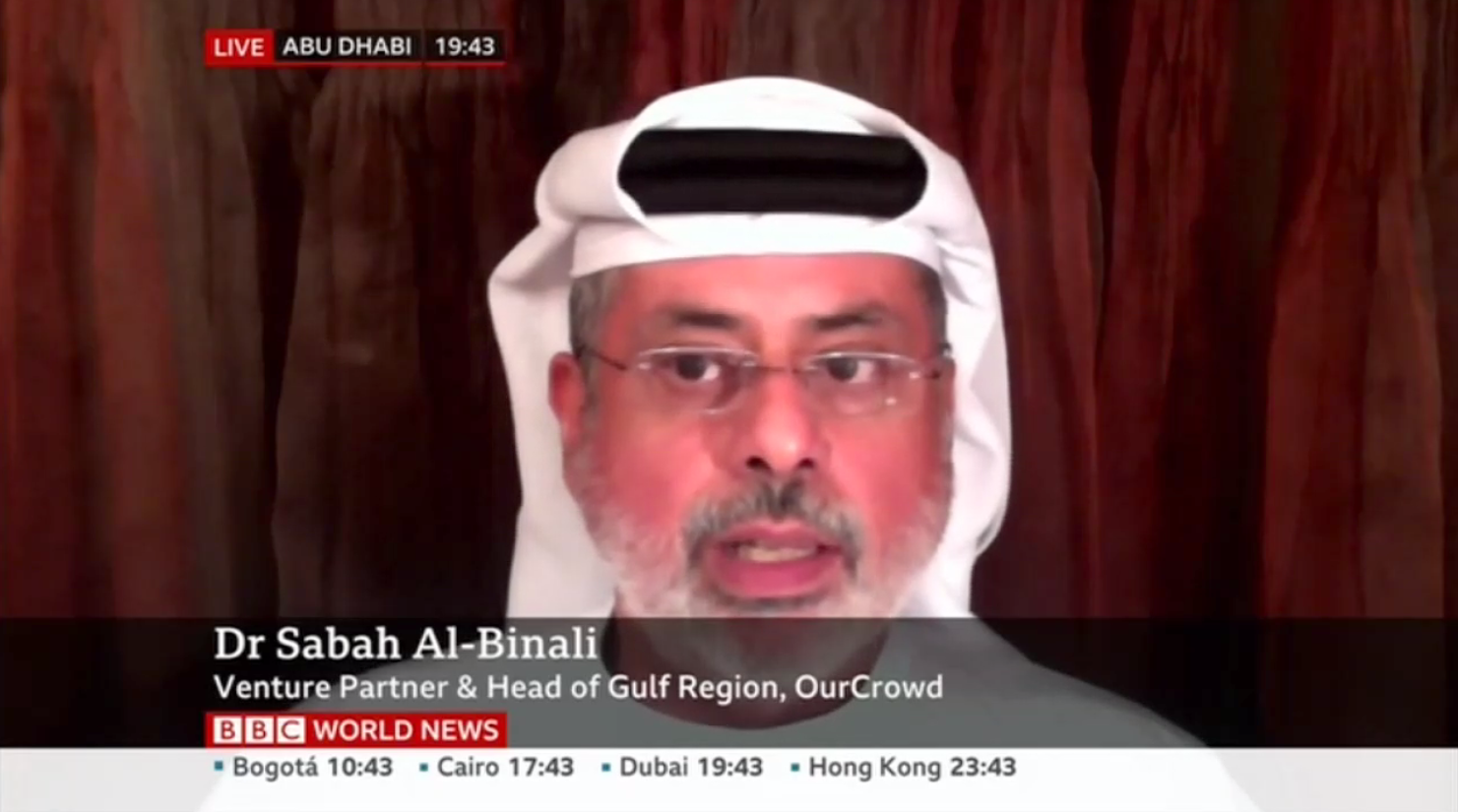 "Sabah al-Binali has a reputation in the Arab world as a straight-talking deal-doer, with a long record of high-profile transactions in the UAE and Saudi Arabia on his CV. But his latest venture could be just about the most significant of the lot," says the Arab News' in-depth profile of our new GCC Venture Partner and Head of the Gulf Region. The appointment of OurCrowd's first Emirati executive is attracting understandable attention from the region and around the world, including BBC World News and i24 News.
Tuesday Oct 13: A first glimpse of the UAE tech ecosystem, presented by our Emirati partners

Meet OurCrowd Venture Partner and Head of the Gulf Region, Sabah al-Binali, Emirati officials, business leaders and startups online on Oct.13 for the first presentation of the UAE tech ecosystem to an Israeli audience. Watch the recording here.
MeMed: Cutting down on unnecessary antibiotics
When you go to the doctor with a headache, the ability to differentiate between a viral and bacterial infection is significantly harder than it should be, says Hillel Fuld in the Jerusalem Post. The result is often the prescription of unnecessary antibiotics, leading to antimicrobial resistance, which causes 700,000 deaths worldwide each year. That's where the MeMed BV test is poised to change things. It measures host-immune response proteins from a small sample of blood, and then applies machine learning to accurately distinguish between bacterial and viral infections. MeMed is active in Israel, the U.S. and Europe. Its first commercial deployment is in Italy with DiaSorin, a world diagnostic leader. The company is developing its technology to become a key tool in the fight against Covid-19.
Trusona partners with ZorroSign to secure online e-voting in 38 U.S. states
With the U.S. elections fast approaching under the shadow of Covid-19, the integrity of remote voting has never been more vital. OurCrowd portfolio company Trusona, a pioneering leader in identity verification without the need for passwords, is providing the blockchain technology behind a new online voting solution offered by ZorroSign in 38 U.S. states. The passwordless identity proofing provides the ability to scan a government-issued REAL ID Act identification, like a driver's license, and verify it with the state's department of motor vehicles. ZorroSign's integration with Trusona will be made available for the 2020 U.S. elections across cities, counties, and states that wish to enable online voting due to the pandemic. "2020 is the year where online voting becomes a reality because the powerful technology we carry in our pockets has limitless possibilities. Blockchain is here; remote identity proofing is here," says Ori Eisen, Trusona's founder and CEO. "Trusona helps us protect our high-valued documents like sensitive financial assets and voting records, providing us with the confidence to execute documents securely and from any location."
Top Tech News
Klook Live! Immersive content boosts leisure bookings
Klook, an online leisure and travel platform based in Hong Kong that's seen encouraging activity despite the pandemic, launched Klook Live! – an interactive livestream mobile feature offering deals on leisure, restaurants, entertainment and travel through video and entertainment. The company says pilots of hyper-localized content in August saw deals snapped up within minutes with a fourfold uplift in conversion rates. It describes the new feature as "Traveltainment" – a new form of immersive content that elevates users' ways of discovering and booking both local and overseas tours, activities and experiences, and staycations. "Our early success demonstrates that users are increasingly demanding a new way to discover things-to-do, starting from their backyard. It also signals that users prefer a more entertaining, social, and personalized customer experience," says Marcus Yong, Klook's Vice President of APAC Marketing.
SeeTrue: Helping to get us flying again – safely
As the world's airlines try to get us flying again, passengers want to know they will be safe from catching Covid-19. One bottleneck that's a challenge to social distancing is the security-check line prior to boarding. Artificial intelligence-based software from OurCrowd portfolio company SeeTrue is not Covid-19-specific, but it can speed up the process by 30 percent or more. SeeTrue revolutionizes the security screening process, addressing the challenges of passenger throughputs, experience, security, and cost. The company's technology provides automatic threat detection and alarm resolution for X-ray and CT systems, enabling passengers to leave items in bags, reduce manual procedure and increase throughput while maximizing safety to provide a seamless passenger experience. Using SeeTru's software, security agents open less than half the normal number of bags and, when they do, spend just three to five seconds on a bag instead of 15 to 30 seconds, says CEO Assaf Frenkel.
Medisafe: A maestro to orchestrate safe health
Medisafe Maestro is the new offering from Medisafe, whose easy-to-use and personalized medication management platform helps people better manage their medications and offers healthcare companies meaningful insights into their daily behavior. The platform, which is paid for by Pharma companies and Payers, is a digital companion that uses artificial intelligence and machine learning to support patients through their medication journey – from drug purchasing to drug management and drug refills. "The introduction of Medisafe Maestro aims to revolutionize digital health platforms by enhancing the speed and agility in developing and deploying branded patient resources, bolstering treatment adherence, and improving patient outcomes," says Omri Shor, CEO of Medisafe.
Job Vacancies
Despite the coronavirus pandemic, there are open positions at our global portfolio companies. See some opportunities below:

Search and filter through OurTalent to find your next challenge.