The Israeli high tech industry is swarming with startups, some with the potential to be the next Waze (acquired by Google for $1.3B)
But where and how are these startups originating? How do these companies go from being just an idea in an entrepreneurs mind to a multi-million dollar exit?
A long-existing method to help launch a startup is the incubator/accelerator program.
Israeli accelerators and incubators: role in the startup ecosystem
the role of accelerators: Basically the function of incubators / accelerators is to detect startups that are at an early stage of existence and provide them with the initial and basic tools to get their ideas up and running, while mentoring them throughout the process. In return the incubator program receives an agreed upon amount of shares in the startup they are hosting or a fee for services rendered.
how to apply: The incubator starts by advertising its program to entrepreneurs urging them to apply and explain what benefits they would receive if they would be selected to be "incubated".
the acceleration process: The lucky startups chosen for "Incubation" begin a 3-6 month program (possibly longer or shorter) during which the companies are groomed and nurtured and eventually exposed to Customers, Partners, and Investors.
Where are the Israeli incubators?
Incubator / accelerator programs exist in large numbers in Israel, most of which are located in the center of the country (Tel Aviv and its surrounding cities) but there are also a number of them in the periphery ( Haifa, Yokneam and Nazareth in the north and Be'er Sheva and Arad in the south).
Focus of Israeli accelerators
Most of these incubators do not focus on a specific field of investment but some choose to invest solely in one direction. For example Mofet Venture Accelerator invests mainly in CleanTech companies as oppose to Misgav Ventures which focus on Life Sciences. Many incubators / accelerators such as JVP Media Labs and the time focus on but are not limited to new media, telecom and mobile applications which comply with the investment trends of past years.
Investment Trends in the Israeli VC Market
In 2010, the  Life Sciences Sector led the market with $350 million or 28% of total capital raised, followed by the Communications Sector with $238 million or 19% and the Internet sector with $222 million or 18% of total capital raised. The Semiconductor sector also attracted investor attention with 13% of capital raised in 2010, compared to 8% and 15% in 2009 and 2008 respectively.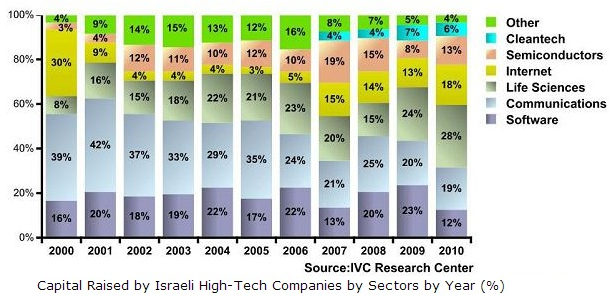 (Source: IVC Research Center)
The OurCrowd Guide to Israeli Startups and Incubators
The list below names the top incubator / accelerator programs in Israel, all of whom have more information about their programs and a portfolio of the companies they have taken under their wings.
[bra_border_divider]
Which incubator/accelerator do you like? Let us know in the comments.
[xyz-ihs snippet="DavidCitron"]
photo credit