'Computer-simulated reality', 'immersive media', whatever you call virtual reality (VR) and augmented reality (AR), the artificial multisensory experience its technology offers is only getting better with each passing year.
Goldman Sachs estimates that the size of the overall VR, AR market will be anywhere between $23 billion to $183 billion by 2025. (source)
For more than a decade, we've seen advances in VR and AR tech applied to military training, urban design, video games, and other home entertainment. As VCs and analysts try to asses the maturity of the VR and AR markets in terms of technology, cost, and use, optimists are betting on 2016 being a defining year for the industry.
And how is Israel faring in the midst of all this VR-AR innovation?
Since 2014, VC investments in VR and AR have amounted to $2.56 billion globally (including the $1.4 billion investment in Magic Leap and excluding the more than $2 billion Oculus deal). Over the same period, we estimate that somewhere around $120-$170 million was invested in Israel in the area of VR and AR. (source)
Principals at Carmel Ventures and Deutsche Telekom Capital Partners believe Israel has great talent in this area and plenty of room for more growth. To help visualize the country's VR-AR innovation activity, Carmel Ventures and Deutsche Telekom Capital Partners created a map that depicts the Israeli landscape of startups in the areas of Virtual Reality and Augmented Reality.
Out of the featured VR-AR startups operating in Israel, 3 are OurCrowd portfolio companies!
Kudos to Cimagine, MUV Interactive, and Replay Technologies (Recently acquired by Intel) for growing and supporting the greater VR-AR ecosystem going forward.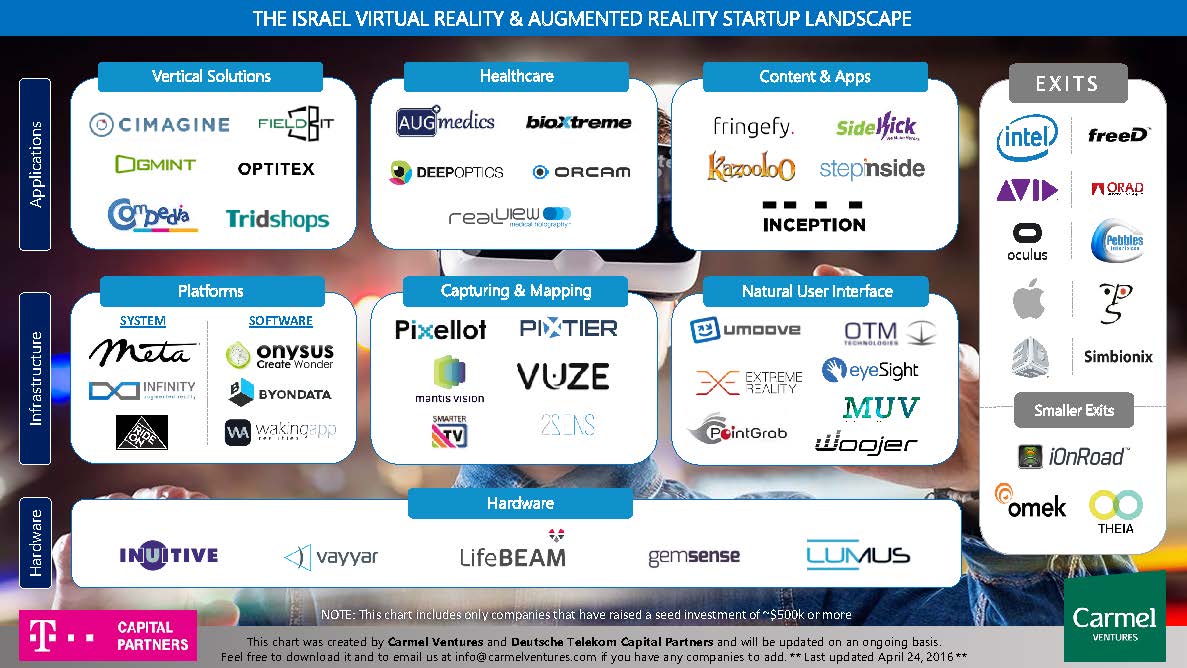 Download the Israel Virtual Reality & Augmented Reality Startup Landscape here
To find out more about Virtual/Augmented Reality technologies and investment opportunities on our platform, contact our Investor Relations team or visit our website.