In 2015, OurCrowd achieved groundbreaking figures investing in Israeli and global startups. OurCrowd has effectively disrupted and democratized the venture-capital space, offering accredited investors the chance to partake in the lucrative industry.
As we continue to build on the strong foundation we set down just three years ago, OurCrowd managed to shatter (even its own) records and rise even higher as a leader on the equity crowdfunding scene, setting the bar high for other investment crowdfunding platforms.
OurCrowd stands at the forefront of the key trends revealed in the report. This year we have surpassed raising $200M for 91 startups making us the single largest investor in the Israeli tech ecosystem. We are driving the democratization of venture capital, opening the door to tens of thousands of accredited investors who want  a shot at the enormous riches now coming from investing in private companies, and bringing the hotbed of Israeli and global innovation and entrepreneurial activity to our investors through the power of the crowd." ~ Jon Medved, OurCrowd Founder & CEO
To capture the scope of these amazing achievements, OurCrowd created an infographic illustrating the success, growth, and notable accomplishments of its ever-expanding community.
To name a few:
Over the past year, 3 of OurCrowd's portfolio companies have exited, bringing the company's portfolio exits to a total of 4!
OurCrowd broke its own record (twice) for its largest equity crowdfunding round of $14.8M, more than doubling the last largest round ($6.1M).
Members from the OurCrowd investor community now hail from 110 countries worldwide.
OurCrowd has opened new offices across the globe and is now stationed in Jerusalem (HQ), New York, San Diego, Toronto, and Sydney.
Click here to read the full OurCrowd & Xconomy 2015 Industry Report on the Democratization of Investing.
Check out OurCrowd's Year in Review infographic below – and join us as we continue to climb throughout 2016 by signing up at www.ourcrowd.com.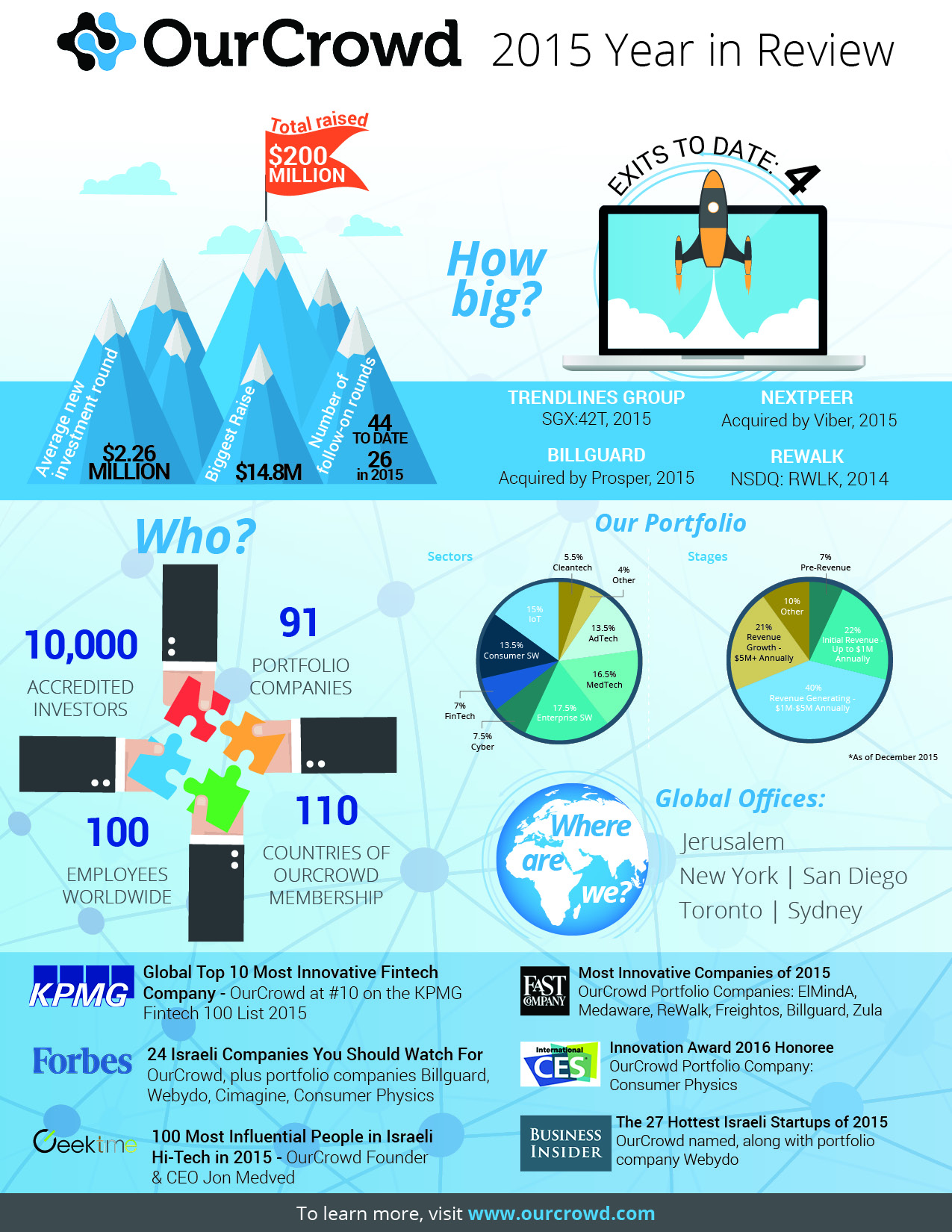 [xyz-ihs snippet="Summit-2016-CTA"]