We recently had the chance to sit down with Dan Marom, an expert and leading author in the crowdfunding space. We asked about the current market dynamics for investing in startups and how crowdfunding is impacting efficient flows of capital and (hopefully) will lead to better returns for investors.
::::::::::::::::::::::::::::::::::::::::::::::::::::::::::::::::::::::::::::::::::::::::::
Why do you think there needs to be a revolution in raising capital?
Our current system is outdated and entrepreneurs are faced with a difficult economic climate, hindering their ability to raise capital. Many of the laws governing fundraising were created during the Great Depression. Unfortunately, the current economic state and status of the financial services industry does not make that easy for an entrepreneur any longer. Policymakers and regulators around the world are beginning to recognize the benefits for crowdfunding in supporting both innovation and job creation. Recently, we published A Framework for European Crowdfunding, a call-to-action for European policymakers to legalize equity crowdfunding. It's a great resource for the scope of the current state of the economy and the way crowdfunding will be impactful in a positive way.
What is wrong with the current system? 
The current system is not friendly enough to start-up companies that essentially drive innovation and disrupt stagnant industries. Our current system is inherently risk-averse, and often times, innovation comes from taking risks. Banks are unwilling to lend money or extend credit to first-time entrepreneurs, the Venture Capital scene is becoming increasingly competitive, and the tough economic climate is taking a toll on the financial services sector as a whole. Even worse, research from the Kauffman Foundation shows all net jobs created in the past thirty years come from companies less than five years old, suggesting we need to support young companies more than ever in order to restore economic stability and employment. In my opinion, there needs to be more synergy between our current funding mechanisms and innovative methods like crowdfunding in order to balance the risk of starting a new business with the financial burden.
Why now in history — what happened in the past few years to make crowdfunding a viable solution?
That's a fantastic question. While crowdfunding has been around for years–the Statue of Liberty was crowdfunded–the Internet has changed the way we connect with each other and the way the we buy and sell goods. Social media websites like Facebook, Twitter, and Linkedin allow individuals to share ideas and issues they care about. For an entrepreneur, that means utilizing social networks to pitch an idea and create mindshare and marketshare within a virtual community. The virtual community then becomes a critical resource for the entrepreneur, not only for the funds they are donating to the project or business, but for the ideas they are sharing. For an entrepreneur, being in direct contact with potential customers is of tremendous value, for it allows market value and size assessment and direct product feedback.
Specifically, why is the current VC model not working for efficient capital flows?
The mechanisms for early stage capital are stretched thin. Crowdfunding serves as a means for bringing added value to early-growth companies that transcends funding alone. There are so many benefits of crowd wisdom that the VC model alone cannot address. Crowdfunding provides early market validation, product feedback, insight into customer demand, and the wisdom of a large pool of minds all with a stake in the success of the product.
What makes you an expert?
That's for you to decide. :-)
For investors, what should be their expectations? Are we still looking at traditional VC returns or is the model different?
I think we should align the expectations of equity crowdfunding with the Angel model. It will, however, depend on the platform and mechanism. The crowdfunding industry is in its infancy, and as the industry continues to develop, we will see new, more efficient models begin to infiltrate the market. As mentioned before, rather than depending on single sources to fund new projects and companies, we will see hybrid models, where different mechanisms will be layered upon one another at different stages of funding.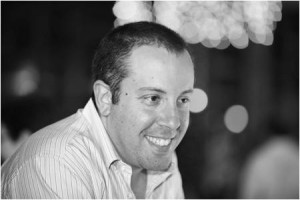 Dan Marom (www.danmarom.com) is an acclaimed author and leading thought leader in the crowdfunding field. In 2010, he co-authored a pioneering book on crowdfunding titled The CrowdFunding Revolution (with Kevin Lawton). A second edition is forthcoming in late 2012 by McGraw-Hill. As a Ph.D. candidate in Finance at the Hebrew University of Jerusalem, Israel, Dan's research focuses on crowdfunding and entrepreneurial finance.
photo by kevin dooley
Comments
comments