Startup of the Week: Launchpad
Serial founder Moshe Shoham's new startup
OC50 Fund joins BNY Mellon Pershing
Ramadan Kareem to our new friends
US health insurers team up with Diagnostic Robotics
SPAC supremo: More unicorns in Israel than all of Europe
Phantom Auto transforms forklift drivers into office workers
Innoviz jumps 10% on Nasdaq debut
Sight Diagnostics: Machine vision is transforming healthcare
Argus protects 57 million vehicles against cyberattack
Startup of the Week:
Launchpad: The Tesla of manufacturing?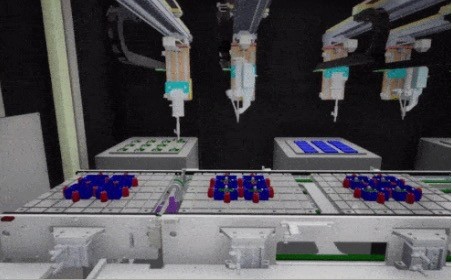 Is Launchpad "the Tesla of manufacturing?" asked Forbes. Low-volume production runs are difficult because of long lead times and high setup costs. Launchpad is revolutionizing the low-volume manufacture of small electronics and other products with a tech-enabled, highly-automated robotic and AI-driven manufacturing platform that slashes costs and cuts the time from completion of design to production from up to 6 months down to weeks or even days. Launchpad, founded by serial Israeli entrepreneurs Yoav Zingher and Ofer Ricklis and based in California, is working to develop a network of highly-automated contract manufacturing facilities that will target low-volume production runs of hundreds to tens of thousands of units. The company brings automation to the entire process – from generating a quote to manufacturing the products. Launchpad has run 15 products through its simulation technology with a 90% reduction in the time it takes to get a quote for production. Launchpad will bring the power of Industry 4.0 to the often overlooked, but high-value, low-volume manufacturing sector, including products for defense and government customers that must be built in the US. Co-founder and co-investor Bill Gross, the founder of Idealab, has helped fund 100+ companies, and has had 35 successful IPOs and acquisitions.
Serial founder Moshe Shoham's new startup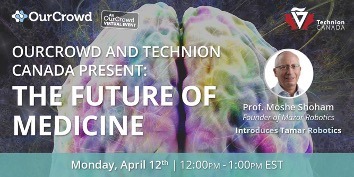 Prof. Moshe Shoham, founder of Mazor Robotics, acquired by Medtronic for $1.6B, is back with a new surgical startup, Tamar Robotics. Prof. Shoham, a world-renowned expert and serial entrepreneur, founded the medical robotics lab at the Technion-Israel Institute of Technology. Tamar Robotics is developing a neurosurgical system that offers high-accuracy, minimally-invasive robotic brain mass removal. The robotic system performs autonomous surgical tasks under the surgeon's full control. The system will significantly improve accuracy, enabling the maximal removal of tumors and clots, while reducing injury to surrounding tissue. The technology, which has been successfully tested in labs and animals, aims to improve recovery and quality of life for patients while reducing treatment costs. Join OurCrowd and Technion-Canada on Monday, April 12 at 12PM EST for a live online discussion with Prof. Shoham. Click here or below for more details and to register.
OC50 Fund joins BNY Mellon Pershing
OC50, our flagship portfolio index fund, has been added to BNY Mellon Pershing's Alternative Investment Network. OC50 is a diversified investment vehicle that offers more investors access to highly vetted startups across a variety of sectors, stages, and geographies. Investors have benefited from OurCrowd companies entering the public equity markets – such as Beyond Meat and insurance provider Lemonade — or being acquired. The original OC50 Series I launched in 2017. Six companies in the fund have completed exits, generating on average 2.6 times gross return on invested capital as of the end of Q4 2020. The addition of OC50 to the Pershing platform is part of our strategy to broaden access to our funds, in which the minimum investment is $50,000. "Pershing is one of the leading clearing and custodial platforms and we are glad that RIAs who clear through Pershing will be able to offer the OC50 Fund to their clients. Private companies are offering their shares to the public through an IPO much later in their lifecycle than they did in the late 1990s through early 2000s. RIAs who offer OurCrowd's venture capital opportunities enable their clients to access privately-held companies at much lower minimums than traditional venture capital firms," Ilana Odess, OurCrowd Partner and Managing Director for North America tells CrowdFund Insider.
Ramadan greetings to our friends and partners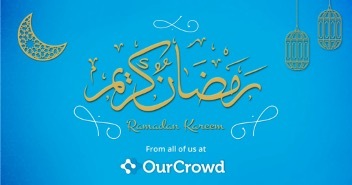 OurCrowd is growing in the Gulf, and we will soon be announcing plans for Morocco. As our Moslem friends enter the holy month of fasting in the shadow of pandemic curfews and lockdowns, we send greetings for a Ramadan Kareem (a generous Ramadan) and look forward to the time when we can celebrate these new and historic ties face to face.
Top Tech News
US health insurers team up with Diagnostic Robotics
Blue Cross and Blue Shield of Rhode Island (BCBSRI) is teaming up with OurCrowd portfolio company Diagnostic Robotics to harness artificial intelligence for members with chronic conditions. The health insurers will use Diagnostic Robotics' population health platform to offer personalized interventions to members with behavioral health needs, congestive heart failure and other chronic illnesses, Fierce Healthcare reports. "By applying the latest in machine learning," the insurers "can better support population health. We look forward to working with Diagnostic Robotics to bring these added capabilities to our members and our customers," says Matt Collins, M.D., BCBSRI executive vice president and chief medical officer. 
Phantom Auto transforms forklift drivers into office workers
French logistics firm GEODIS and OurCrowd startup Phantom Auto are developing remote-controlled forklifts, a move that could transform forklift driving into an office job. "So I can be in one warehouse in Marseille in the morning and work for another warehouse in Calais in the north of France during the afternoon," Stéphanie Hervé, chief operating officer of Western Europe, Middle East and Africa for GEODIS, tells Reuters. Hervé says the technology, which has been tested at distances of thousands of miles, could eventually help alleviate the challenges of hiring employees for warehouse work and also enable people with disabilities to have a new kind of job. "Phantom's remote operation software can help people with physical disabilities not just to get from point A to point B, but also with actual employment opportunities, and we are thrilled that GEODIS is using our technology for good," Phantom Auto Co-Founder Elliot Katz tells the Stat Trade Times.
Innoviz jumps 10% on Nasdaq debut
Shares in Innoviz, the OurCrowd portfolio company that went public via SPAC at a $1.4B valuation, gained 10% in the first day of trading on Nasdaq, Barrons reports. "The successful completion of the business combination will allow Innoviz Technologies to meet the booming demand of the auto industry, which has been waiting for the LiDAR technology to mature," the Israel-based sensor developer said in a statement ahead of the start of trading on Tuesday.
Sight Diagnostics: Machine vision is transforming healthcare
"Thanks to major technological advancements and hardware improvements, we're seeing affordable and compact blood analyzers that are making diagnostics more accessible," using machine vision, Sarah Levy, CTO of OurCrowd portfolio company Sight Diagnostics, writes in Forbes. "This innovation ultimately makes fast and accurate diagnostics accessible in a variety of clinical settings — even those without big and expensive central laboratories." In future, "we're likely going to see a proliferation of AI-enabled supportive diagnostics systems that offer recommendations to clinicians. However, the real advancement will be evident in the development of new, deterministic systems that will not only support but provide actionable patient results that will improve health outcomes," she says.
Argus protects 57 million vehicles against cyberattack
Argus Cyber Security, an OurCrowd portfolio company, says it now has 15 projects with seven global OEMs – equipment manufacturers for the automotive industry – helping protect a total of 57 million vehicles from cyber attacks. Argus technology allows vehicle manufacturers see the entire cyber health of their fleets, with onboard products and offboard monitoring. "With the increasing risk of cyberattacks targeting vehicles, we are delighted to know that our solutions are already protecting vehicles on the road, and will continue to roll out in tens of millions of vehicles over the next years," Argus CEO Ronen Smoly tells Calcalist.
Introductions
Your portfolio gets stronger when the OurCrowd network gets involved. Visit our Introductions page to see which of our companies are looking for connections that you may be able to help with.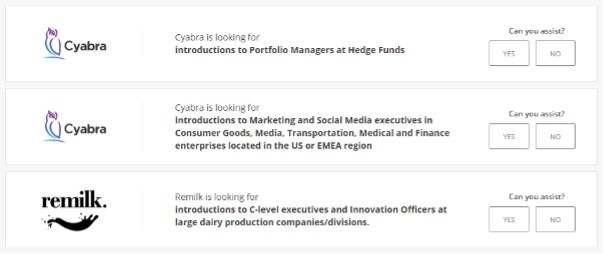 1,000 High-Tech Jobs
Read the OurCrowd Quarterly Jobs Index here.
Despite the coronavirus pandemic, there are hundreds of open positions at our global portfolio companies. See some opportunities below:

Search and filter through Portfolio Jobs to find your next challenge.