Startup of the Week: Ride Vision, preventing motorcycle deaths

Polarisqb New drugs in months, not years

CyberMDX: Stopping medical hackers

Israeli tech becomes zeitgeist compliant

Top 10 Post-Pandemic Tech Trends

Intuition Robotics: From elderly companion to medical assistant

Hailo launches next-generation edge AI solution with Vecow

Qatar Airways helps Freightos grow 1,000%

SmartAsset rethinks financial advisory, becomes a unicorn

DailyPay speeds up payments for PNC Bank
Startup of the Week:
Ride Vision: Preventing motorcycle deaths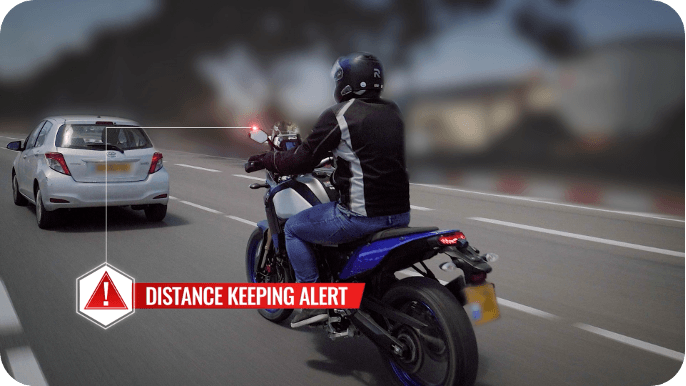 Motorcyclists are 6 times more likely to be injured and 29 times more likely to die in an accident than people in cars. Ride Vision has created the first Mobileye-style ADAS safety system for two-wheelers. A study showed it can reduce fatal accidents by 60%. Ride Vision's patented Collision Aversion Technology combines off-the-shelf hardware with proprietary algorithms based on machine vision, AI, and neural networks to create a near 360-degree threat analysis of the environment surrounding a motorcycle. There are some 700 million motorcycles worldwide and Ride Vision's system can be retrofitted seamlessly in less than an hour. Besides existing motorcycles, the company already has contracts to integrate its technology into manufacturers' safety systems and is in talks with a range of industry leaders and distributors across three continents. Its revenues are growing fast. CEO and co-founder Uri Lavi previously served as the CEO of PicScout, which was acquired by Getty Images. He has 17 years' experience in AI, image analysis, and intelligence-research systems dealing with sensors/data fusion. Join OurCrowd as we participate in a $3.5M round led by strategic partner Bituach Yashir of IDI Insurance.
Polarisqb: New drugs in months, not years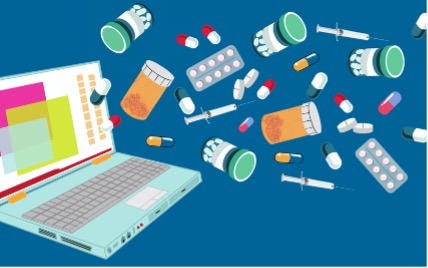 Polaris Quantum Biotech is reinventing drug discovery, reducing the time it takes to find candidate molecules for drug development from the typical three years to just four months, Gil Press reports in Forbes. With dengue fever and diseases mostly affecting women firmly in its sights, "Polaris Quantum Biotech could well be at the center of a perfect storm that will accelerate the pace of drug discovery," Press says. "As with other successful efforts to redesign established processes, Polarisqb is betting on scalability and automation. The startup, co-founded by Shahar Keinan and Bill Shipman, came out of stealth a year ago, revealing the first-ever drug discovery platform using a quantum computer, cost-efficiently scanning billions of molecules from a large chemical space." OurCrowd is investing in Polarisqb. Click for more information.
CyberMDX: Stopping medical hackers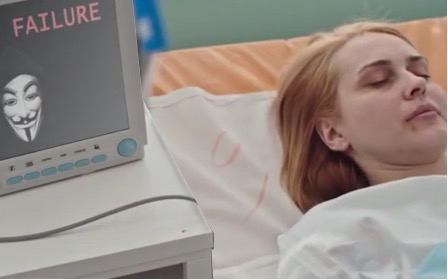 OurCrowd portfolio company CyberMDX, which protects medical devices and millions of medical records from a rising wave of cyberattacks, is reaching European hospitals through a new partnership with Alphatron Medical, AIthority reports. "Unlike other IT assets, connected medical devices are often unprotected or unmanaged. Alphatron is taking its responsibility to make sure their customers have the ability to implement a state-of-the-art cybersecurity solution," says Harald Verloop, CEO, Alphatron Medical. "We are talking not just about protecting data, but also protecting patients' care and patients' lives. It's a very critical mission," Amir Magner, co-founder and president of CyberMDX and former head of the Cyber Division in the Israeli Prime Minister's Office, tells The Times of Israel. Ransomware attacks against healthcare organizations rose by 123% in 2020, costing medical providers $21B in downtime and over $2M in ransom money.
Israeli tech becomes zeitgeist compliant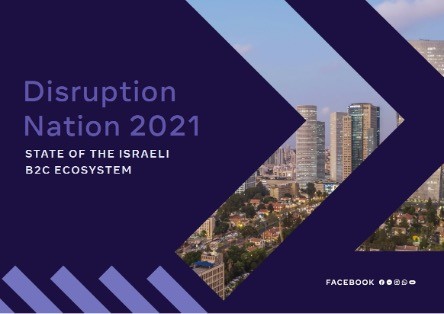 "More than half of the Israeli unicorns and the Israeli companies going public have a consumer orientation," says Adi Soffer-Teeni, General Manager at Facebook Tel-Aviv. Gone are the days when Israeli startups developed technology that nobody wanted for problems that didn't need solving. Today's Israeli entrepreneurs are connected and aware, offering solutions to the world's most urgent issues. How did Israel's tech ecosystem find its commercial mojo? Read more in my new 'Investors on the Frontlines' column.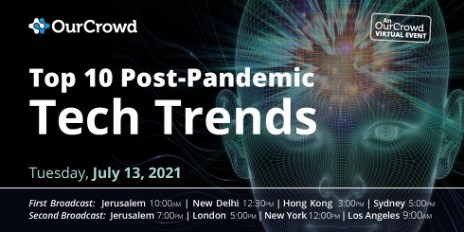 Top 10 Post-Pandemic Tech Trends offers invaluable insight into what will be hot, disruptive and investible in startups for the coming 12 months. With industries and societies on reset across the world, we present key technology trends identified by the OurCrowd investment team and its global network. Top industry speakers highlight each trend with exclusive intel on the most innovative startups.
JOIN US ONLINE: TUESDAY, JULY 13
Broadcast 1: Jerusalem 10:00AM | New Delhi 12:30PM | Hong Kong 3:00PM | Sydney 5:00PM
Broadcast 2: Jerusalem 7:00PM | London 5:00PM | New York 12:00PM | Los Angeles 9:00AM
Top Tech News
Intuition Robotics: From elderly companion to medical assistant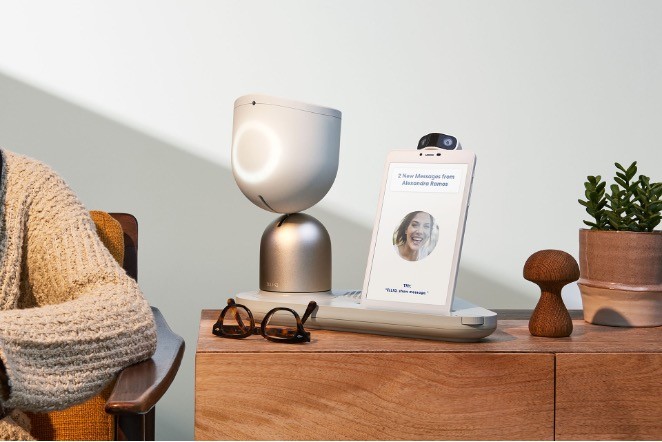 OurCrowd portfolio company Intuition Robotics is expanding its mission of improving the lives of older adults to include enhancing their interactions with their physicians, Gil Press reports in Forbes. The Israeli startup developed the AI-based, award-winning proactive social robot ElliQ which has spent over 30,000 days in older adults' homes over the past two years. Now ElliQ will help increase patient engagement while offering primary care providers continuous actionable data and insights for early detection and intervention. "She has picked up my attitude… she's figured me out," says Deanna Dezern, an ElliQ user who describes her robot companion as "my sister from another mother."

Hailo launches next-generation edge AI solution with Vecow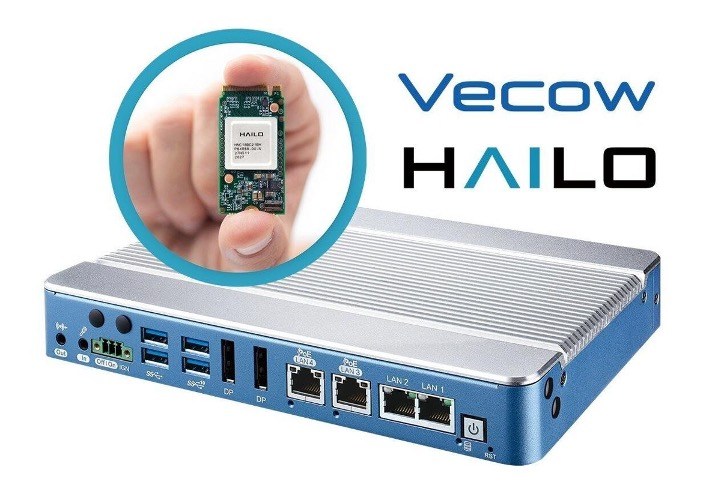 Vecow Co. in Taiwan, a team of global embedded experts, is partnering with OurCrowd's AI chipmaker Hailo to launch their next-generation AI solution, Vecow's ABP-3000 AI computing system, TroyRecord reports. Vecow's ultra-slim AI solution features the compact Hailo-8™ AI accelerator module, enabling breakthrough performance and AI inference capabilities at the edge. The strategic collaboration enables a smart AI solution with best-in-class power productivity, and ecosystem deployment at the edge. "It's really a win-win solution for Vecow and our customers," says Joseph Huang, Global Sales Director at Vecow. "With the increasing growth of intelligent edge computing, customers are looking for an AI Computing System that combines high-performance, power efficiency and low latency."
Qatar Airways helps Freightos grow 1,000%
"The hypergrowth of our eBookings in the last few months (up 1,000% year on year) has proven that forwarders are very keen to adopt real-time pricing, capacity, and eBookings, particularly in today's volatile market," Zvi Schreiber, CEO of OurCrowd portfolio company Freightos tells Aviation Pros. "We are so proud to have partnered with Qatar Airways Cargo, the world's number one cargo airline, on driving global Digital Air Cargo adoption." Qatar Airways Cargo introduced WebCargo by Freightos across the European region, excluding Armenia, Bosnia and Herzegovina, Russia, Slovakia and Slovenia, effective June 30. Forwarders will be able to conduct eBookings with access to live rates and available capacity on the WebCargo platform, bringing the number of countries in the airline's network on the platform to 32. "We are glad to further roll out the third-party eBooking platform, WebCargo throughout Europe, as we aim to provide digital connectivity for our customers and extend digitalization across our operations," says Guillaume Halleux, chief officer cargo at Qatar Airways.
SmartAsset rethinks financial advisory and becomes a unicorn
SmartAsset, an OurCrowd Proof co-investment that connects consumers to financial advisors, raised $110M in a Series D round of funding that values the New York-based company at over $1B and brings the total raised to just over $161M, TechCrunch reports. Since its last raise in 2018, the company says it has grown revenue 10X and is now on the cusp of reaching $100M in annual recurring revenue. It recently made its one millionth consumer/advisor match on its SmartAdvisor platform.

DailyPay speeds up payments for PNC Bank
Many fintechs specialize in giving workers some or all of their earnings ahead of the traditional two-week pay cycle, but OurCrowd portfolio company DailyPay is using real-time payments as a differentiator, The American Banker reports. DailyPay recently became the first to add the feature via partnership with PNC Bank and The Clearing House's RTP network, adding a few perks that could expand banks' participation in earned wage access (EWA). The RTP network provides immediate confirmation that EWA funds were successfully delivered, which is critical for employees dodging late fees by paying bills at the last minute, says Chris Ward, executive vice president and head of digital and innovation for PNC Treasury Management.
Share an OurCrowd deal with friends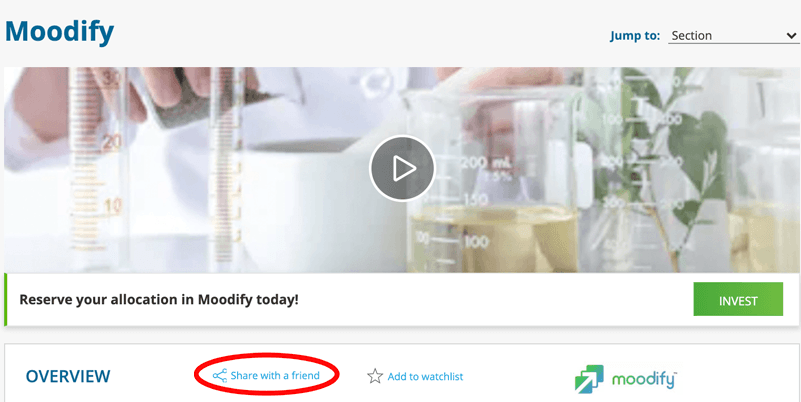 Spread the word about OurCrowd's investment opportunities. Use the new Share feature on the OurCrowd website to share any deal with your friends. Simply click on the icon, insert a friend's email, and send.
Introductions
Your portfolio gets stronger when the OurCrowd network gets involved. Visit our Introductions page to see which of our companies are looking for connections that you may be able to help with.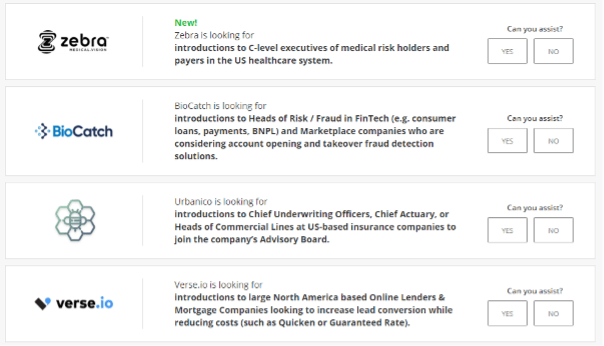 More than 1,200 High-Tech Jobs
Read the OurCrowd High-Tech Jobs Index Q1 2021 here.
Despite the coronavirus pandemic, there are hundreds of open positions at our global portfolio companies. See some opportunities below:
Search and filter through Portfolio Jobs to find your next challenge.