CytoReason: Helping Pfizer develop new drugs
OurCrowd, Israel's most active venture investor
Will manufacturing eat the world?
Memic raises $96M for robot-assisted surgery
Bizzabo's rollercoaster pivot to success
DouxMatok rolls out low-sugar spreads in US
SaNOtize seeks partner to help India against Covid-19
BioCatch adds to protection for financial transaction
Introductions
More than 1,000 high-tech jobs
Startup of the Week:
CytoReason: Helping Pfizer develop new drugs



CytoReason is poised to earn at least $10M from Pfizer as the pharma giant uses the startup's technology to produce the next generation of drugs more efficiently and effectively – whether it's a booster shot against the novel coronavirus or an entirely new class of drugs. It can cost $400M to develop a single drug, and 90% of drugs in R&D fail. CytoReason uses AI technology to stimulate drug discovery and development, aggregating proprietary data from pharmaceutical companies across the industry to train its computational models of human disease. "We are getting to the point that computer models of certain diseases can generate better predictions than animal models," CytoReason CEO David Harel tells Drug Discovery & Development. The approach can sharply reduce the time and cost of developing new drugs. "We believe that CytoReason's platform has the potential to offer valuable insights that may be applied to our research into the human immune system," says Michael Vincent, Pfizer's Chief Scientific Officer, Inflammation and Immunology. "Leveraging technologies such as this can help us understand disease and prioritize targets, and support our mission of bringing innovative new therapies to patients who need them." CytoReason's technology is also used by GSK, Roche and several of the world's largest pharma companies. OurCrowd is offering investors the opportunity to participate in a new round alongside Pico Venture Partners and Pontifax.
OurCrowd, Israel's most active venture investor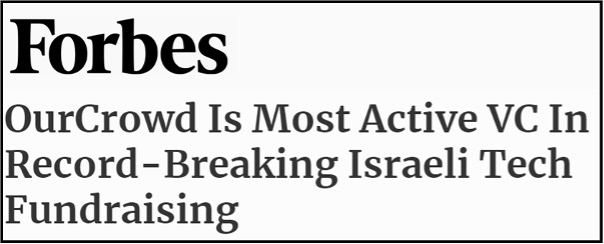 2020 was a record investment year for Israeli startups, and OurCrowd cemented its position as a leader of Israel's venture capital community. "The most active Israeli VC in 2020 was OurCrowd with 24 deals, according to PitchBook, followed by Pitango and TLV partners with 13 deals each," Gill Press reports in Forbes. PitchBook has awarded the accolade to OurCrowd every year since 2013. After a sensational first quarter in which Israeli startups shattered all previous records on track to double last year's record figures, we look forward to playing our part in helping the country's brilliant entrepreneurs move fast and fix things. I will be holding an online media briefing on Wednesday, April 28 for Israel-based reporters. Contact Leah Stern at OurCrowd (leah@ourcrowd.com) if you are a reporter and would like to join us.
Will manufacturing eat the world?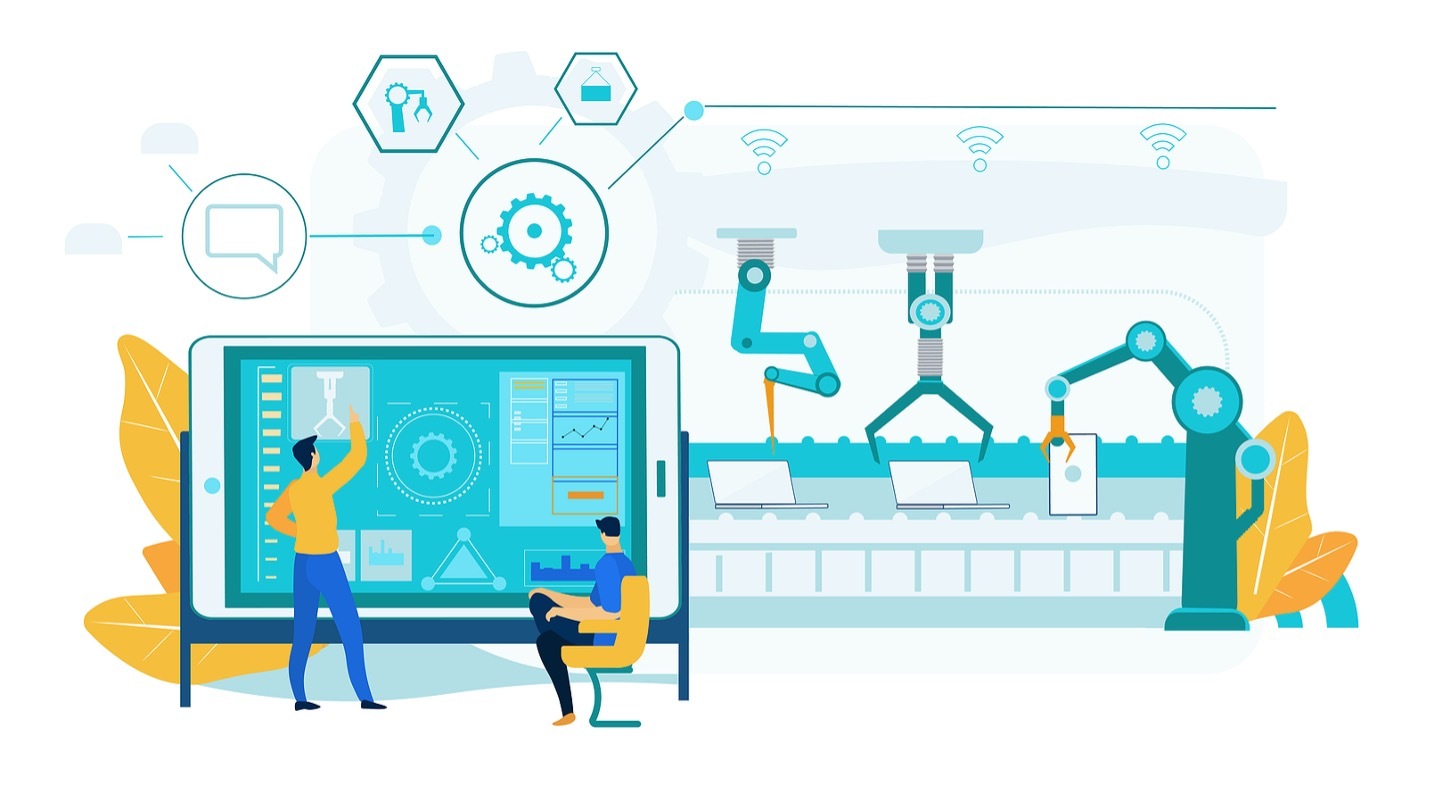 In a world where software eats everything, perhaps it was inevitable that it would finally munch its way into manufacturing. Technology is about to transform American industry, presenting investors with a huge opportunity. The newest assembly lines will not only be in Asia, but they will also be next door and they will be smart. They will be software-driven. They will produce limited runs using 3D printing of everything from plastic accessories to sophisticated electronic components. Customization and personalization are the hallmarks of modern manufacturing. The production line has become a chorus line, with companies producing dozens of similar but complementary, customized products. It took the Covid-19 pandemic, a worldwide semiconductor shortage that is closing western auto plants, and one windblown freighter stuck in the throat of world shipping, to realize that the supply chain has a chokehold on the future. Launchpad, a new company on the OurCrowd site, is a great example. It uses advanced software and AI to tighten supply chains and cut manufacturing costs and turnaround times. Read more in my latest 'Investors on the Frontlines' column. 
The search goes on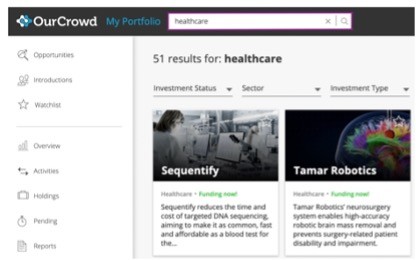 We are constantly upgrading the OurCrowd website to bring you the most seamless possible experience when researching and investing in our portfolio companies. Our new smart search engine at the top of every web page helps you find our companies and all the relevant information on each one even faster. 
Top Tech News
Memic raises $96M for robot-assisted surgery
Memic, the OurCrowd startup developing a robotic-assisted surgical platform that recently received marketing authorization from the U.S. Food and Drug Administration for its Hominis surgical robotic system, closed a $96M Series D funding round. The round was led by Peregrine Ventures and Ceros, with participation from OurCrowd and Accelmed. The company plans to use the new funding to commercialize its platform in the U.S. and expand its marketing and sales efforts outside of the US. "The Hominis system represents a significant advancement in the growing multi-billion-dollar robotic surgery market. This financing positions us to accelerate our commercialization efforts and bring Hominis to both surgeons and patients in the months ahead," Dvir Cohen, co-founder and CEO, tells Frederic Lardinois at TechCrunch. 
Bizzabo's rollercoaster pivot to success
The pandemic could have meant the end of OurCrowd portfolio company Bizzabo, an in-person events platform. "Within 2 weeks, almost all customers with planned events from March to June 2020 had canceled, totaling over 1000 event cancellations," Alon Alroy, co-founder of Bizzabo tells Eyal Bino in Forbes. "We looked at each other in disbelief thinking all of the hard work we had done since launching the company could have gone to waste. We needed to reinvent ourselves overnight." They did. The new product took off so quickly that the company grew more than 100% in 2020, attracting the attention of prime VCs looking for emerging post-Covid market leaders. In December, the company announced a mega-round of $138 million led by Insight Partners, which positions the company well to become the market leader in the industry for years to come.
DouxMatok rolls out low-sugar spreads in US
DouxMatok, the OurCrowd portfolio company whose Incredo Sugar cuts sugar intake without reducing sweetness, rolled out its first consumer products in the US. "We have been hard at work perfecting the commercialization of our Incredo Sugar, and are excited to showcase these delicious spreads with a superior nutritional profile," Eran Baniel, CEO and co-founder, tells The Times of Israel. "We believe the only way to meet the challenge of sugar reduction is by maintaining the joys of sugar." 
SaNOtize seeks partner to help India against Covid-19
As India suffers a terrifying new wave of infections and a mounting death toll from Covid-19, OurCrowd portfolio company SaNOtize, which has developed a nasal spray against the virus, is actively seeking Indian partners to hasten its deployment. "We need a partner in India for regulatory compliance and distribution. We are starting discussions with some large pharmaceutical companies in India," CEO and co-founder Gilly Regev tells The Times of India.
BioCatch adds to protection for financial transactions
BioCatch, the OurCrowd portfolio company that helps major financial institutions protect more than two billion digital transactions every month, released a powerful new fraud protection capability. It offers continuous visibility into online banking sessions to detect the slightest sign of cybercriminal activity. The new functionality provides companies with greater protection by delivering proactive notifications of high risk, allowing for immediate action. "With real-time continuous protection, BioCatch provides behavior monitoring before, during, and after the cybercriminal is online. Leveraging behavioral biometrics at each stage allows us to protect banks and other financial institutions from massive financial losses, augmenting their significant investment in cybersecurity," says Gadi Mazor, Chief Operating Officer and Israel General Manager.
Introductions
Your portfolio gets stronger when the OurCrowd network gets involved. Visit our Introductions page to see which of our companies are looking for connections that you may be able to help with.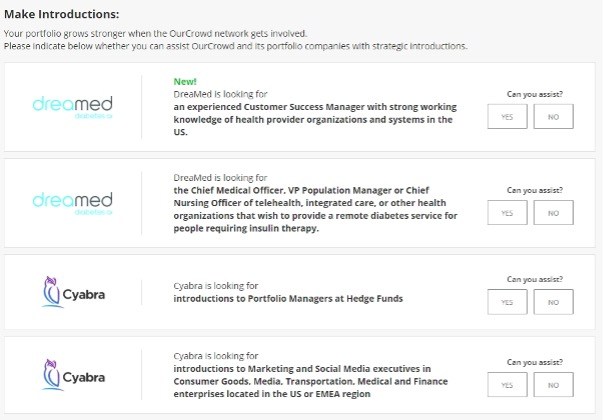 1,000 High-Tech Jobs
Read the OurCrowd Quarterly Jobs Index here.
Despite the coronavirus pandemic, there are hundreds of open positions at our global portfolio companies. See some opportunities below:

Search and filter through Portfolio Jobs to find your next challenge.