Top investment opportunities
Startup of the Week: Materials Zone
Israel's tech sector enters hypergrowth
Join us online for XTC regional finals
Medtronic taps Surgical Theater's fighter-jet simulation for brain surgery
TheraRay takes anti-money laundering to the cloud
Bill Gross: Launchpad will 'disrupt manufacturing forever'
Overtime Sports raises $80M from Bezos, Drake and A-listers
Syqe Medical gets Canada go-ahead for cannabis inhaler
Introductions
More than 1,100 high-tech jobs
Startup of the Week:
Materials Zone: $6M raised for materials discovery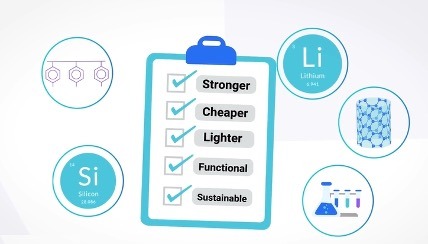 Our new portfolio company Materials Zone, which uses AI to speed up the search for new materials, has raised $6M for its Series A round led by Insight Partners together with OurCrowd, TechCrunch reports. OurCrowd investors can still participate. Materials science is becoming increasingly important for innovations in batteries, nanomaterials, solar fuels, and much more, but few companies are fully able to optimize and analyze the huge trove of data necessary for material discovery. The Materials Zone platform normalizes data, applies AI and ML algorithms, and allows customized analysis that significantly reduces time to market and R&D expenses. "Understanding the science of materials has become a driving force behind innovation," Materials Zone founder and CEO Dr. Assaf Anderson tells TechCrunch. "However, the data behind materials R&D and production has traditionally been poorly managed, unstructured, and underutilized, often leading to redundant experiments, limited capacity to build on past experience, and an inability to effectively collaborate, which inevitably wastes countless dollars and man-hours." The company has already shown it can cut the time to discover a new material from five years to two months and is working with major enterprises, startups, and 50 academic research labs. Click below to learn more and join this investment round.
Israel's tech sector enters hypergrowth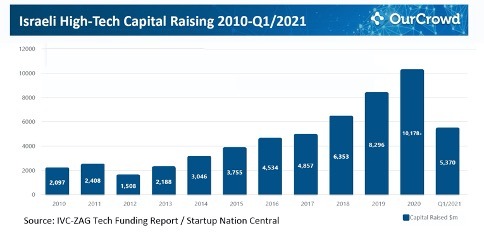 Israel's tech sector is in a state of hypergrowth, with startups raising a record $5.37B in the first quarter of 2021. That's more than half the record $10B raised in the whole of 2020 and puts the country's ecosystem on pace to break $20B this year, as I told reporters this week at a briefing from Jerusalem. We now have 63 unicorns founded here in Israel or founded abroad by Israelis – 12 of them this year alone. Read more coverage in the Jerusalem Post, Calcalist's CTech, and Tech Observer. I also discussed our sustainable investing partnership with Waterfund on the Irish New Tech Podcast.
Join us online for XTC regional finals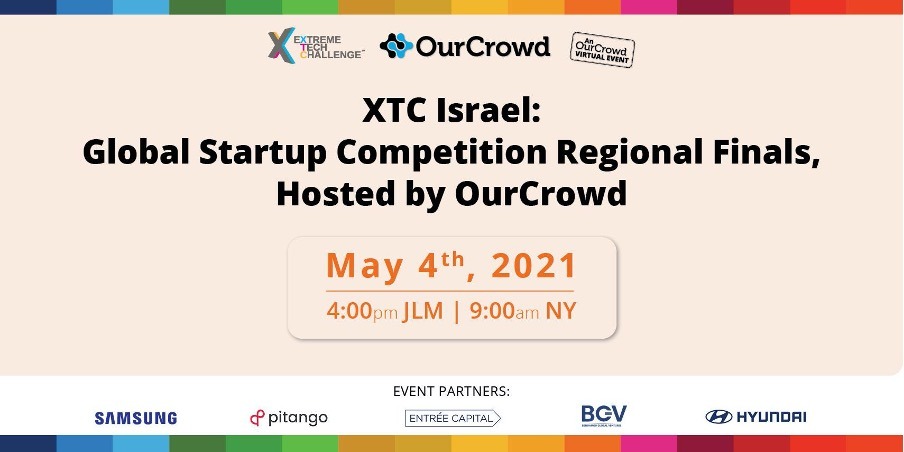 Join us on Tuesday, May 4 for the regional finals of what Forbes describes as the "world's largest startup competition for entrepreneurs addressing the globe's most serious challenges." OurCrowd is hosting the special online event showcasing the breakthrough technologies from this year's regional representatives. Speakers include:
Young Sohn, Chairman of the Board, HARMAN International; Former Corporate President & Chief Strategy Officer, Samsung Electronic; Co-Founder, Extreme Tech Challenge
Rutie Adar, Head of Samsung Strategy and Innovation Center, Israel
Laly David, Partner, Business Development Partner, OurCrowd
Guy Kashtan, CEO & Co-Founder, Rewire (2020 XTC Finals Winner)
Moderator: Dan Fishel, Partner, Strategic Initiatives, OurCrowd
XTC Challenge provides winning startups with global visibility, the ability to raise capital (combined $440 million raised to date) and network with global corporations, VCs, and partners. Last year's XTC Israel produced two of the winners at the finals in Paris (out of 2,400 entrants from 87 countries). XTC Israel is presented in partnership with Pitango, Entrée Capital, BGV, Samsung, and Hyundai.  
Top Tech News
Medtronic taps Surgical Theater's fighter-jet simulation for brain surgery
Medtronic will enable neurosurgeons to use augmented reality technology developed by OurCrowd portfolio company Surgical Theater to enhance real-time visualization during complex cranial procedures, Fierce Biotech reports. The collaboration will interface Surgical Theater's SyncAR™ augmented reality (AR) technology with Medtronic's StealthStation™ S8 surgical navigation system. Using fighter-jet simulation technology, the SyncAR platform allows surgeons to visualize structures in the brain, test virtual surgical tools and plan surgeries before entering the operating room. "In neurosurgery, it's paramount to correctly identify and navigate critical brain structures. AR-enhanced visualization interfacing with the StealthStation will help me achieve the best possible outcomes for my patients," says Thomas Steineke, MD, chairman, JFK Neurosciences Institute, Edison, NJ.
ThetaRay takes anti-money laundering to the cloud
OurCrowd portfolio company ThetaRay's AI-based anti-money laundering (AML) analytics will now be available on public and private clouds, including Azure, Google, and AWS, VentureBeat reports. ThetaRay's AML platform uses unsupervised machine learning to monitor financial transactions, integrating data and triaging alerts in real time. And its new cloud-agnostic version aims to increase the speed at which the cybersecurity company's clients — banks and fintech firms — can detect potential threats. "Cloud-based systems became particularly important to banks during the COVID-19 pandemic as they scrambled to understand more data in less time," Manasa Gogineni reports.
Bill Gross: Launchpad will 'disrupt manufacturing forever'
"Manufacturing is poised for a revolution with AI," says legendary investor Bill Gross explaining his enthusiastic backing for the joint Idealab-OurCrowd portfolio company Launchpad, which automates short-run design and production processes, cutting costs and slashing time to market. "Launchpad has built an automated manufacturing process that learns and gets smarter over time," says Gross, whose Idealab incubator has produced more than 150 successful startups. "This breakthrough allows automation to be deployed at a more nimble scale, and will completely disrupt high-speed time-to-market manufacturing forever." Bill Gross will be meeting OurCrowd investors online to talk about his career and his hopes for Launchpad on Monday, May 11. 
Overtime Sports raises $80M from Bezos, Drake and A-listers
OurCrowd portfolio company Overtime Sports, which reimagines sports content for younger fans on digital and social platforms, has raised $80M from A-list investors including Jeff Bezos, Drake and Alexis Ohanian, co-founder of Reddit, the Wall Street Journal reports. The Series C round was led by Sapphire Sport and Black Capital. Morgan Stanley Counterpoint Global, Pelion Capital, Blackstone Strategic Partners and more than 25 current and former N.B.A. stars, including Devin Booker and Pau Gasol, also contributed. Overtime is now valued at more than $250M, the Journal reports.
Syqe Medical gets Canada go-ahead for cannabis inhaler
OurCrowd portfolio company Syqe Medical, developer of a medical cannabis inhaler, received a medical device license from the Canadian health authorities that will allow the company to market its metered-dose inhaler to patients in Canada, reports Shoshanna Solomon in The Times of Israel. This is the first approval given by an international regulatory authority to market a precisely dosed cannabis inhaler as a medical product, as well as the first approval to market a product that combines cannabis with a medical devices
Introductions
Your portfolio gets stronger when the OurCrowd network gets involved. Visit our Introductions page to see which of our companies are looking for connections that you may be able to help with.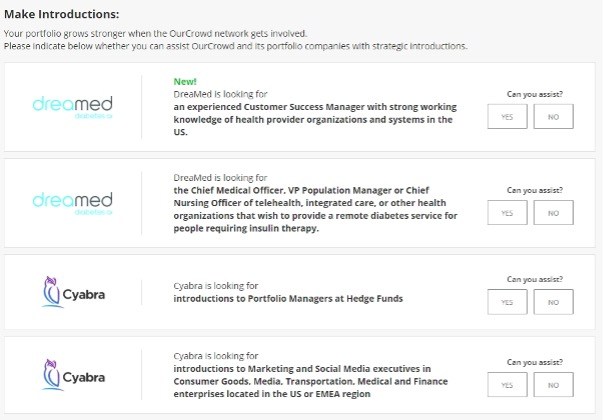 1,100 High-Tech Jobs
Read the OurCrowd Quarterly Jobs Index here.
Despite the coronavirus pandemic, there are hundreds of open positions at our global portfolio companies. See some opportunities below:

Search and filter through Portfolio Jobs to find your next challenge.