Top investment opportunities
Startup of the Week: 3d Signals, modernizing the world's factories
OurCrowd releases enhanced mobile app
Freightos to go public via SPAC
Sand Curtain falls: Historic Israel-UAE free trade deal
NTT Finance boosts D-ID funding round
Mermade cuts lab-grown seafood cost by 10,000X
OurCrowd hosts top executives from Latin America
WSJ: InsideTracker can help you keep healthy, longer
Unilever ice creams take to the sky on Flytrex drones
ThetaRay wins Dubai award for anti-money laundering tech
PBS Newshour: Orbital Insight monitors Ukraine war in real time
Introductions
More than 4,100 high-tech jobs
Startup of the Week:
3d Signals: Modernizing the world's factories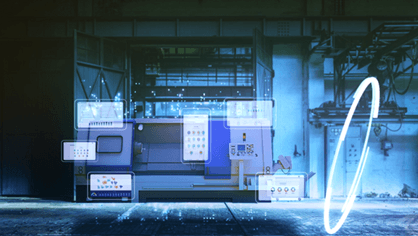 Industry 4.0, the next industrial wave, seeks to harness the power of connectivity and AI to dramatically improve productivity – but over 90% of the world's manufacturing machinery is pre-digital and therefore excluded from this revolution. Israeli startup 3d Signals has created an integrated IoT/hardware/software product that can connect these machines to a cloud-based, AI-driven platform in a matter of days. It provides immediate visibility into the production floor, transforming data into actionable insights with concrete results, including increased productivity, energy savings and lower labor costs. Operating in a field with no major competition, and with an existing client base of over 20 customers in the automotive, energy and production industries, 3d Signals is on track for 400% ARR growth by the end of 2022. OurCrowd is participating in this $12M Series B round.
Check out the enhanced OurCrowd mobile app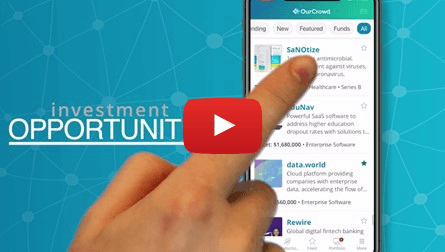 Tap. Swipe. Invest. Download the enhanced OurCrowd mobile app for Android or iOS and get all the advantages of OurCrowd's investment platform in the palm of your hand, whenever you need it. The app allows you to effortlessly:
Receive real-time information on exciting new investment opportunities
Check the performance of your current portfolio
Get the latest news on OurCrowd portfolio companies and the startup ecosystem
Review and download key documents and reports
Log in securely using our biometric recognition feature
Take your OurCrowd investments with you, wherever you go.
Freightos to go public on Nasdaq via SPAC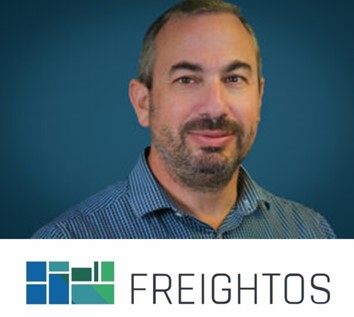 Freightos, one of the first OurCrowd investments back in 2012, announced a merger agreement with Gesher I Acquisition Corp. (NASDAQ: GIAC), a special purpose acquisition company, that would result in Freightos being publicly listed on the NASDAQ under the ticker symbol FROS. The combined entity, to be known as Freightos, with offices around the world, will have a pro forma enterprise value of approximately $435M. "When I first started Freightos 10 years ago, the goal was clear. Take the trillion-dollar freight industry online, and streamline the global shipping process the same way Amazon did for e-commerce and Booking.com for passenger travel," says CEO Zvi Schreiber. "Going public on the NASDAQ will allow us to accelerate the growth of our platform – currently used by well over 10,000 importers and exporters, 3,500 freight forwarders and 200 carriers – while bringing about increased transparency and stability, which is essential in our position as the world's leading vendor-agnostic booking platform."
Sand curtain falls: Historic Israel-UAE free trade deal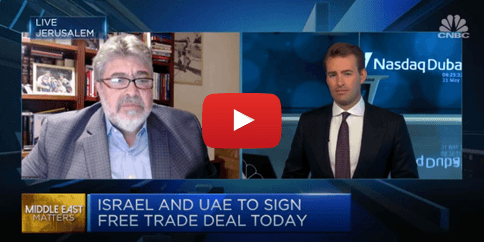 There is no underestimating the importance of the free trade agreement between Israel and the UAE, I told Dan Murphy on CNBC International. The deal signed in Dubai on Tuesday is the first of its kind between Israel and any Arab state, and is part of a momentum that is building not just in the region but also around the world. This agreement is a scaffolding for this incredible building of cooperation we're putting together with our new partners, I told the Wall Street Journal. OurCrowd is not just observing this historic process, but actively participating. We were the first Israeli VC to open offices in the UAE for direct investment in Emirati companies. "Given global supply chain shocks, this could redraw global supply chains, with the UAE-Israel link as a key component," Dr. Sabah al-Binali, OurCrowd Partner and Executive Chairman of OurCrowd Arabia, told the Financial Times:
NTT Finance boosts D-ID funding round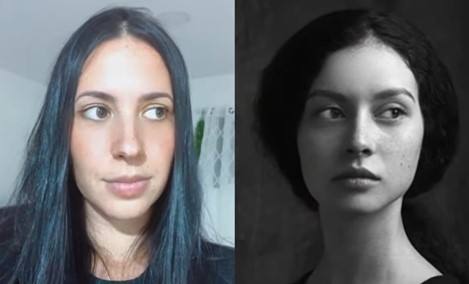 The financial arm of Japanese telecommunication giant NTT is investing in our portfolio company D-ID, which uses AI and deep learning to create reenactment-based products ranging from animating still photos to developing high-quality digital avatars. The company's customers include Warner Bros. Studios, Mondelez, Publicis and MyHeritage, for whom D-ID created the viral sensation Deep Nostalgia, resulting in nearly 100 million animations worldwide. The NTT Finance investment is part of D-ID's $25M Series B round, currently funding on the OurCrowd platform.
Mermade cuts lab-grown seafood cost by 10,000X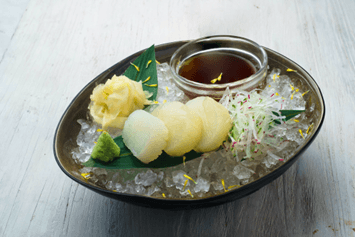 Mermade Seafoods is using – and reusing – algae to slash the production costs of lab-grown seafood and finally make cultivated proteins cheap enough to bring to your table, Amy Teibel writes in the Times of Israel. "It's an up to 10,000-fold potential reduction in cost," CEO Daniel Einhorn told the online audience at OurCrowd's 'Investing in the Circular Economy: From Trash to Cash.' "Any tiny dent that you put in by lowering the amount of new medium that you need creates a very significant difference in cost." Mermade is now funding on the OurCrowd platform.
OurCrowd hosts top executives from Latin America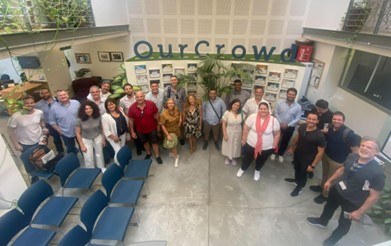 30 top executives from Caja Arequipa, Grupo America, Sigma, Grupo San Cristóbal and other top-tier firms in Central and South America visited OurCrowd's Jerusalem HQ to learn about the Israeli tech ecosystem and OurCrowd's unique approach to start-up investing. The business leaders came to Jerusalem as part of Innovation Experience Israel, a senior education program that helps firms of all sizes develop global business opportunities.
Top Tech News
WSJ: InsideTracker can help you keep healthy, longer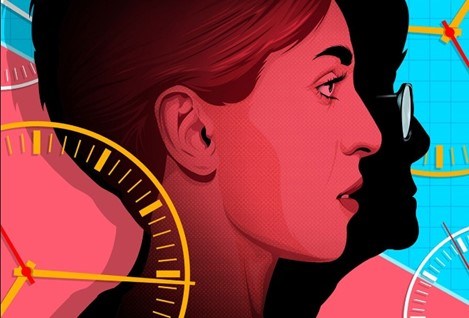 In one of the largest in-home deployments of advanced intelligent robots in history, the State of New York will distribute more "Biological age won't help you live forever, but a 'credit score for your body' might prolong your lifespan, some scientists say," the Wall Street Journal reports on our wellness portfolio company InsideTracker.
Unilever ice creams take to the sky on Flytrex drones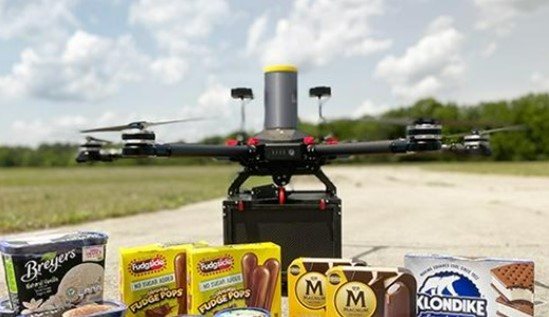 Just in time for summer, frozen treats from Unilever's Ice Cream Shop are taking to the skies thanks to our portfolio company Flytrex, Dronelife reports. Flytrex drones are delivering brand names like Breyers and Klondike to backyards in North Carolina and Texas. With a flight time of less than three minutes, there is no need to worry about the ice cream melting. "We're excited to team up with Flytrex as our first-ever drone delivery partner to bring The Ice Cream Shop to new heights," says Russel Lilly, General Manager, Unilever North American Ice Cream. Flytrex also added Jersey Mike's Subs shop and Papa John's to its roster of national chains.
ThetaRay wins Dubai award for anti-money laundering tech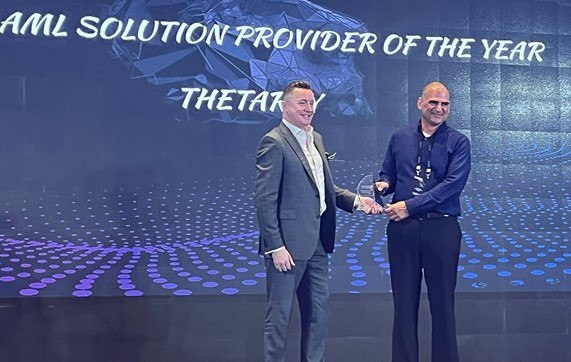 Our FinTech security pioneer ThetaRay won the Anti-Money Laundering (AML) Solution Provider of the Year Award at Dubai's Middle East Banking AI & Analytics Summit. Major financial institutions around the world use the company's software, which uncovers money laundering, terrorist financing, cyber-automated attacks and other financial crimes. "Our true AI-based AML solution allows banks and fintechs to form new relationships, drive revenues, and improve customer satisfaction, while ensuring their payment network is safe and secure from financial criminals," says ThetaRay CEO Mark Gazit.
PBS Newshour: Orbital Insight monitors Ukraine war in real time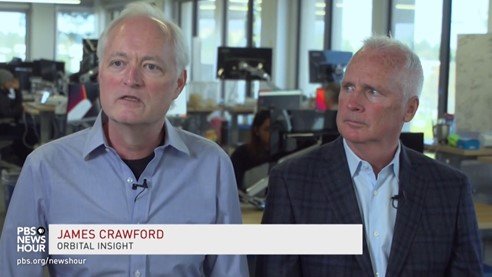 PBS Newshour reports that our portfolio company Orbital Insight is capturing data from satellites and other technologies to track the war in Ukraine in real time. The company, which uses artificial intelligence and machine learning to analyze satellite images, started compiling data on the civilian exodus from Ukraine soon after the Russian invasion in February. "The greatest refugee crisis since World War II can now be monitored on an hourly basis by analysts using GPS signals from Ukrainian cell phones and cars on the move," Newshour reports.
Introductions
Your portfolio gets stronger when the OurCrowd network gets involved. Visit our Introductions page to see which of our companies are looking for connections that you may be able to help with.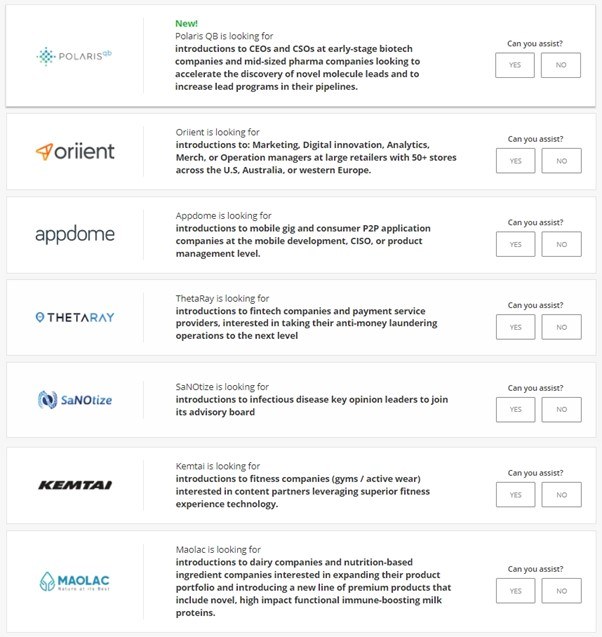 More than 4,100 High-Tech Jobs
Read the OurCrowd High-Tech Jobs Index Q4 2021 HERE.
Search and filter through Portfolio Jobs to find your next challenge