OurCrowd is happy to announce the funding of its latest portfolio company, Zula.
Zula provides an innovative cloud-based mobile collaboration platform for teams.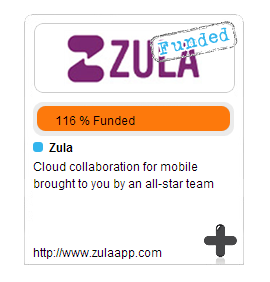 Zula was founded by Jeff Pulver, pioneer of VoIP, social media master and early-stage investor in companies like Twitter and foursquare, and by Jacob Ner-David, a 3-time entrepreneur who took Delta Three through IPO.
Zula  co-founder Jeff Pulver said, "I am excited about the value that OurCrowd brings to early stage investors who  invest in  startup companies. Not only did we raise our seed round online in less than a week, but we had people from all over the world invest in Zula thanks to this platform."
This is OurCrowd's 18th completed funding round, while 3 additional companies are still actively funding.
If you're an accredited investor and like to find out more please visit OurCrowd.
[xyz-ihs snippet="DavidCitron"]