Global Innovation Trends: How Corporations are Responding
By Jonathan Pressman 
In a world of rapidly advancing technologies, it seems no industry is safe from disruption. Large businesses once thought "too big to fail" are now being forced to keep up with the times or suffer the consequences of being undercut by opportunistic startups. With so many new technologies coming to market, it's important to know how established corporations are reacting. Here, we examine how some of the world's most well-known corporations are innovating to keep pace with the rise of autonomous vehicles, blockchain, and artificial intelligence.
Like what you are reading? Our Q3 Corporate Innovation Report is out now. 
Autonomous Vehicles
The advent of autonomous vehicles arguably represents the greatest innovation in the automotive industry since Ford's creation of the assembly line in 1913. Here's a quick rundown of what some of the largest OEMs are doing:
In a 2017 report by Navigant Research, Ford ranked number one in the autonomous vehicle race.[1] Ford is tackling the entire autonomous stack from sensors to control systems and fleets. The US manufacturer invested over $1B in Argo AI, an artificial intelligence company employed to help Ford develop its virtual driver system.[2] The Detroit-based automaker also invested $150M alongside Baidu in Velodyne's LiDAR technology and acquired ride-sharing service Chariot in a $65M cash deal.[3] [4] Ford is planning to roll out its fleet of fully autonomous ride-sharing vehicles by 2021.[5] If all this isn't enough to convince you of Ford's aggressive play to lead the world into an age of autonomous vehicles, the 114-year-old company recently replaced its existing CEO with the chairman of Ford Smart Mobility, Jim Hackett.[6]
Longtime rival and fellow American automaker GM is hot on the heels of Ford. In 2016, GM partnered with Lyft, investing $500M with the intent of developing a ride-sharing network of self-driving cars.[7] The company also purchased Cruise Automation, a self-driving startup, in an acquisition worth $581M.[8] GM has already produced a fleet of 130 self-driving electric cars, which it plans to deploy in California and Arizona this summer.[9] Through its partnership with Lyft, GM has also announced its intent to test thousands of autonomous vehicles as soon as 2018, which will represent a tremendous advance for the American carmaker.[10]
Outside of the US, the Renault-Nissan partnership is pushing to get driverless cars on the roads of Europe and Asia. Last year, Nissan unveiled ProPilot, its partially autonomous driver assistance technology that can be found in select models in Japan.[11] The company plans on gradually adding functional features to the ProPilot, culminating in the release of fully autonomous vehicles in 2020.[12]
Finally, Toyota, the world's largest automotive company, has refused to be left in the dust in the race for self-driving cars. Following a $1B investment into its artificial intelligence arm, TRI (Toyota Research Institute), Toyota unveiled its first autonomous vehicle in May 2017.[13]  With the investment, Toyota is leveraging its AI technologies to support fully-autonomous vehicles in the future, as well as offering a driver-assist system for the present to help drivers stay safe through AI-powered, machine learning technologies.[14] TRI has also recently announced a new $14M investment into Intuition Robotics, a leading AI startup alongside OurCrowd and Maniv Mobility.
Blockchain
Less than a decade ago, the world of blockchain and Bitcoin was practically non-existent. Today, individuals and companies alike are mesmerized by blockchain technology, and can't seem to get enough of it.
A collaboration between Citigroup and Nasdaq Inc. has introduced blockchain to securities sales. The two companies have teamed up with Chain Inc., a financial blockchain provider. The move allows CitiConnect, Citigoup's cross-border payment system, to manage large-sum international payments using Nasdaq's Linq, a private market blockchain technology.[15] [16] Citi and Nasdaq executed the first private securities sale in December 2015, and are continuing to partner to integrate distributed ledger technology into their payment networks..[17] In addition, Citi's Head of Innovation Labs, Ken Moore, said in an interview that the company has built three blockchains, in which it is testing its own cryptocurrency, Citicoin.[18]
Another financial services firm working to implement blockchain solutions into its offerings is Visa. Last year, Visa partnered with blockchain platform BTL to explore automated, blockchain-based interbank payment and settlement solutions.[19] Visa also launched a pilot program with Chain Inc.'s enterprise blockchain infrastructure, which offers faster, more secure global B2B payments.[20] The company is also hiring blockchain engineers, further demonstrating its commitment to a future in which blockchain is a key component.[21]
IBM has taken blockchain to the next level with its March 2017 release of Blockchain-as-a-Service (BaaS), which combines the best of blockchain and cloud software, allowing customers to set up their own secure blockchain networks.[22] IBM Blockchain is the first fully managed service for Hyperledger Fabric, a distributed ledger platform which offers flexible, scalable enterprise blockchain solutions.[23] [24] [25] IBM Blockchain has already demonstrated impressive traction after being selected to provide the blockchain platform for the Digital Trade Chain Consortium, whose members include Deutsche Bank, HSBC, and Societe Generale.[26]
Despite the practical application of blockchain for financial institutions, the digital ledger technology offers a number of other business uses. Media and information giant Thomson Reuters has taken the blockchain world by storm, investing over $1.5B and launching beta versions of its BlockOne ID and BlockOne IQ oracles.[27] Powered by Ethereum, BlockOne ID uses a wallet and smart contract to help developers secure web applications,[28] while BlockOne IQ allows for the use of Thomson Reuters content and data in Ethereum and Corda smart contracts.[29] The company recently announced the 2017 opening of its incubator, which is seeking startups in innovative technologies, such as blockchain.[30]
BITCOIN

ETHEREUM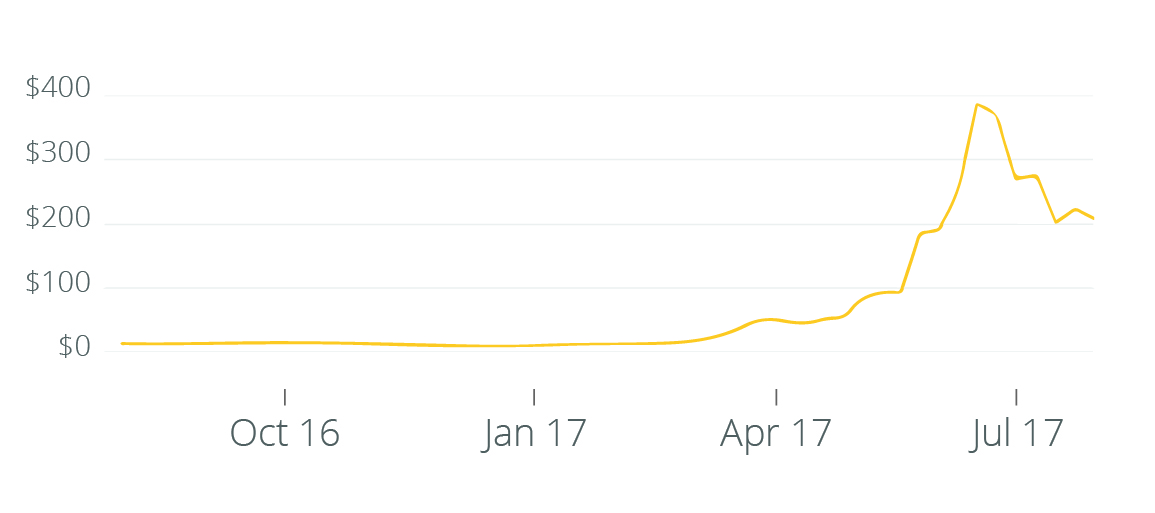 Artificial Intelligence (AI)
2016 was a record year for investments in artificial intelligence, with VCs dumping $5B into more than 658 AI startups.[31] AI has the potential to reshape nearly every industry, and according to Microsoft's Chief Envisioning Officer, Dave Coplin, "is the most important technology that anybody on the planet is working on today."[32] From virtual assistants like Siri and Alexa to bionic limbs and smart cars, AI has become integrated into our daily lives. In 2016, some of the world's top technology companies joined forces to found the Partnership on AI to Benefit People and Society.[33] Let's take a look at what other companies are leading the charge in artificial intelligence.
Nvidia's recent announcement to train 100,000 developers in deep learning artificial intelligence indicates the company's clear and ongoing commitment to AI technology.[34] Nvidia is readying itself for the age of artificial intelligence, and already has plans to use its AI supercomputer solutions to power smart cities, prevent diseases, and revolutionize the way we do business. Nvidia's GPUs were originally designed to reinvent computer gaming experiences through enhanced graphics.[35] Today, Nvidia GPUs have evolved from visual computing to deep learning neural networks and harnessing the power of simulating human abilities, which it provides to over 500,000 developers and 40,000 companies.[36]
Intel's AI program has been a large focus for the semiconductor giant, but  Nvidia has grabbed the public eye.[37] In March 2017, the California-based tech company grouped its entire AI program under the Intel Artificial Intelligence Products Group (AIPG), in addition to investing in a trio of AI companies: Cognitive Scale, AEye, and Element AI.[38] Intel's $400M acquisition of Nervana Systems, a deep-learning AI startup, is a huge leap forward for the company, which plans to incorporate Nervana's technology in its server chips in the second half of 2017.[39] [40]
Salesforce, the world's leading CRM software provider, is also gearing up for a future filled with AI. Earlier this year, the company joined in a strategic partnership with IBM Watson to help companies make smarter, faster decisions.[41] Einstein, Salesforce's analytics platform dubbed "AI for everyone," uses artificial intelligence to automate tasks such as data modeling, and offers recommendations and predictions based on unique business processes.[42] [43] Salesforce advertises Einstein as a tool that can be used to improve everything from IT and marketing to sales and service.
Conclusion
        The leading corporate innovators all have one thing in common–they embrace change. Whether it's something tangible like self-driving cars or an intangible digital technology like blockchain, the most successful companies are the ones who are constantly adopting new technologies, investing in the future, and never getting too comfortable with the "here and now."
Want to read more? Our Q3 Corporate Innovation Report is out now.
---
[1] https://www.navigantresearch.com/research/navigant-research-leaderboard-report-automated-driving
[2] http://www.telegraph.co.uk/business/2017/02/27/ford-seeks-pioneer-new-generation-driverless-cars/
[3] http://www.businessinsider.com/ford-buys-chariot-65-million2016-9
[4] https://www.wired.com/2017/04/detroit-stomping-silicon-valley-self-driving-car-race/
[5]https://media.ford.com/content/fordmedia/fna/us/en/news/2016/08/16/ford-targets-fully-autonomous-vehicle-for-ride-sharing-in-2021.html
[6]http://www.npr.org/sections/thetwo-way/2017/05/22/529459034/ford-replacing-ceo-mark-fields-in-management-shakeup
[7] http://www.reuters.com/article/us-gm-lyft-investment-idUSKBN0UI1A820160105
[8] http://www.businessinsider.com/gm-cruise-automation-price-2016-7
[9] http://www.reuters.com/article/us-gm-autonomous-idUSKBN1941NT
[10] http://www.reuters.com/article/us-gm-autonomous-idUSKBN1941NT
[11]https://www.bloomberg.com/news/articles/2016-07-13/nissan-debuts-propilot-as-similar-tesla-system-faces-scrutiny
[12] https://www.nissanusa.com/blog/autonomous-drive-car
[13] https://www.theverge.com/2017/3/3/14803734/toyota-research-institute-self-driving-car-lexus
[14] https://www.fool.com/investing/2017/03/08/why-toyota-is-taking-its-own-road-to-self-driving.aspx