The week's top investment deals from OurCrowd
Joining the AI healthcare revolution
Better choices to fight cancer
Green light for cleantech investment
Wall Street Journal: OurCrowd chases the 'trillion-dollar opportunity'
SALT Talks: Cybersecurity and Digital Transformation
Virgin Hyperloop gathers speed
Sight Diagnostics to partner with Shaare Zedek on coronavirus research
Ripple: Disrupting the non-dairy milk market – Forbes
Juganu: Killing Covid-19 with light
Introductions
Job opportunities
Joining the AI healthcare revolution
OurCrowd is joining some top investors raising a $24M investment round for Diagnostic Robotics, a company at the forefront of the digital health revolution that uses artificial intelligence to reduce hospital waiting times and guide patients to faster, more efficient medical care. Early partners include the Mayo Clinic and Brown University. Led by charismatic chairman Dr Kira Radinsky, the company is described by the Israel Innovation Authority as "the most prominent company in the Israeli healthcare ecosystem." As Globes reports, our co-investors include Accelmed Partners, Alpha Capital, Maverick Ventures Israel, Mivtach Shamir, Dr. Judith Richter and Dr. Kobi Richter, David and Daniel Arison, and Mark Siegel, an executive at Cedars-Sinai Medical Center and XPRIZE Foundation.
Better choices to fight cancer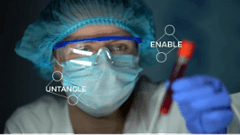 OncoHost is developing a blood test that tells doctors which cancer treatments are most likely to help specific immunotherapy patients. "There is a huge unmet need for this," OncoHost CEO Ofer Sharon, a physician and entrepreneur with experience at global pharmaceutical companies like AstraZeneca and Merck, tells Sara Toth stub for our story in The Times of Israel.
Wall Street Journal: OurCrowd chases the 'trillion-dollar opportunity'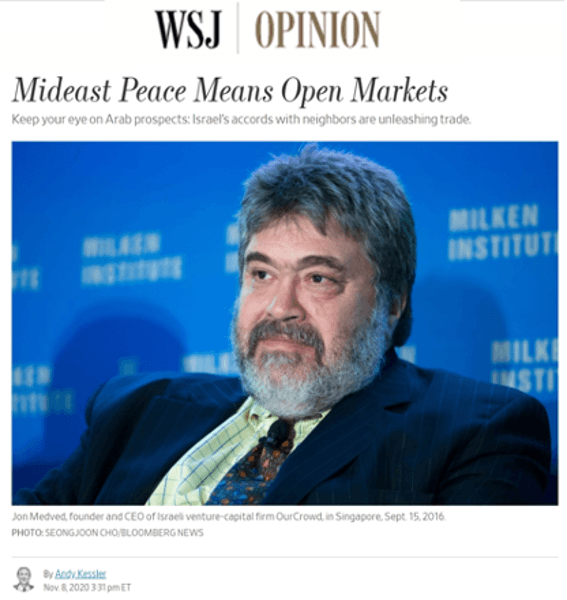 "Don't underestimate the falling of the Sand Curtain," writes Andy Kessler in a Wall Street Journal column about OurCrowd's work in the Gulf. "This is a trillion-dollar opportunity." With elections and pandemics and protests going on around the world these days, very few people have really drilled down to study the impact of the recent peace deals. "The U.A.E. and Israel have similar populations of about nine million to 10 million and a roughly equal gross domestic product," he writes. "This is a sign of a region modernizing." Read the column here.
Green light for cleantech investment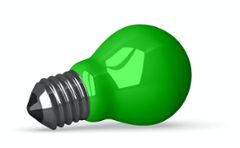 In 2007, John Doerr of Kleiner Perkins Caufield & Byers used a tearful and now famous Ted Talk to urge investment in green technology which he said "could be the biggest economic opportunity of the 21st Century" and announced a $100 million investment in cleantech, renewable energy, biofuels, electric cars and water purification technology. Annual investment in cleantech increased tenfold from about $400 million a year to peak at $4.3 billion in 2011. But the bet failed to pay off for most investors and by 2015, annual funding for cleantech startups had sunk below $1.5 billion. I believe we have now reached the inflection point that Doerr foresaw in 2007. Wildfires, hurricanes, disease and disaster have caused economic chaos in recent years. The climate emergency is upon us, and clean technology has now matured to the point where it finally makes good business sense. Read more in my new "Investors on the Frontlines" LinkedIn Newsletter and subscribe to get future editions.
Read more here.
OurCrowd & SALT Talks, Ep. 4: Cybersecurity and Pandemic-Accelerated Digital Transformations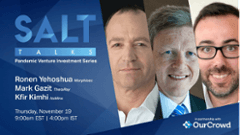 This fourth installment of the SALT Talks: Pandemic Venture Investment Series, presented in partnership with OurCrowd, will take place on Thursday, Nov. 19. Prior to COVID-19, digital transformation projects proceeded at a pace of their own – slow and experimental. Ron Moritz, serial cybersecurity entrepreneur and sector expert, will quiz top CEOs from cybersecurity startups on how they are dealing with the unprecedented rush to move enterprise applications from the traditional data center to the cloud, successfully managing rapid cybersecurity innovation, and the challenges and opportunities. With Ronen Yehoshua, CEO of Morphisec, Mark Gazit, CEO of ThetaRay, and Kfir Kimhi, CEO of ITsMine.
Register here.
Top Tech News
Virgin Hyperloop gathers speed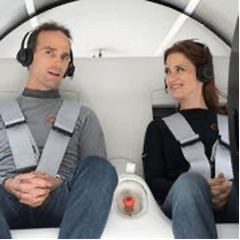 Hyperloop technology, which promises to transport people and goods at speeds of up to 1,000 kilometers an hour, has long seemed too good to be true. But Virgin Hyperloop became the first company to conduct a human test of the technology at its 500-meter test track in the desert north of Las Vegas. The two volunteers, wearing casual street clothes, were whisked in a pod that was levitated by magnets inside a vacuum tube to 107 mph in 6.25 seconds, reported the New York Times, Bloomberg, CNN and many others.
Sight Diagnostics to partner with Shaare Zedek on coronavirus research

Shaare Zedek Medical Center and Sight Diagnostics will collaborate on a new study to examine morphological changes that occur in white blood cells of coronavirus patients, in order to detect early deterioration of their health status, The Jerusalem Post reports. The new study, which will be made possible thanks to the blood samples held within the large biobank set up by Shaare Zedek Hospital and tested using the Sight OLO device, is the result of a research collaboration agreement signed this week between the two parties.
Ripple: Disrupting the non-dairy milk market – Forbes

"We make the most nutritious and delicious plant-based products on the market. Just go long-term. What's going to be important in food categories is taste and nutrition, Adam Lowry, co-chairman of OurCrowd portfolio company Ripple Foods, tells Simon Mainwaring in Forbes. "If you have a better product, all the other stuff becomes a bit easier."
Juganu: Killing Covid-19 with light

Juganu, an OurCrowd portfolio company that makes lighting systems capable of emitting light at specified wavelengths, is now selling a product that it says can disinfect surfaces and deactivate pathogens in an attempt to provide buildings with new safety technologies that can prevent the spread of the coronavirus that causes COVID-19, TechCrunch reports. The company's J.Protect has been registered with the U.S. Environmental Protection Agency in 48 states. The company is currently working with Comcast, Qualcomm and NCR Corp. to bring its lighting disinfectant and deactivation technology to markets around the country.
Watch Online
SALT Talks: Pandemic Venture Investment Series, Episode 1
Steve Krausz, Managing Partner of U.S. Venture Partners, Alec Ellison, Chairman of OurCrowd U.S., Jon Medved, CEO, OurCrowd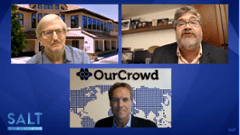 Top voices in venture capital provide insights into how startups are leveraging and driving the revolution in working, communicating, and staying healthy brought about by COVID-19. This first installment of the SALT Talks: Pandemic Venture Investment Series, presented in partnership with OurCrowd, includes a survey of general pandemic investment trends and disruptive approaches to funding startups.
Watch here.
Introductions
Your portfolio gets stronger when the OurCrowd network gets involved. Visit our Introductions page to see which of our companies are looking for connections that you may be able to help with.


Job Vacancies
Despite the coronavirus pandemic, there are hundreds of open positions at our global portfolio companies. See some opportunities below:
Search and filter through OurTalent to find your next challenge.