The Following content is from our partners, YES FINTECH, part of YES bank. Are you a FinTech Startup? Apply to the YES accelerator by Oct. 7!
Evolving Fintech landscape & The Indian Market
Over the last couple of years, the narrative in fintech has been changing, from fierce competition to collaboration. It's no longer the established players, banks, trying to smother the new entrants, startups, or the startups trying push the incumbents out of the game. Now it's about the two collaborating to co-create solutions. India has experienced the emergence of numerous FinTech start-ups, incubators & accelerators over the last few years. As of today, India has everything that it needs in order to establish itself as a global FinTech hub. With a large market of unserved customers, increasing mobile penetration, favorable demographics, an active start-up ecosystem and a large technology talent pool, India has potent opportunity that is waiting to be seized in the FinTech space. The environment in India for fintech startups to thrive is also very supportive, with a boom in investments & the various policy initiatives undertaken by the government for supporting fintechs. In short, India is THE place to be for fintechs. However, in order to access this massive opportunity, global startups need an entry point, a partner who can help them gain access to this huge untapped market and one with the right set of tools and knowledge to do so. A good example of this is the YES FINTECH Accelerator, run by our Global Fintech Accelerator partner, YES BANK.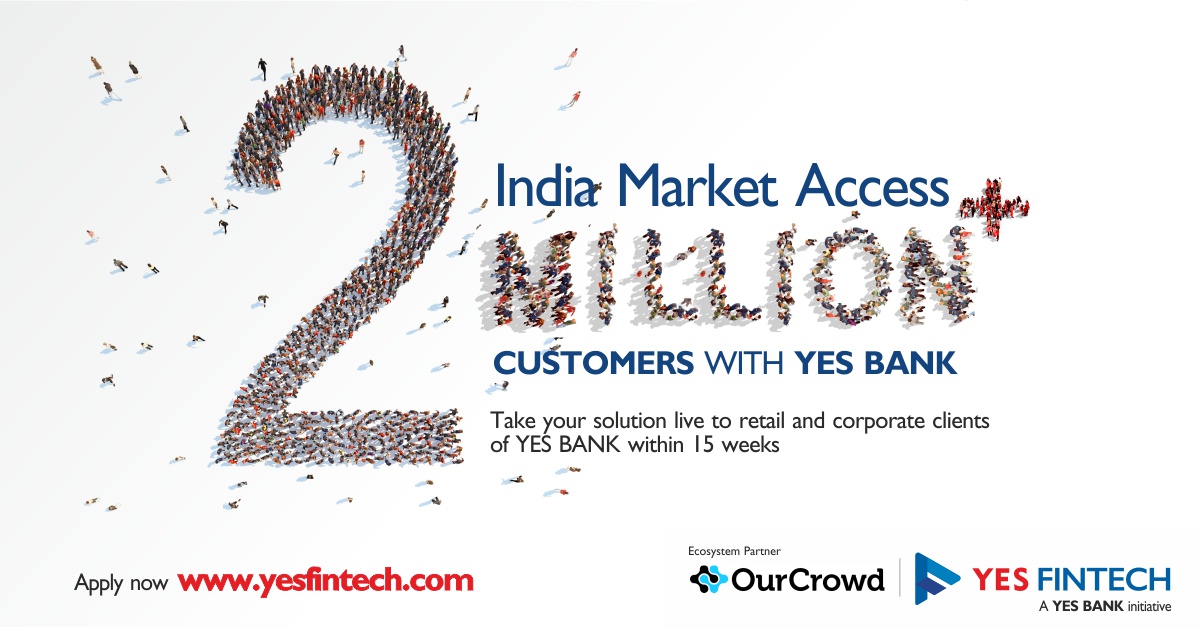 YES BANK & YES FINTECH Accelerator
YES BANK, India's fifth largest private sector bank, has been a pioneer of several key technology innovations since its inception in 2004. YES BANK has been collaborating with and supporting more than 100 Fintech start-ups in the country to provide innovative financial solutions to its Corporate, SME and retail customer base. The Bank is also partnering with ecosystems around the world to bring in Fintech innovations to India. YES FINTECH, a global business accelerator, is a platform for YES BANK and Fintech startups to co-create innovative solutions for the bank's 2 million+ customers. The accelerator program gives access to the Top 20 global fintech markets, offers mentorship opportunity and just the right knowledge and tools needed to conquer the Indian fintech market, thus, bringing its cohort startups to a whole new level.
Summer Cohort overview
YES FINTECH's first cohort launched on March 20, 2017. The Summer Cohort had 10 start-ups selected from a pool of 753 applicants from 18 countries. The program ended with an off take of 90% wherein 9 out of the 10 solutions were taken up by YES BANK. This speaks volumes of the first cohort startups and the mentorship provided by YES BANK over the 15 week period. The Cohort startups raised USD 4 million+ post the cohort completion. Also, the cohort witnessed 2 Global Startups, Paykey & SoCash, successfully entering the India Market.
Launch of Autumn Cohort
YES FINTECH is currently accepting applications for its autumn cohort. It is a 15 week innovation program, wherein the Bank is looking for solutions in the following sectors- lending, digital payments, real time reporting, smart decisioning, process automation, cybersecurity, wealthtech & investech. LetsTalkPayments – global fintech insights platform is the strategic partner of YES FINTECH and PwC is the Program partner for this cohort.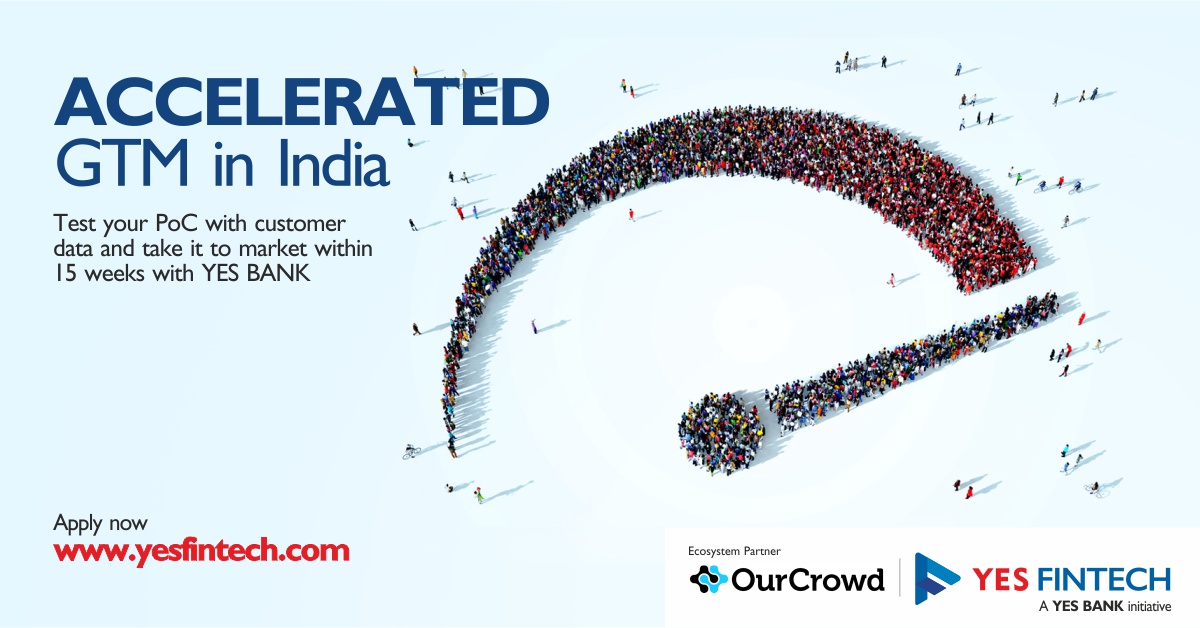 Program benefits
 Global Fintech ecosystem access with YES FINTECH to geographies like GCC, SE Asia, US, UK, Europe as well as the Nordic region
Access to 200+ YES BANK APIs for PoC Testing
Go-to-market with YES BANK to its 2 million+ Retail customers, 10000+ small & medium enterprises and 5000+ corporate clients- that's a straight route to the India market!
1 million USD funding option available to startups via our VC Partners at Zero upfront equity commitment to YES FINTECH
Over 1 million USD additional benefits on services like cloud credits, cloud telephony, SaaS billing, legal counsel, and more to scale up your startup
Access to co-working space free of charge for a period of one year
International exchange immersion programs for select startups that includes visit to India market to understand local the fintech landscape and enable market entry
Don't miss out on this exciting opportunity. Apply now to the YES FINTECH Accelerator. Applications close on October 7, 2017.