This week in Startup Nation news: yet another new acquisition, Nazareth-born Amal Ayoub is treating cancer with nanoparticles, Q&A with email wizard Shai Geva, the 12 hottest Israeli apps, and the speaker list for the biggest OurCrowd investor conference announced!
How about getting these weekly highlights directly to your inbox? Subscribe now.
3D Systems acquires Israeli CAD company Cimatron for $97M

Cimatron, an Israeli firm that is one of the world's largest makers of 3D CAD/CAM software products for manufacturing, is being acquired by US company 3D Systems. Under the deal, 3D Systems will acquire all outstanding shares of Cimatron, paying about $97 million for its new acquisition. Since 1982, Cimatron has grown to be a key player in the industrial design market, serving clients from the aerospace, consumer electronics, toys, medical, optics and telecom, and automotive industries. Read up on the deal.
OurCrowd in the News
Don't worry, be "appy": 12 hot apps from Israel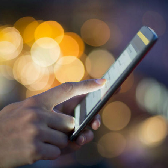 Made-in-Israel mobile applications have radically changed how we get from one place to another (Waze, GetTaxi), share videos and photos (Glide, for example), monitor our health, edu-tain our children, and more. New apps are popping up all the time. Israel21c put together a list of some of the newest blue-and-white apps for business and pleasure. View the list.
Top Industry Voices: 8 speakers to watch at OurCrowd's Global Investor Summit
In just under two weeks, OurCrowd will host the Global Investor Summit, a gathering of top tech innovators, startups, angel and VC investors, and other industry leaders to talk about what's on the horizon for trends in the hottest tech sectors and startup investing. The conference will open on December 9th with welcoming words by OurCrowd Founder and CEO Jon Medved and Mayor of Jerusalem and former venture capitalist Nir Barkat. See the speaker list.
Meet the female Israeli-Arab CEO who uses gold nanoparticles to treat cancer

Cancer. Why haven't we cured it yet? What's more, how do we detect tumors early? This is the puzzle that perturbed Nazareth-born Amal Ayoub during her PhD studies in Biomedical Engineering at Israel's Ben Gurion University. The question led her to later found Metallo Therapy, a Nazareth-based startup that is developing novel contrast agents enabling precise tumor detection and monitoring using the CT imaging tool. Learn more.
Faces of the Startup Nation: Q&A with MailWise's email wizard Shai Geva
Shai Geva is the co-founder and CEO of MailWise, an email application that simplifies email exchanges into a clear, chat-like format. Geva began his career in the IDF's elite Unit 8200, after which he spent a few years learning the high tech industry while working as a software engineer at Aternity. Eager to create his own startup, Geva met Prof. Hanoch Levy, and his entrepreneurial vision took off, co-founding MailWise. 'Meet' Shai Geva.
OurCrowd's News Nuggets


Subscribe for weekly updates about the Startup Nation to your inbox.
See this week's original newsletter here.