Startup of the Week: ByondXR powers Mitsubishi & Lancôme

Waterfund commits $50M to OurCrowd portfolio

Israel's economy booms despite election deadlock

Arbe Robotics heads to Nasdaq via $722M SPAC

SaNOtize anti-Covid spray starts production in Israel

Eli Lilly, Biolojic sign $121M joint research deal on diabetes

Ro raises $500M for remote, in-home primary care platform

Superpedestrian upgrades safety, expands to 10 more cities

Mayo Clinic hails Diagnostic Robotics as 'Waze for healthcare'

1,000 high-tech job vacancies
Startup of the Week:
ByondXR: Powering Mitsubishi and Lancôme online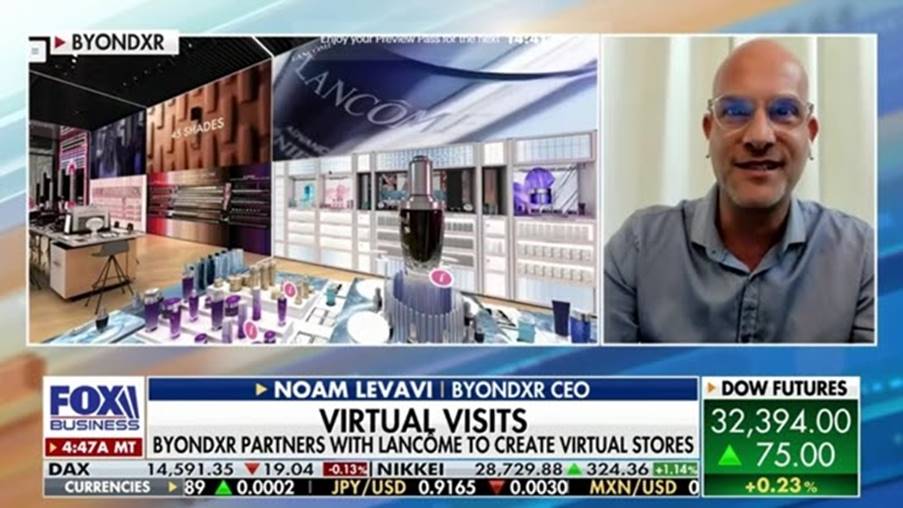 Following its success creating true-to-life immersive consumer pop-ups for Lancôme and other household names, OurCrowd portfolio company ByondXR has designed a new virtual showroom for Mitsubishi Electric, featuring clickable, online walk-through displays for the appliance manufacturer. "The challenge is that 2D imagery is just not good enough," ByondXR CEO Noam Levavi told Fox News. ByondXR's clients include Coca-Cola, Target, L'Oréal and many of the world's leading brands. "Most showrooms are closed but this one can stay open and be viewed from anywhere in the world and at any time," ByondXR says. "This time we took on a new adventure by Mitsubishi Electric. Our mission was to take a physical air-conditioners showroom and make it even cooler by bringing it to life in  the virtual realm." Covid-19 has accelerated the adoption of ByondXR's technology, Malik Abu-Ghazaleh, Global Head of Digital Marketing, eCommerce and CRM at Lancôme, tells Forbes. You can invest through OurCrowd in this fast-growing startup. The round is closing imminently. To secure your participation, click below.
Waterfund commits $50M to OurCrowd portfolio
The benefits of the Abraham Accords continue to ripple across the region. Waterfund, the global water-focused investment and trading firm, is partnering with OurCrowd to tackle water scarcity in the Middle East. Waterfund has committed to invest $50M in OurCrowd startups addressing water, agtech, cleantech and related sectors, Wired reports. The first joint investment was in the California-based vertical farming startup Plenty. Waterfund and OurCrowd will also collaborate on Aquantos, a new water-focused platform which aims to issue Blue Bonds and other water-related financial products. "We are working to issue Blue Bonds that can be both climate bonds-certified and backed by sovereign or sub-sovereign borrowers," Waterfund CEO Scott Rickards tells TechCrunch. "This new financial tool and others are being designed to enable water projects in the Middle East to acquire leading technologies."
Israel's economy booms despite election deadlock

Israelis went to the polls this week for the fourth time in two years as we continue an unprecedented period of political deadlock. But despite the uncertainty, Israel's high-tech economy continues to boom. Startup investment in 2020 set record highs at more than $10B and the figures for January suggest that 2021 will be even higher, as I told Dan Murphy on CNBC. Israel weathered the pandemic storm remarkably. Its economy contracted only 2.4% in 2020, while the OECD average was 5.5%. The strong high-tech performance was in line with global trends where the pandemic accelerated digital transformation, pushing many high-tech companies forward at an unprecedentedly rapid rate, as I told Marc Schulman at Newsweek.
Arbe Robotics heads to Nasdaq via $722M SPAC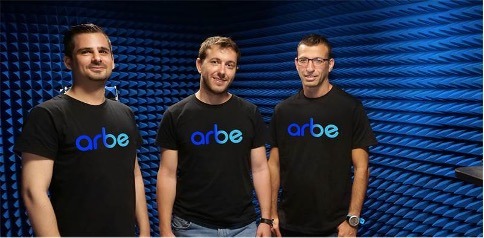 4D radar developer Arbe Robotics is the latest OurCrowd portfolio company to go public via a SPAC as the company expands its commercial rollout. OurCrowd members have invested more than $6M in the company. Arbe plans to merge with Houston-based Industrial Tech Acquisitions (ITAC) and trade on Nasdaq. "We expect that the proposed combination of Arbe and Industrial Tech will allow us to bring our vision to reality, creating an autonomous future driven by outstanding, truly safe, commercially viable 4D imaging technology," Arbe CEO Kobi Marenko tells Globes. "We expect that ITAC's significant experience in building and investing in disruptive technology companies will help bring our groundbreaking technology to a broader market."
SaNOtize anti-Covid spray starts production in Israel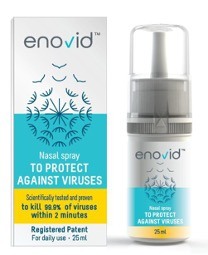 Israel has given interim approval for the sale of the anti-Covid nasal spray developed by OurCrowd portfolio company SaNOtize. Following successful clinical trials in the UK, where the nitric oxide-based formula was shown to be effective in killing the coronavirus that causes Covid-19, the company has begun manufacturing the nasal spray in Israel under the brand name Enovid, and plans to start retail sales by the summer, as Reuters reports. "We are hoping that our nasal spray will now save many lives of people in countries that are waiting for the vaccine," SaNOtize CEO Gilly Regev tells The Times of Israel. "This will be affordable and can be used for prevention, to protect from any respiratory viral infection."
Top Tech News
Eli Lilly, Biolojic sign $121M joint research deal on diabetes
Eli Lilly and OurCrowd portfolio company Biolojic Design will conduct joint research to discover and develop potential novel antibody therapies for the treatment of diabetes, PharmaNews Intelligence reports. The project will leverage Biolojic's AI-based multibody platform to discover and develop a potential novel antibody-based therapy for the treatment of diabetes. Subject to meeting various milestones, the agreement will net Biolojic up to $121M. "Lilly continues to seek out novel methods for developing new medicines, and Biolojic's multi-specific antibody platform is a promising approach," says Ruth Gimeno, vice president of diabetes and metabolic research at Lilly. "We look forward to working closely with the scientific team at Biolojic and leveraging their expertise to discover and develop a potential antibody-based therapy for people with diabetes." 
Ro raises $500M for remote and in-home primary care platform
Healthcare tech startup Ro, an OurCrowd portfolio company, has raised $500M to help fuel continued growth of its hybrid telehealth/in-home primary care platform, which also includes a growing pharmacy business. The company's Series D round brings its total funding to more than $876M, TechCrunch reports. "What started primarily as a telehealth business aimed at men for treating issues like erectile dysfunction and hair loss, now includes several business lines: Roman for men, Rory for women, Zero for smoking cessation and Plenity for weight loss. It offers full stack primary care services, including its own pharmacy distribution centers and in-home diagnostic testing and other services," Katie Jennings reports in Forbes.
Superpedestrian upgrades safety, expands to 10 more cities
Superpedestrian, the OurCrowd portfolio company that makes e-scooters equipped with self-diagnostic software, is upgrading its product as it prepares for a major expansion into 10 new cities within the next two weeks, TechCrunch reports. The company's AI — integrated into the vehicle — monitors and corrects scooter safety issues in real time. The next-generation operating system that will provide those upgrades, codenamed "Briggs," will be uploaded to its global fleet of LINK e-scooters. It includes improvements to geofencing capabilities and battery life, making Superpedestrian even more attractive. Superpedestrian's scooters have a range of 61 miles on a single charge and a battery standby life of 22 days, Forbes reports.
Mayo Clinic hails Diagnostic Robotics as 'Waze for healthcare'
At the Mayo Clinic, the AI-driven triage platform developed by OurCrowd portfolio company Diagnostic Robotics suggests possible diagnoses and provides a risk score for each patient based on their answers to questions regarding their medical conditions, Gil Press writes in Forbes. The Mayo Clinic's Dr. John Halamka calls it "Waze for healthcare," stressing its use as a navigation system, matching patients with the right healthcare resource at the hospital's emergency room or even before they arrive there.
Introductions
Your portfolio gets stronger when the OurCrowd network gets involved. Visit our Introductions page to see which of our companies are looking for connections that you may be able to help with.

1,000 High-Tech Jobs
Read the OurCrowd Quarterly Jobs Index here.
Despite the coronavirus pandemic, there are hundreds of open positions at our global portfolio companies. See some opportunities below:

Search and filter through Portfolio Jobs to find your next challenge.