The Clamor for Transportation Alternatives 
The American dream of one family, two cars has evolved as the world and technology have changed. The reasons are varied, but the expense of maintaining and buying gas for private cars, along with a bigger return to urbanization, have people seeking alternatives for getting around. Many car owners are using their vehicles less as alternative modes of transportation are simply faster. Ultimately, the social status factor of owning a car is being sidelined for considerations of time and money, not to mention the environmental impact.
The change isn't just happening in the West. In fact, China, once called the kingdom of bicycles, and India, where urbanization is unprecedented, are returning to their roots and using bicycles and trains to avoid traffic jams, or looking to ridesharing and other alternatives. The Chinese government is actively promoting bike sharing schemes to tackle its deep pollution problems. Chinese business leaders Alibaba recently participated in a $700M series E round for Ofo, one of China's biggest bike sharing companies, valued in the billions.
In India, the economy is growing steadily but the average person has yet to reach the kind of wealth which would allow for private car ownership, not to mention that congestion in urban areas would make parking difficult.
Yet most people need to travel farther than walking distance to their place of employment, and startups have heard the call. To answer these needs companies are providing alternatives to the private car, taking advantage of mobile phone usage to provide access.
OC portfolio company Social Bicycles (SoBi) is located in Sacramento, where bicycles are experiencing a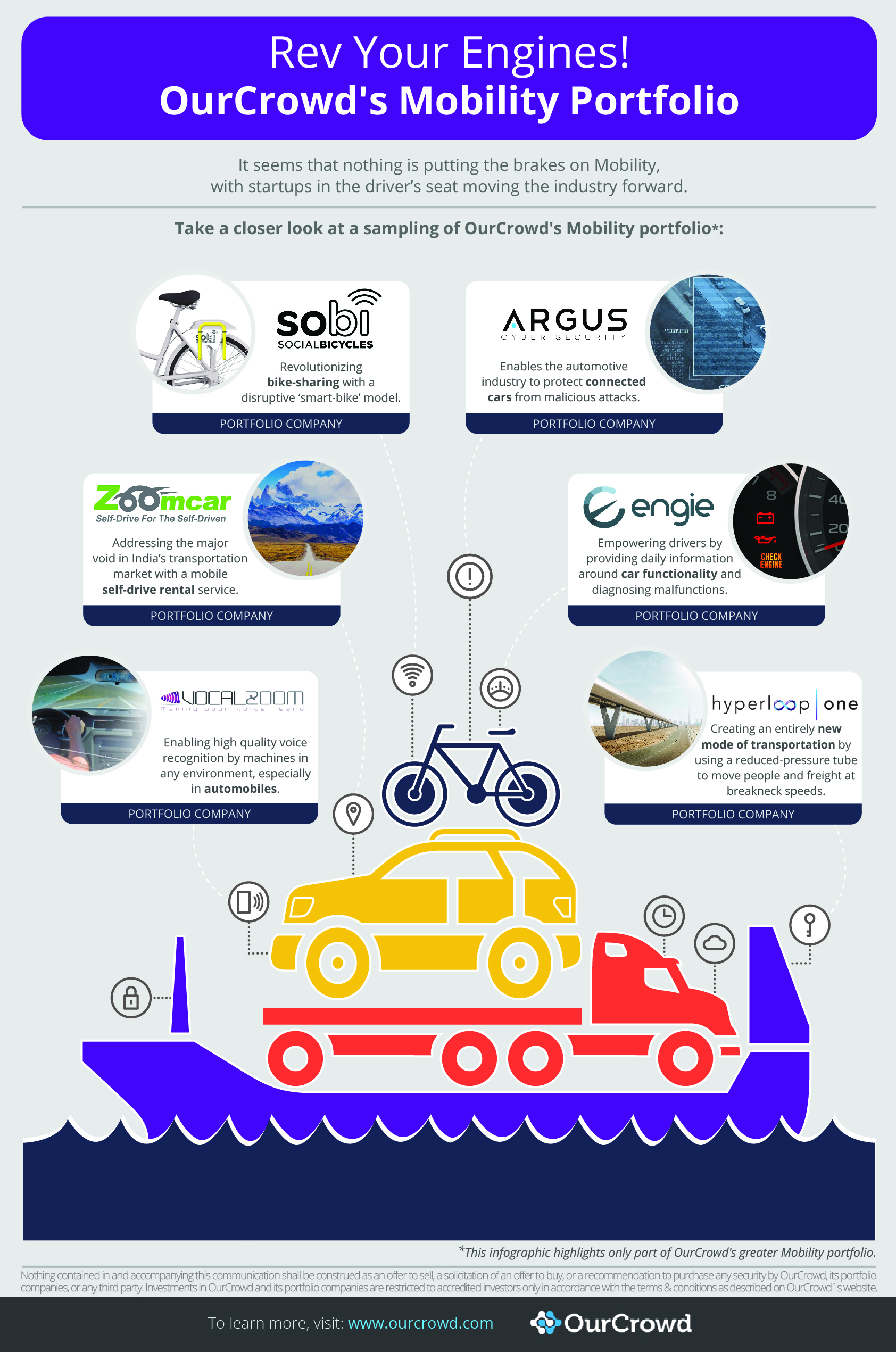 heyday as more and more bike lanes are opening across the busy city. It is no longer uncommon to see a rider on his way to Wall Street, zipping by in a full suit and tie. SoBi has upped the ante by focusing on providing access to bikes in designated hubs and allowing users to book in advance with mobile or through the website, or spontaneously on the bike itself. Users can also publicize their route on social media platforms, appealing particularly to millennials. SoBi's bicycles have spread throughout the US, Canada, Europe and Australia.
Other sharing alternatives are car sharing apps. Particularly useful for the occasional driver, companies like Zoomcar in India are making car sharing incredibly easy. Before Zoomcar hit the scene in 2013, the only option to privately owned cars was chauffeur drivers, which was both expensive and limited in availability. The company has experienced rapid growth and high popularity and currently operates in 17 cities with over 3,000 vehicles. It is further winning over even private car owners by offering the best of in-car user experiences, including tracking features Bluetooth, and 4G connectivity, advancing the principle that car sharing does not mean compromising quality. It also works on a ride sharing approach, recognizing that many people under-utilize their private cars and incentivizing it works well in the Indian market.
While ride-sharing giants Uber and Lyft battle for first place in usage, the importance of these transportation alternatives grow. Some predictors are even forecasting 2017 to be the year where apps overtake the traditional taxi industry. Despite Uber's notorious CEO Travis Kalanick resigning, riders abandoning the private car, many are more reliant on taxis, carpools and ride-sharing. Gett acquired New York City darling Juno for $200M in April, although the merger is facing backlash from unhappy drivers who were promised company shares, growing its reach. All these platforms have skyrocketed to in the less than ten years since Uber was founded.
The question of the future of transportation is deeply engrossing to many and effects the everyday lives of millions of people congesting urban centers and stuck in traffic jams, as well as addresses pollution and oil usage.  As predictors focus on autonomous driving and more effective mass transportation, ground up needs have created markets for sharing opportunities that are reducing private car usage and providing easy affordable access to the individual rider.
For more on OurCrowd's take on mobility, click here.
Comments
comments