It's been a busy few months at OurCrowd! Throughout January, February, and March of 2015, OurCrowd hosted numerous events worldwide, including our annual Passover breakfast event in the beginning of April (we had to sneak it in here!), and we're taking a moment to review where we've been and who we invested in, and learn where we'll be next quarter.
We're so proud of what the OurCrowd community has accomplished over the past three months — from events hosted to the companies funded — and are looking forward to continuing this journey together in the months to come.
Without further ado, here is a glimpse into all the excitement happening at OurCrowd:
Where We've Been
Over the past three months, OurCrowd founder & CEO Jon Medved and team members have traveled the world, hosting various events with the CEOs of our latest startups and guest speakers.
We've held a total of 48 events, in 22 cities (from 6 different countries), across 5 continents!
In case you missed them, here are some event highlights:
January 4th – Kicking off the quarter, OurCrowd hosted a panel discussion with industry experts about "What 2015 has in store for Israel's FinTech Industry" at the KPMG offices in Tel Aviv. Panel participants included Zack Miller, OurCrowd Partner; CEOs of OurCrowd's latest FinTech companies; David Krisman, Managing Partner, KPMG; Gwen Ackerman; Bloomberg Media bureau chief for Israel.
January 19th – OurCrowd CEO Jon Medved and Scott Dubin, OurCrowd Director of Investor Relations, hosted a series of events in Toronto, Canada. The day started out with a business breakfast presented by Bay St. and Business Cabinets titled "Update from the Startup Nation," followed by an exclusive lunch presented by Canada Israel Chamber on "How Equity Crowdfunding is Changing the World of Innovation Finance," and ending with a special evening by the UJA with Jon Medved presenting "The Startup Culture of Israel."
February 27th-March 3rd – During the AIPAC Policy Conference in Washington D.C. the OurCrowd team held a series of exclusive receptions, panel sessions, private meetings, and speaking engagements providing investors with various opportunities to meet with OurCrowd's CEO Jon Medved, Partners Danna Mann & Audrey Jacobs, other members of the OurCrowd team, and the CEOs of our portfolio companies.
March 25th-28th – The OurCrowd Australia team ran a booth at the 2015 YPO Global EDGE in Melbourne, Australia. Each year, more than 3,000 of the world's top leaders gather at the YPO conferences to address key issues in business, politics, philanthropy, and humanities. The team down under was joined by Partner Danna Mann and CEO Jon Medved, who also took to the stage as a participant on a panel of disruptors hosted by CNBC Asia anchor Martin Soong.
Annual Passover events – OurCrowd hosted an exclusive Passover breakfast for accredited investors at the Waldorf Astoria Hotel in Jerusalem, which brought together hundreds of investors from 10 countries worldwide. The breakfast featured Dr. Tal Becker, the Principal Deputy Legal Advisor at the Israeli Ministry of Foreign Affairs, who discussed Israel's most pressing diplomatic, legal, and policy challenges. The event offered good food, great drinks, wonderful company, and stellar presentations, including some of our latest investment opportunities.
Upcoming events
Throughout the first quarter of 2015 we have a number of events scheduled around the world and an exciting slate of new deals on the OurCrowd platform. Take a look at our new events calendar. We hope to see you at one of our upcoming events!
Who We Funded
Over the last two years, OurCrowd, along with our community of 7,000 investors, has invested more than $110 million in 66 portfolio companies. This unprecedented access to early stage investments has made startups an investable asset, now included in individual investor portfolios — just like stocks and bonds.
In just the last few months, OurCrowd investors have funded 10 companies (of which five were follow-on rounds): Crosswise, Nativeflow, TheraCoat, CrediFi, Bat Blue, PulmOne, MST, Global Kinetics, Morphisec, and BIScience.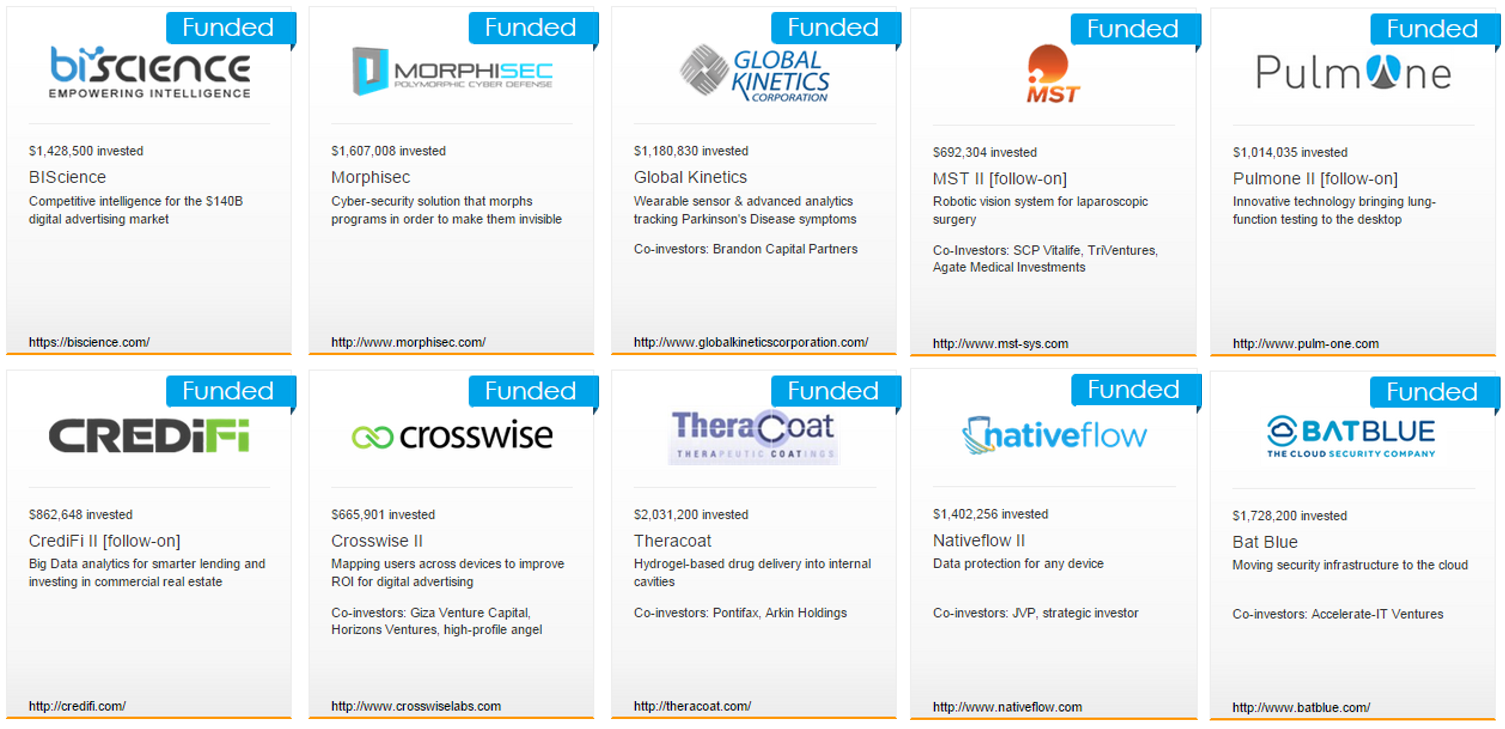 For a look at the current investment opportunities on OurCrowd, click here.
Next Steps
We always look forward to seeing our investors, longtimers and newcomers, at our events and conferences. If you have any questions or would like to discuss other events and activities on the OurCrowd platform, please contact Investor.Services@OurCrowd.com.
Want to stay up to date on the latest innovations out of Israel, new technologies, rising-star entrepreneurs, and must-attend events? Sign up for OurCrowd's weekly newsletter.
[xyz-ihs snippet="AngelCourseCTA"]