Top investment opportunities
Startup of the Week: Kicksnation: Free personalized sneaker shopper
D-ID launches talking photos tech with MyHeritage
3D printing gets bigger, faster, tastier
Taranis drones weed out crop pests and diseases
Payoneer picks ThetaRay to secure global transactions
FDA approves two Insightec acoustic energy cancer treatments
American Airlines joins Freightos' WebCargo
US Energy Dept field tests validate enVerid's HVAC system
Ravin brings AI digital vehicle inspections to used car dealerships
Introductions
More than 4,500 high-tech jobs 
Startup of the Week:
Kicksnation: Try your personal sneaker shopper for free!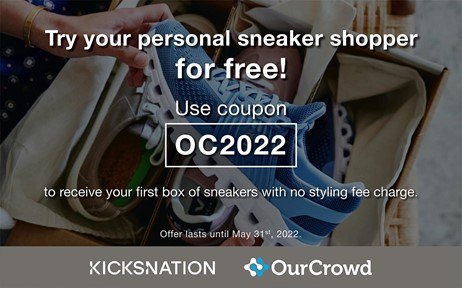 Kicksnation is a personalized, AI-powered shopping platform addressing the $40B annual US sneaker market. A quick quiz tells Kicksnation what the customer wants in their sneakerbox™. The customer pays a $15 styling fee, and the company puts together a curated selection of three unique pairs of sneakers to try before the customer buys. The customer has five days to try on the shoes and make their selection, only paying for the ones they keep. Shipping and returns are free.The platform supplies 34 brands on demand and has strategic partnerships with 26 brands including On, Birkenstock, Veja, CLAE, and Cariuma. Returning customers order once every four months on average. 60% of orders shipped result in a sale with $161 total average revenue per order. Existing investors include e-commerce angels Tamim Mourad, Omar Mourad, Cory Rosenberg (Pricegrabber.com, eSalon.com), and Vy Nguyen (Avocado Green Mattress). Join this up to $3M Seed round led by OurCrowd, in which Designer Brands, owners of DSW Designer Shoe Warehouse with over 500 US branches, is investing $1M. Use the coupon code OC2022 to try it for free.
D-ID launches talking photos tech with MyHeritage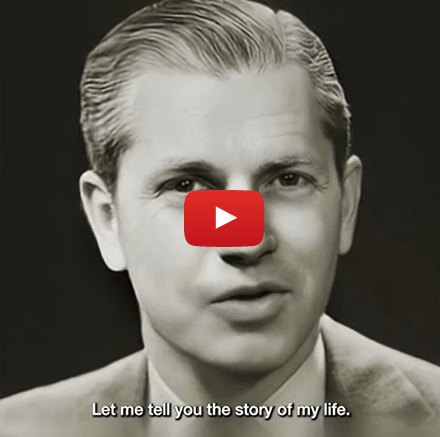 After getting old photos to move, AI-powered tech from our portfolio company D-ID is making them talk, TechCrunch reports. The new feature is called LiveStory and is licensed by MyHeritage as a continuation of its viral Deep Nostalgia program which animated more than 100 million photos. It creates an animated narrative of the photographed person's life so they can tell their own story. Click below to sign an NDA and learn about the company's next steps.
3D printing gets bigger, faster, tastier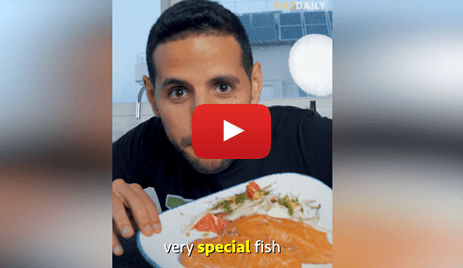 An A-List of CEOs from our portfolio companies and entrepreneurs, including Nas Daily creator Nuseir Yassin joined us this week to demonstrate how 3D printing is getting bigger, faster – and even tastier. We saw the world premiere of Nas' video on Plantish, which is creating 3D printed "salmon" made from plants. Other guests were: Largix Chairman Erez Vigodman, the former CEO of Strauss and Teva Pharmaceuticals, Largix Vice Chairman Yishai Amir and CEO Ronen Orr. We also heard from the Nexa3D CEO and 3D printing industry pioneer Avi Reichenthal, Ofek Ron, Co-founder and CEO of Plantish, Geert Denutte, Founder of CGK Group, Noga Sela Shalev, VP Business Development at the Fresh Start FoodTech Incubator, and Nir Zook, an Executive Chef.
Taranis drones weed out crop pests and diseases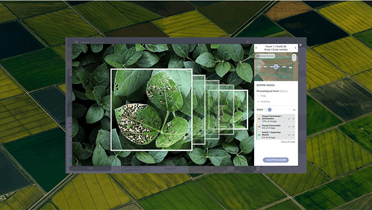 Our AgTech pioneer Taranis is using drones to search large fields to detect pests and diseases which might lead to damaged crops, Successful Farming reports. The company's AI-powered software can recognize problems almost invisible to the human eye and do it much more efficiently. Its UAV system can cover 100 acres in about 6 minutes and provide extremely high-resolution images which are automatically analyzed to provide farmers with insights as to the crops' health. Taranis is now funding on the OurCrowd platform.
Top Tech News
Payoneer picks ThetaRay to secure global transactions
Software created by our portfolio company ThetaRay will be monitoring cross-border transactions carried out by fintech powerhouse Payoneer (NASDAQ: PAYO), the Paypers reports. The company's SONAR platform is designed to detect financial crimes and will be overseeing millions of Payoneer's transactions every year. "ThetaRay's cloud-based solution is fully scalable to grow with our business as we expand relationships with payment providers and banks globally to give more value to our customers," said Jani Gode, Payoneer's Chief Compliance Officer.
American Airlines joins Freightos' WebCargo
American Airlines Cargo is partnering with WebCargo, part of the group headed by our portfolio company Freightos, to offer customers increased service options and reliability despite today's challenging conditions, Air Cargo Week reports. Bookings on American Airlines Cargo will be available via WebCargo's platform across parts of Europe and North America in the first half of 2022 before expanding to other parts of the globe later in the year. "Over the last two years, e-commerce volume has surged and demand for global freight has increased," says Jessica Tyler, president of American Airlines Cargo. "The digital solutions provided by WebCargo create another important step forward in ensuring continued connectivity and visibility for customers."
US Energy Dept field tests validate enVerid's HVAC system
Sorbent air cleaning technology for HVAC load reduction from our portfolio company enVerid was validated in field tests by the US Department of Energy's High Impact Technology Catalyst program. The DOE's National Renewable Energy Lab tested enVerid's HVAC Load Reduction modules in commercial buildings in the eastern and southern US and found they provide substantial Heating, Ventilation, and Air Conditioning (HVAC) energy savings and load reduction potential. "Addressing building decarbonization and resilience are among our top priorities," says Kevin Powell, Director of the Green Proving Ground program of the US General Services Administration. "NREL's assessment gives us valuable guidance on where sorbent air cleaning technology will help save energy and meet the net-zero carbon targets established in the President's recent executive order."
Ravin brings AI digital vehicle inspections to used car dealerships
Used car dealers will soon be able to inspect their vehicles through an AI-powered app, thanks to our portfolio company Ravin. The "Inspect Trade" will help dealers generate consistent condition reports as well as grade and price vehicles instantly. "Enabling dealers to leverage AI technology from their mobile phones to get an accurate picture of the condition and value of their assets, not only saves them significant time and money, but also allows them to convey the realistic pricing on cars to customers, which ultimately builds trust," says Eliron Ekstein, Co-Founder and CEO of Ravin.
Introductions
Your portfolio gets stronger when the OurCrowd network gets involved. Visit our Introductions page to see which of our companies are looking for connections that you may be able to help with.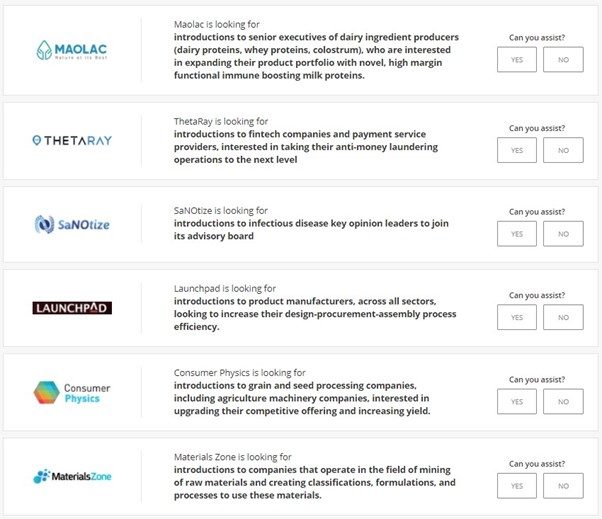 More than 4,500 High-Tech Jobs
Read the OurCrowd High-Tech Jobs Index Q3 2021 HERE.
Search and filter through Portfolio Jobs to find your next challenge