Our team was at CES 2019 last week, along with representatives from 15 portfolio companies and funds. 12 were featured in Israel21c's "27 to watch" and check out the groundbreaking Israeli tech that turned heads. Congrats to Intuition Robotics on the huge news of collaborating with Toyota Research Institute on a breakthrough in-car companion agent. We're only just getting started… If you're excited about the tech you're seeing from CES, get your ticket for the 2019 OurCrowd Global Investor Summit: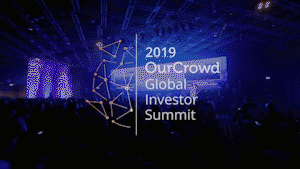 Startup Nation and beyond
With thoughts from me and VayaVision's CEO: RPT-Mobileye leads Israeli charge into China's autonomous car market
Another amazing partnership! Israel's Innoviz to provide Samsung unit with sensor tech for self-driving cars
Top tech news this week 
News from the industry 
What will 3D printing look like in 2019? Read this piece from Avi Reichental, General Partner at OurCrowd's Cognitiv Ventures fund. (Forbes) 
Trusted Humanity — An Opportunity. (Aleph) 
What's Next for Marketplace Startups (Hint: Services). (Andreessen Horowitz) 
The latest from OurCrowd
Startups from OurCrowd's portfolio made waves at CES 2019! See our roundup here. Missed CES in Las Vegas? Come see the same companies in Israel at the 2019 OurCrowd Global Investor Summit on March 7th in Jerusalem.
Plus, 6 reasons to come for the OurCrowd Summit and stay for Israel. 
We currently have 500+ open positions at our global portfolio companies. Here are a few of the most exciting:
To search, filter, and apply head to OurTalent here.
---
Subscribe to receive a weekly curated roundup of top news, direct from the desk of OurCrowd's CEO & Founder and  curated by startup investing insiders.