Three Israeli MedTech companies offer major advances in tailor-made medicine
Nobel laureate Aaron Ciechanover vividly remembers the day the first partial genome was published in April 2000.
It was a landmark moment, heralding the promise of personalized medicine, tailor-made to individual patients.
Today, scientists can sequence a whole genome "in no time," and together with other scientific advances, they "have tools to profile the patient, to the very last detail, almost to the very last detail," Ciechanover told a webinar on precision medicine hosted by OurCrowd and featuring three of its portfolio companies.
"Now we can connect it also to the treatment, and we can monitor whether patients do respond to treatment, and how they respond to treatment, how they develop side effects," says Ciechanover, winner of the 2004 Nobel prize for chemistry. "If you connect all these data, you are generating unbelievable predictive tools.''
Ciechanover now serves as the scientific advisor to OncoHost, one of three OurCrowd startups discussing predictive diagnostics at the webinar: Sequentify, whose sample-processing technologies dramatically reduce the time and cost of next-generation DNA sequencing; Genopore, which has married biochemistry and semiconductor technology with a view to taking the study of blood proteins to applications in drug discovery; and OncoHost, whose biotechnology predicts patient response to cancer treatment, for improved outcomes and reduced side effects.
Time is crucial in the treatment of disease, but cancer therapies have a patchy track record. Binyamina-based OncoHost has developed a predictive test that promises to give patients a solid picture of whether a certain immunotherapy will work for them or not.
OncoHost uses a simple blood test to screen 7,000 proteins in the patient's plasma to ascertain whether the patient will respond positively, why resistance to treatment occurs, and what the next treatment step should be.
"Most patients, unfortunately, are not responding to treatment, and the problem is that when you start treating your patient, you do not know which patient will respond or not," says OncoHost CEO Ofer Sharon. "Sometimes up to six or even nine months into therapy. So we are wasting a lot of time, we're wasting a lot of money. And most importantly, we are losing time for our patients."
With OncoHost's PROphet platform, "you already know what the trajectory for the first 12 months is going to look like," Sharon says. In tests, the predicted response and measured response meshed very closely, he says.
In addition, by mapping resistance, PROphet can direct physicians to the right treatment pathways, and identify potential new combinations to mitigate resistance, Sharon says.
"Obviously, a 78-year-old lady and a 45-year old man are not the same patient," he explains. "For me, the promise of this product is the ability to really find the right treatment for the right patient."
The company's target market of late-stage immunotherapy-treated cancer patients represents expenditure of about $6 billion, he says. PROphet is going to be launched in 2023 as a laboratory-developed test that doesn't need approval by the US Food and Drug Administration.
Scientists are now "redefining what a disease is," says Liran Shlush, a Senior Scientist at the Weizmann Institute and medical adviser at Rehovot-based Sequentify. The company is currently working on applying gene-sequencing technologies to diagnose leukemia – and even predict which healthy people are at risk of developing the disease, by identifying cell mutations.
"The most important treatment in medicine is actually prevention," Shlush says. Most diseases have very long latent, chronic and invisible periods, he says. "If we can identify diseases in this latency, in these latent periods, we can target them way earlier." If they can be identified at the stage where they are just a few cells with a single mutation, it will be "much easier to design drugs that specifically target" them, he adds.
According to Sequentify Co-founder and CEO Ophir Herbst, the cost and time of the sequencing will be reduced initially by a multiple of 10, and then 25. The target is to take prediction screening down to as little as a dollar a test within a decade, compared to $950 for a cancer prediction panel today, Herbst says.
In its first few months of operation, Sequentify signed agreements with eight customers, and there are more in the pipeline, together worth about $10 million annually, he says. With an initial total addressable market of $20 billion, the company is aiming to become a billion-dollar-plus player.
"I'm not shooting for anything less than that," says Herbst. "We do see amazing markets for oncology, carrier screening, rare disease, virology and – looking down the road – cancer prediction across entire populations. Personalized panels. We might be the only technology that can support these at scale."
Precision medicine goes far beyond genomics, and the large-scale study of proteins, or proteomics, is a major tool. Genopore combines biochemistry and semiconductors to achieve the ultimate level of resolution in proteomics – single molecule – in a low-cost solution that will be easy to use, says Co-founder and CEO David (Dudi) Baum.
Other methods for single-molecule identification of proteins are based on biological procedures that are much more complex. Genopore's way is through lower cost and the scalability that semiconductors offer, he says.
The stakes are big. The proteomics market is expected to grow to $50 billion in 2027 from $21.1 billion in 2019. "We believe that we have something unique, something that is better than what is being done today," says Baum. "That's why we think that we can grab a large market share."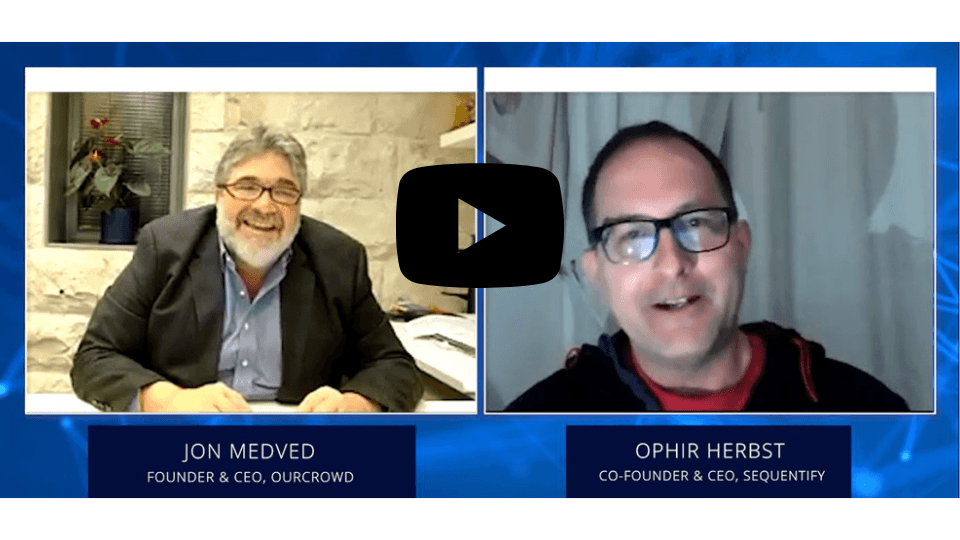 To watch 'Investing in Precision Medicine,' click HERE.