A key buzzword in the financial world for a while now has been impact, as in impact investing, the idea that you can make investments in companies, organizations, and funds with the intention to generate a positive, measurable social or environmental effect alongside financial return. The biggest issue in impact investing has been the assumption that those financial returns will be lower.
No longer. Many startup companies are having a real, lasting, positive effect on the world, from MedTech companies using scanning technology that reverses spinal injuries to IoT sensors deployed in AgTech to conserve water and increase crop yields. The potential is only beginning to be realized.
With the private markets increasingly a place that sophisticated investors look to for outsize returns (albeit with outsize risk), investors may be able to satisfy their desire for impact without giving up return.  That's a pretty exciting prospect. Let's look at it in detail.
A Model Ripe for Disruption
Excitement about impact investing has swept the investor world. According to the Global Impact Investing Network, assets under management defined as impact now tally $114 billion. Blackrock, the largest investment manager in the world, recently called on all its portfolio companies to focus not just on return but on a "positive impact on society."
The problem is that return expectations for impact investments are low. The 2018 annual survey of major impact investors worldwide reports that respondents expect market-rate or below-market rate (also called concessionary) returns from their impact investments. The World Economic Forum's report on its Green Investing project says social investments should be able to "sustain" shareholder value, but not necessarily improve it.
Something's gotta give.
Not Your Father's (or Mother's) Impact Investing
That "something" may be found within venture capital, the art of fostering the growth of small, often pre-market firms with money, ideas, and connections.  Of course, the profit potential of startups is well-known. According to the Thomson Reuters Venture Capital Research Index, venture capital has returned 19.7% per year since 1996, compared to 7.5% stocks and 5.9% for bonds.
And it's clear from the historical data that the opportunity for wealth creation through tech startups has shifted from the public markets to the private markets.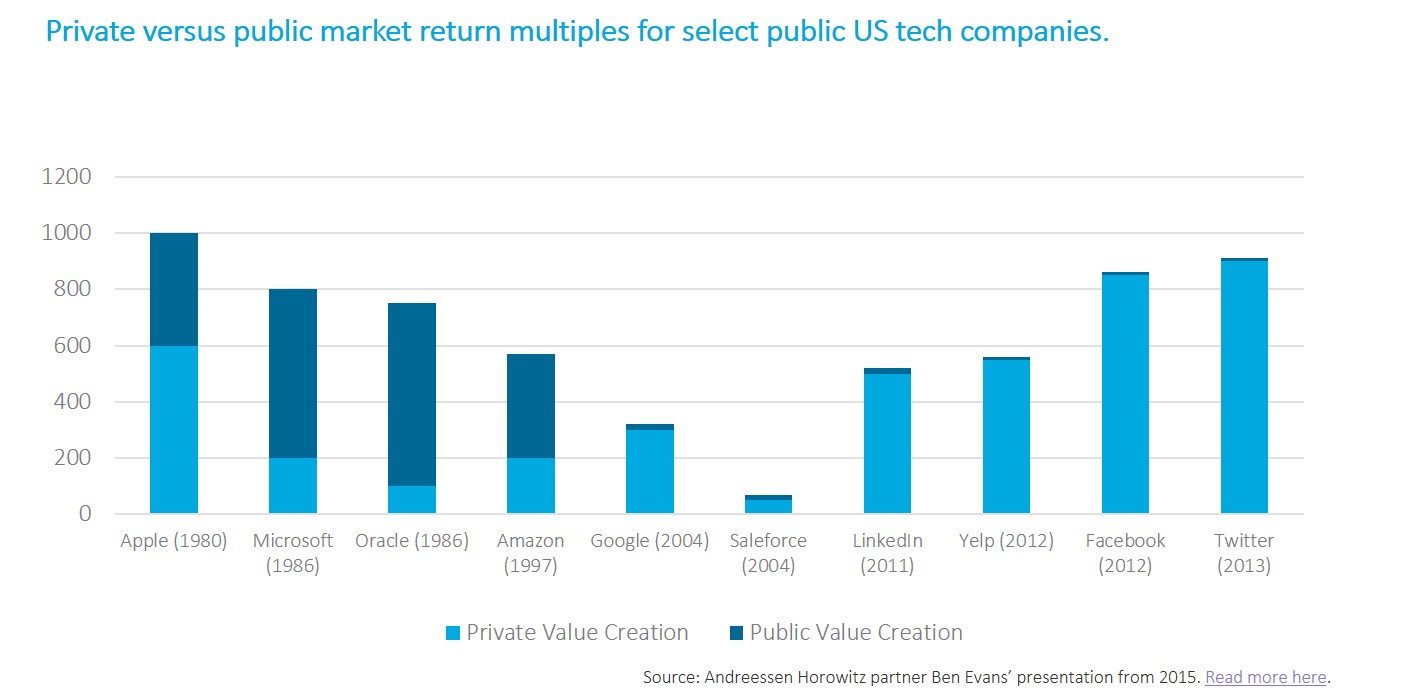 What's not as well-known is that within the broad spectrum of startups, one kind is historically more profitable. A study of over 7,000 startups invested in by 100 VC identified about 5% of them as strictly impact companies. The study found that those 5% generated 10% of the overall revenue!
Why should this be?  One possibility is that since many startup companies are designed to disrupt an industry, a market, or a common wisdom, they can have the added benefit of making the world a better place. Think of Netafim saving water, Waze cutting pollution, GoFundMe supporting charities.
It's Just Good Business
This idea, that impact can be a (happy) effect of just good business, was observed in a Morgan Stanley white paper, which cited the experience of its infrastructure investment platform.  Like many of the largest infrastructure investors, its central strategy is to improve the operations of the assets (such as bridges and tunnels, power generation facilities, etc.) to increase value and therefore sell at a profit.  Often, those improvements have green gains, magnified because of the ubiquitous, monopolistic nature of the assets.
For instance, the implementation of new hydro-electric technology at one of the largest shipping container facilities in North America saved up to 2.5 million gallons of diesel fuel annually, a cost savings of 83%. But it also reduced the amount of CO2 entering the atmosphere by 55 million pounds each year.  And replacing Chicago's single-space coin-operated parking meters with electronic multi-space, solar-power meters allowed more vehicles to park and reduced "cruise time," which improved drivers' quality of experience, reduced CO2 emissions, and obviated the need to dispose of 45,000 batteries annually.
The intentions were economic. The results were impactful.
So the kind of investment makes a difference. One where the natural result of the company's business will improve the world.  And if you don't have the $100 million or so it takes to invest in an institutional infrastructure fund, there's a great alternative.
Startups to the Rescue
The beauty of startup investing is that in so many cases the actual product or service itself directly benefits people's lives.  In the most exciting session at the OurCrowd Global Investor Summit last February, the stories of three startups "saving the world" brought cheers from the audience.  In one segment, Sgt. John Michael O'Hare, a detective at the Hartford, Connecticut police department, spoke movingly about using Briefcam technology to capture a predator of children.  Sophisticated video analysis that normally took hundreds of hours was cut to seconds.  (Briefcam was subsequently acquired by Canon for $90 million.)
Click here to register for the 2019 Our Crowd Global Investor Summit 
And when Prince William visited Israel at the end of June, he met with four startups – all with technology defined as "social impact," including ReWalk, an exited OurCrowd company whose robotic exoskeleton enables paraplegics to walk.
Here are some other exciting examples from the OurCrowd portfolio that give a taste of the breadth and the depth of the effect that startups can have on the world:
It's Also a Boon to the Economy, Stupid
Investment in startups doesn't benefit only the individual.  As Forbes pointed out, "By investing in a startup you are contributing to job creation and capital formation."
At the Summit's venture fund panel, Richard Anton, General Partner of Oxx, says he learned the VC business from Sir Ronald Cohen, former head of Apex Partners and currently Chairman of The Portland Trust and the Social Impact Investment Taskforce.  "He inspired me.  I got excited about this business because it's an ethical way to make money, and also because it creates jobs – very good, high-value, fulfilling jobs – and encourages education to get those jobs."  (See Sir Ronald's keynote at the Summit here.)
Israeli innovation is even powering the American economy, by establishing offices in the U.S. and hiring Americans. A recent study found that over 200 Israeli companies are now headquartered in Boston alone, employing 9,000 people, and indirectly through subcontractors another 27,000.  They generate $18 billion of annual economic activity, which represents 4% of the Massachusetts GDP!
And Maybe the Key to World Peace?
There are benefits beyond the economics.  As OurCrowd CEO Jon Medved was quoted by the Financial Times last year: "By creating sustainable, profitable companies that are addressing big social problems, you're going to have a very positive impact on the world."
The FT asked if impact investing could promote peace, and to Jon the answer was obvious. "If you really want to bring peace, let's invest.  Let's create jobs for Jews and Arabs.  Let's work together on water and agriculture and health. That's something positive."
While the definition of impact investing varies, one thing is for sure: the right tech startups can provide investors with the risk/reward tradeoff they seek and the satisfaction of possibly making the world a better place.
---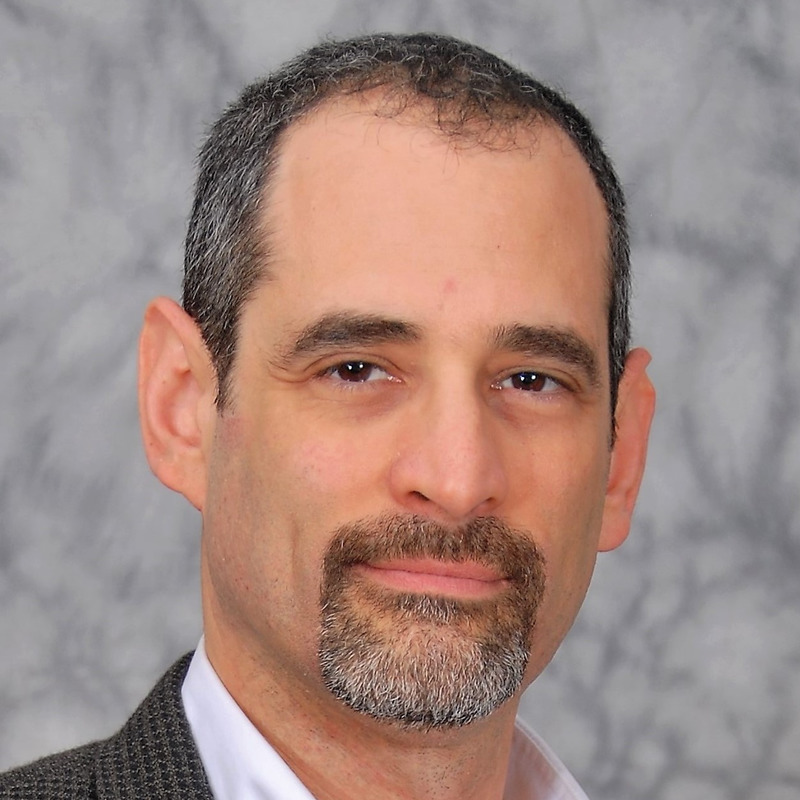 By Eric Brand
Director of Corporate Marketing, OurCrowd
Eric has been strategizing and creating targeted messages to diverse global audiences for more years than he cares to count, including at some of the top investment management firms in the world, such as Morgan Stanley, AllianceBernstein, and Brown Brothers Harriman. Eric has also been a writer/producer of network television shows, Managing Editor of Metropolis magazine, and a loading platform supervisor in New York's Hell's Kitchen.