At $228 trillion in global asset value,  real estate is one of the largest markets worldwide.1 Major players like Blackstone and ProLogis have assets under management in the hundreds of billions, while still only representing a fragment of the total market size. It's no wonder that investors have traditionally seized opportunities in real estate as a stable, age-old method of ensuring yields.
 And yet, much like other time-honored industries like agriculture, insurance, and banking,  the real estate industry is in desperate need of innovation. Commercial real estate is plagued by fractured ownership, with local reach, rather than best prices, serving as the defining factor in buying and selling. Brookfield Management, the largest asset management company in the world, still only holds $285B in AUM in 30 countries2, a drop in the bucket in the multi-hundred-trillion-dollar market. The industry still functions on a network of brokers and lenders that operate on personal connections, not industry data, meaning that willing lenders are not making deals in areas that are real estate rich but capital poor.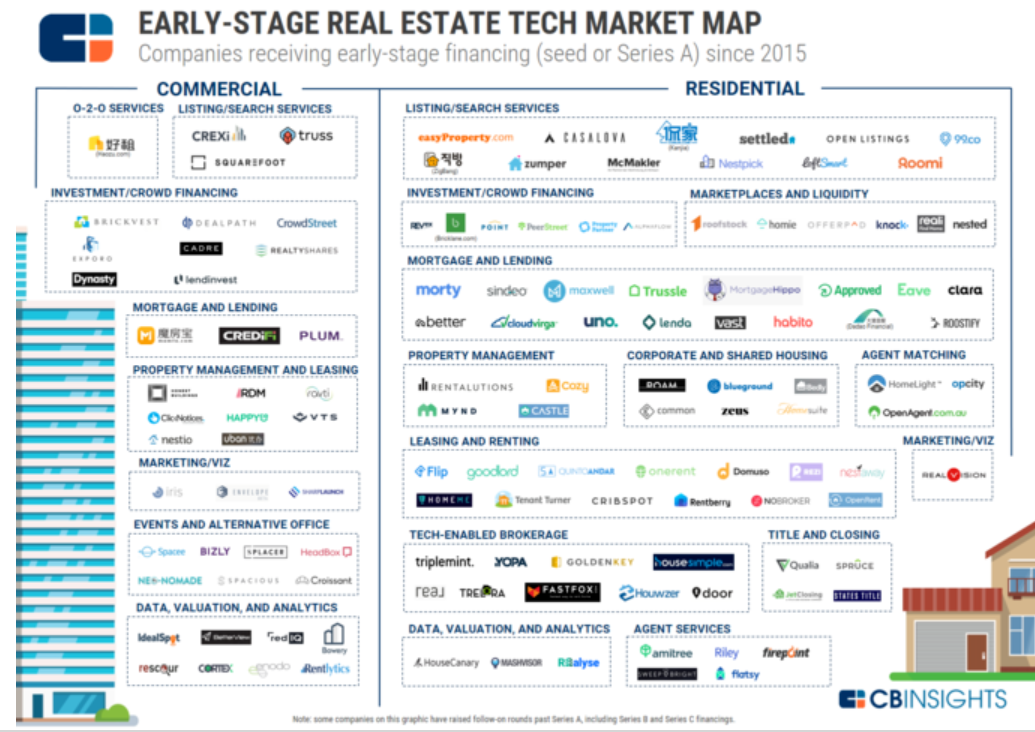 Furthermore, the industry still operates on the assumption that face-to-face meetings and stacks of paperwork entrusted to an individual is the only way to carry out high worth transactions. Commercial real estate is assumed to be a long-term game. Yet a new generation is rising, which has grown up making banking and business transactions online, and its members are more interested in interactions via text. This generation has proven willing to book vacations in the homes of total strangers with Airbnb, the third most valuable startup in the United States, wracking up 100 million stays3 this past year. The industry has also further embraced the sharing economy with the rise of coworking giant WeWork, valued at more than $20B, with 353 office spaces in 65 cities4 around the world.
Venture capitalists are already hedging their bets in real estate technologies. Private investing has proven to make larger returns over time, and angel investors are betting big;  over $5B of venture capital was deployed in real estate technology in 2017, a sharp rise from just five years ago, which, according to Pitchbook, just barely reached $79M in 20125. The draw of innovation through real estate tech, or proptech, may have to do with just how many sub-sectors it is applicable towards. Viable alternatives to property management services are rising, with RedAwning, Turnkey, and Vacasa, the latter of which raised $100M in Q4 of 2017 alone. Mortgage and investing tech, most notable being of course commercial real estate investors Cadre, which is valued at $800M6, is garnering speed, with over $1B under management. Platforms like blend and roofstock are also gaining a following to reshape lending and real estate management.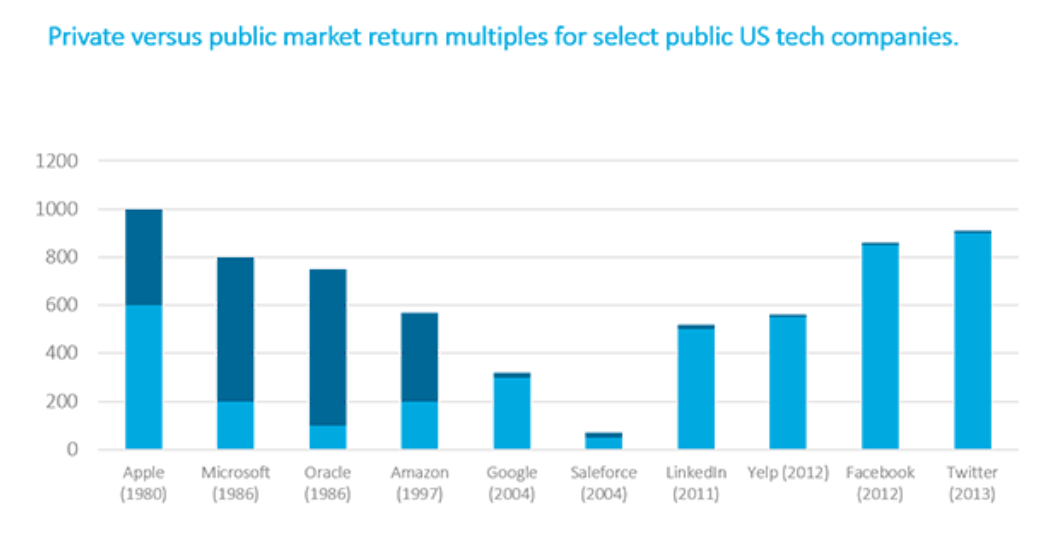 Real estate tech has evolved along two trajectories, complementary and disruptive. Marketplace and SaaS assistants complement the current market and streamlining a notoriously non-transparent industry, and disruptive, competitive technologies seeking to upend the traditional players in insurance, hotels, and brokerages. These two paths are providing an opportunity for new private investors to respond to the needs of the market, and more angel investors from the real estate world are joining their ranks.
It's just the Beginning for Real Estate Tech Startups
 WeWork and Airbnb are just two of the emerging forebearers of real estate technology as a sector. CB Insights recently released a map of early-stage companies that raised rounds since 2015. The breadth is astounding, listing over 120 companies7 from commercial services, smart search and listings, mortgage and lending, property management and leasing, to marketing, startups are engaging with the real estate market, creating innovation at every level. The potential is obvious, and companies like Zillow and Trulia have proven that the real estate tech model can grow. Redfin's higher than expected IPO at $15 per share8, and exits like ForRent9 for $385M are indicating a lucrative time to get in on the ground floor. It is time for real estate investors to also begin deploying capital in these companies to define their own future.
Lemonade: Tackling Bureaucracy, One Policy at a Time
Lemonade is tearing up the rulebook for homeowner and renters insurance. In contrast to traditional local players, Lemonade has licenses in 25 states, while using AI and behavioral economics to build data-driven insurance models. The application process and claim filing happen entirely on their app, replacing traditional agents with smart interactive chatbots that get more accurate with machine learning.
 According to CrunchBase, the company has raised $180M to date, and are on an explosive growth trajectory. In 2017, co-founder and CEO Daniel Schrieber told Bloomberg10 "We'll end this year around 90,000 customers, and our target for the year was 13,000." Their 2018 projections are even higher, as they further expand their licensing in additional states.
Credifi: Giving Access to More than Hyper-local Real Estate Investing

Credifi rejects the commonplace acceptance of commercial real estate investing as inaccessible without hyper-local knowledge. Instead, it offers financial data and analytics for markets across the U.S. and has even created its own credit score based on owner-level analytics.  They claim to monitor over 200 billion data points, centralizing information that automatically updates in real time, making the state of the lending market transparent for every level, from tenants to banks.
Recently, they have taken their database further, launching CredifX11, their entirely cloud-based marketplace for commercial real estate financing, used by borrowers, brokers and lenders across the United States. Credifi is quickly becoming the go-to data source for commercial real estate, and is developing new products to leverage that knowledge in profitable ways.
Amitree: Bringing Automation to Real Estate Transactions

While disruption has brought a lot of attention to the possibilities in real estate tech, many young startups are simultaneously aiming to assist the current market's state of affairs, offering complementary products for agents and brokers. These new tools are allowing players to compete with the uptick in automated processes and online transactions. For example, augmented and virtual reality companies are being harnessed to create lifelike models of potential spaces that can be accessed hundreds of miles away, and data mapping and AI are providing a smoother workflow for buyers, renters, and agents.
Amitree is tackling agent productivity by providing them with a management tool used by both home buyers and the agent. Their browser extension, Folio, holds the hand of the buyer through automated email processing, step-by-step management, and document filing, provides transparency from pre-contract until closing. CEO Jonathan Aizen told TechCrunch, "The best pathway to a better buying experience comes from empowering the real estate agent." The company has managed more than 200,000 transactions to date, about 5 percent of all real estate transactions in the U.S.
Agentology: Enabling Broker Productivity, Instead of Replacing Brokers

Agentology, founded by former online real estate brokers David and Avi Tal, is also complementing the work of brokers with an easy-to-use, sales productivity platform. The software qualifies and provides lead engagement, not replacing, but optimizing agents' time and productivity. Agents can also sell listings to other agents easily, and focus on the listings they prefer.
The software is being quickly adapted. Having just completed a round of funding, Agentology recently announced an affiliate agreement with the franchisor Realogy, whose sub-brands include Coldwell Banker, ERA Real Estate, Better Homes and Gardens and Century 21, introducing the platform to the 192,000 agents.
 enVerid: Saving Energy and Costs for Commercial Real Estate

 Commercial real estate spending is also being addressed by new technology. Reducing the cost of energy while improving leaser's wellbeing is where Enverid, an innovative HVAC (Heating, Ventilation, and Air Conditioning)  system, that sees savings upwards of 20-40% on heating/cooling energy costs in commercial buildings, and ensuring better air quality indoors, steps in. These companies are making spaces willing to adopt new technology attractive to potential buyers in a crowded market.
To see these companies and other investment opportunities, sign up or log in to your OurCrowd account.
 ———————————————————————————–