It's been a busy few months at OurCrowd! Throughout July-August-September OurCrowd has hosted numerous events worldwide and we wanted to take a moment to look back at where we were, who we invested in and see where we're going to be next quarter.
We're so proud of what the OurCrowd community has accomplished over the past three months — from events hosted to the companies funded — and are looking forward to continuing on this journey together in the months to come.
Without further ado, here is a glimpse into all the excitement happening at OurCrowd:
Where We've Been
Over the course of the past three months, OurCrowd founder & CEO Jon Medved and team members have traveled the world, hosting various events with the CEOs of our latest startups and guest speakers.
We've held a total of 14 events, in 10 different cities, across 4 continents!
In case you missed them, here are some event highlights:
July 1st – Kicking off the quarter, OurCrowd held an exclusive investor event in Paris, France. Hosted by Ayache Salama & Associés, attendees enjoyed a nice breakfast and heard Denes Ban, Venture Partner at OurCrowd, discuss the Startup Nation and investment opportunities.
August 3rd – OurCrowd investors joined Danna Hochstein Mann, Partner at OurCrowd, and the founders of our newest portfolio companies at the LeumiTech offices in Tel Aviv, Israel.
August 7th – OurCrowd co-hosted an event with 1776 about "The Life of a Startup, Power of the Crowd." Andrew Scharf, Vice President of OurCrowd, presented and moderated a panel with representatives from 1776, local startups and VC Funds.
August 21st – OurCrowd's team in Australia, based out of our Sydney office, attended the Silicon Dragon Ventures Startup Asia Sydney 2014 conference.
September 16th – In recognition of the recent successful IPO of OurCrowd's portfolio company, ReWalk, the team members (and some OurCrowd representatives) were honored by ringing the opening bell at the Nasdaq.
September 18th – OurCrowd held its first Summit for accredited investors – "Weathering the Storm: The Resilience of Israel's Tech Sector"– in NYC. At the event, Jon Medved (CEO, OurCrowd), Elan Zivotofsky (Head of Deal Flow, OurCrowd), and Gadi Mazor (CTO, OurCrowd) gave a briefing on the Israeli economy during conflict and discussed how Israel is a nation of risk-takers and entrepreneurs who have learned to flourish in times of unrest.
Upcoming events
Entering the fall season, we have a number of events scheduled around the world and an exciting slate of new deals on the OurCrowd platform. Take a look at our October events schedule. We hope to see you at one of our upcoming events!

Click here to register.
Who We Funded
Over the course of the past two years, OurCrowd along with our community of 5,000 investors have invested $65 million in our 50 portfolio companies. This unprecedented access to early stage investments has made startups an investable asset that is now being included in individual investor portfolios, just like stocks and bonds.
Throughout the last few months OurCrowd investors have funded 7 companies: Milla, BriefCam, PowWow, Covertix, EdenShield, BT9 and MentAd.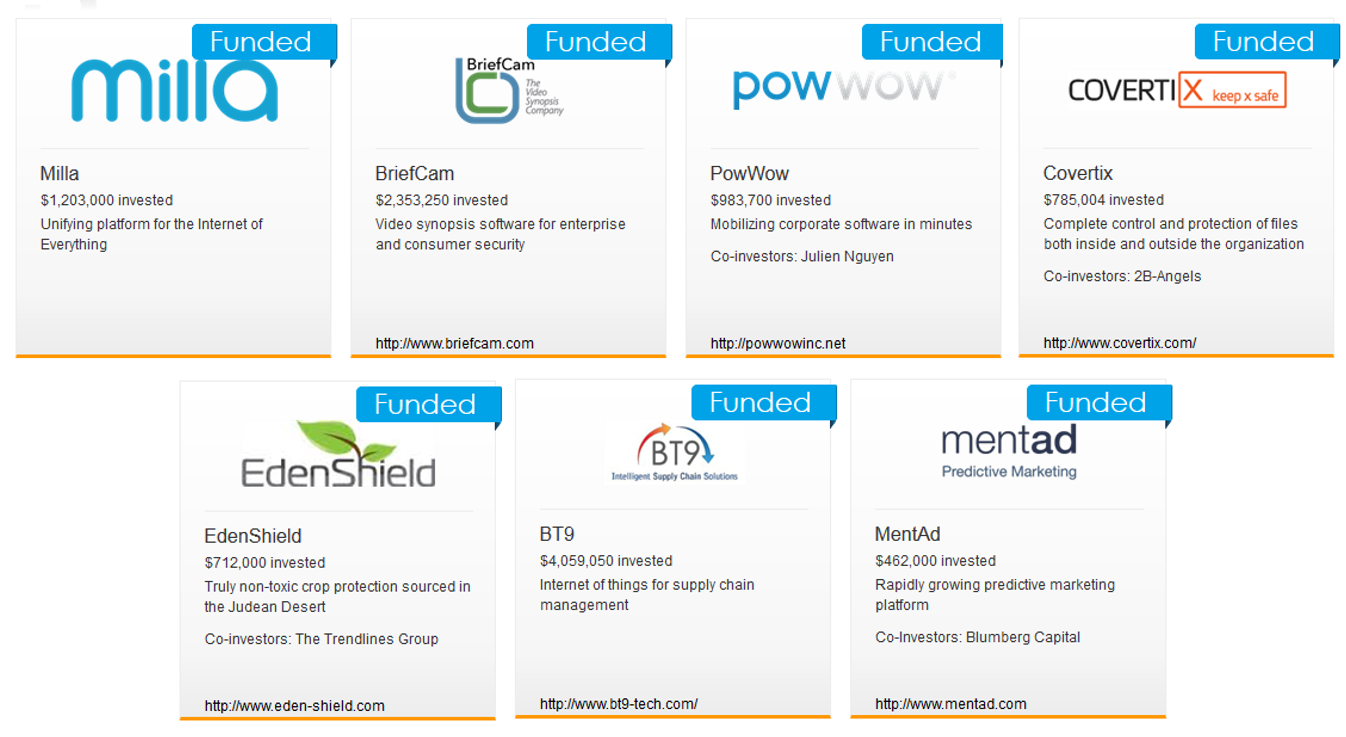 For a sneak peak into the current investment opportunities on OurCrowd, check out the latest edition of our monthly digest of our funding companies.
Next Steps
We always look forward to seeing our investors, old and new, at our events and conferences. If you have any questions or you would like to discuss other events and activities on the OurCrowd platform, please contact Investor.Services@OurCrowd.com.
Want to stay up to date on the latest innovations out of Israel, new technologies, rising-star entrepreneurs, and must-attend events? Sign up for OurCrowd's weekly newsletter here.