This guest post was written by Winslow Swart and originally published on The Rivard Report and on the author's website. Winslow Swart is the Director of Strategic Partnerships at Geekdom and Chief Inspiration Officer at Winslow Consulting, with technology clients in San Antonio, Austin and San Diego and offices at Geekdom. Swart is the author of "The Resilient Leader". @OrgDevSensei
There is a rare and disruptive chain of genetic code in the human DNA – entrepreneur. Only half of those who possess this anomalistic signature are aware of its power, for the other half it remains to be discovered or never uncovered. Now one of San Antonio's most celebrated entrepreneurs, Rackspace co-founder and chairman and Geekdom founder Graham Weston, has teamed up with friend, branding expert and author Bill Schley to spread their shared version of the entrepreneur's gospel message.
Attention, business school applicants: You might want to read The UnStoppables before enrolling and taking on all that college debt. Both Schley in the body of the book and Weston in the Foreword suggest the key to unlocking an individual's entrepreneurial spirit is more likely to be discovered outside academic halls and right in the crucible of a startup company or in the learning laboratory of a technology incubator (easy for us college grads to say, now). Geekdom, only 18 months old, already has more than 600 members, more than most business schools in San Antonio.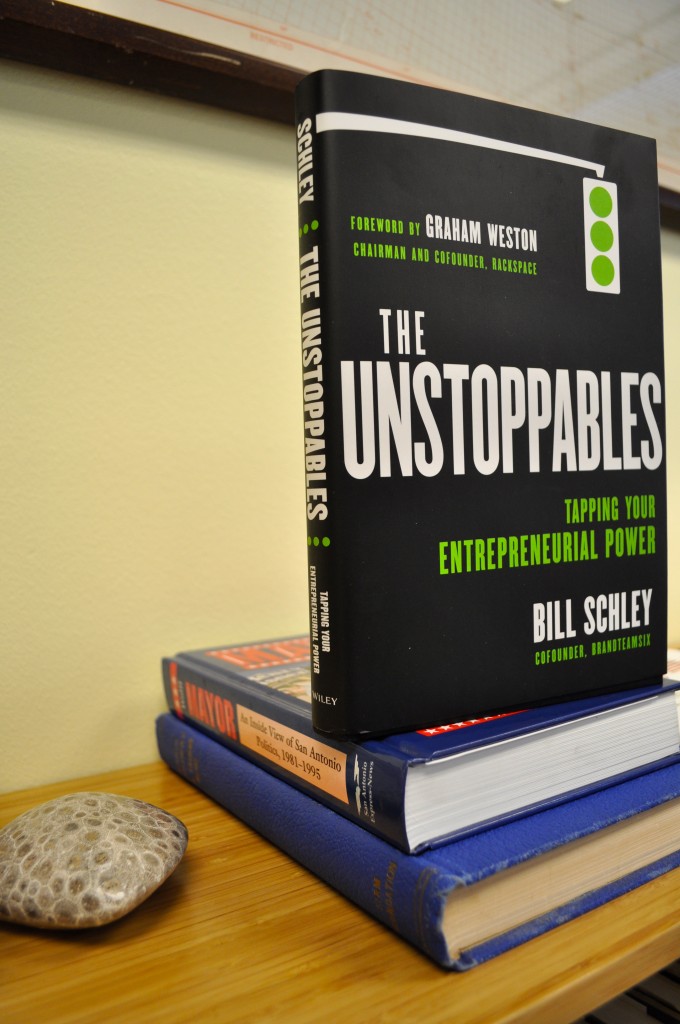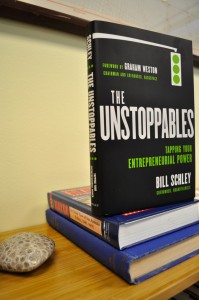 For business-minded readers in San Antonio who don't get Geekdom, or are simply tired of all the media attention its has garnered, the book will give you an inside look at Weston's often unconventional approaches to business, investing and philanthropy.
To simplify, if he doesn't see his money playing a transformative role, he doesn't play.
Schley, who hasn't worked for anyone other than himself for years, earned his chops as a young copywriter on Madison Avenue in the "Madmen era." He learned from the masters and then spread his own wings. He's convinced that fear of failure keeps most people from awakening their entrepreneurial talents, and for those who do embrace, poor team building and other fundamentals often dooms long-term prospects of success.
Weston and Schley are friends, dating to a time when Weston happened across one of Schley's previous books on branding, Why Johnny Can't Brand, and brought him into Rackspace as a consultant. Both believe the United States is losing the global battle that it should be winning to reinvent the economy on the shoulders of entrepreneurs. This is what Weston calls the "source of his obsession."
Reading The UnStoppables once through will help you gain rare insights into the workings of entrepreneurial success. Reading it twice will very likely help you become a successful entrepreneur. I'm not kidding. This is an up-to-date MBA with enough organizational psychology and real-time experience to make it stick – all in just 227 pages (it just doesn't include all that financial and operational management stuff, so you will have to hire or outsource for that). As an organizational development consultant, I already plan to rip-off several key concepts to share with my colleagues and customers – giving the authors full credit, of course. The UnStoppables offers some newly sharpened arrows for our entrepreneurial quivers, ones that should be launched sooner than later (as Schley and co-author Jim Clifton point out in The Coming Jobs War), as this nation is in a global war for economic and moral leadership.
Most business leadership books get the first three chapters read. This is a cover-to-cover read. The UnStoppables has all the true grit of a real action adventure novel, perhaps because what Weston calls his "shared quest" with Schley took them across the country, over to Israel, and even into the secret world of Navy Seals, always looking for what triggers the human spirit to take big risks, trust team members, and push to create something out of nothing.
Their conclusions: Convert fear into motivation, individual team strengths into fluid dynamics and shared purpose, suspend ego, build trust and win the battle for hearts and minds with the most formidable weapon known to mankind – love.  Yes, love. There's lot of attention to Fanatical Support, the mantra and core competency of Rackspace and its employees, known as Rackers. Pitted against some of the world's biggest corporate names – Amazon, Google, IBM – Rackers love their company, love their customers, and are loved back.
On a less emotional scale, Schley serves up other insights into the entrepreneurial mode of work, such as employing Power Sets and micro-scripts to enable vision and belief to prevail, even when the primordial impulses of the amygdala attempt to shut us down, give up on our dreams and just go get a job.
The UnStoppables presents a model that is clear, and in a learnable format that is easily applicable to a 1-4 person start-up or a young but established company in any industry. The team building examples drawn from Navy SEAL and Israel Defense Forces training, and the corporate war-stories direct from the front lines of technical support and technology incubators, breathe life and energy into often dry treatments on strategic planning, culture building, and market penetration. The difference between Navy SEAL teams and high-performing workplace teams is subtle and, according to Schley, in many ways indistinguishable. Whether in business or in battle, we all rely on each other in a high-stakes environment where lives depend upon our success and failure. The difference between operating a small start-up and a multi-billion dollar company can also be a fine line, Schley argues. His "Piper Cub Principle" suggests the same fundamentals required to fly a small plane are identical to those needed to fly a 747.
The book is full of big picture/small picture analogies that allow CEO power to emerge from the avid student of The UnStoppables philosophy, by drawing upon the same emotional mechanics, even when context or scale shifts. The book lays out the key intangibles of organizational success; people (true teams), customers (oxygen), markets (being famous), and links the tangible success factors of product, service and revenue in convergent prose. The UnStoppables is not the authorized biography of Rackspace, but it does explore Rackspace's road to global competitiveness. Schley examines Rackers from their early start-up days – weathering the storms of two economic melt-downs (9/11 & 2008/9) to sustaining their original high-touch mojo, Fanatical Support, and becoming a still fast-growing, billion dollar-plus, 5,000 employee company.
The stories shared by Weston and Lorenzo Gomez, an early Racker who went onto become the first director of Weston's 80/20 Foundation, his philanthropic arm, illuminate how Rackspace's success is rooted in the fact that once the company stumbled on to its real place in the market, as a service-driven web hosting company, it never deviated from its core. This ideal is further emphasized in the notion that an innovator's great idea or new technology, no matter how cool, might, in fact, fail if customers do not see the value. This should be heartening for all those who have pitched Yossi Vardi in Tel Aviv or Nick Longo at Geekdom and have received similarly honest feedback. The real magic lives in the heart of the founding team. TechStars' 5 steps to evaluating a startup is captured within a straightforward mantra, "Team, Team, Team, Market, Idea."  The last one, according to Brad Feld, is just for effect.
I'm sharing the book with the folks I work with at City Hall, as they prepare to launch Café Commerce, the Kaufman Foundation-inspired incubator for entrepreneurship. My hope is that the book, and Brad Feld's StartUp Communities, will serve as references and framework.