OurNetwork Q3 Innovation Report: Partnering with Corporates is Not an Option, it's a Necessity
By Matan Bordo, The Junction by F2 Capital
The following is an excerpt from the OurNetwork Q3 Innovation Report, downloadable here.
"Corporate Innovation" is a phrase that has been thrown around a great deal over the past decade. For many reasons, it has become obvious to global corporations that an innovation model that relies solely on the R&D department or innovating internally will lead them on the path towards obsolescence.
This relatively newfound sense of urgency among corporates is prevalent due to various factors — one being that the cost of launching a startup decreased by 99.9% from 2000 to 2011. This paved the way for the widespread acceptance and practice of the "Lean Startup" methodology, introduced in 2008, within entrepreneurial communities — and even conglomerates like GE — around the world.
Sometimes, corporate innovation is real and has yielded tremendous outcomes for both the startup and corporation. On other occasions, it is just fluff — what CB Insights correctly dubs as Corporate Innovation Theatrics (introducing open floor spaces, trips to Silicon Valley to demonstrate that your firm embraces startups, emblazoning "Innovation is in our DNA" across your "About Us" section, etc.).
As the average lifespan of successful companies shrinks to an all-time low, one thing is clear: successful companies don't adapt, they prepare. Nobody wants to be the next Blockbuster, MySpace, or Kodak, which went from 170k employees and 85% market share in 1998 to having their business model completely disrupted by digital in three short years.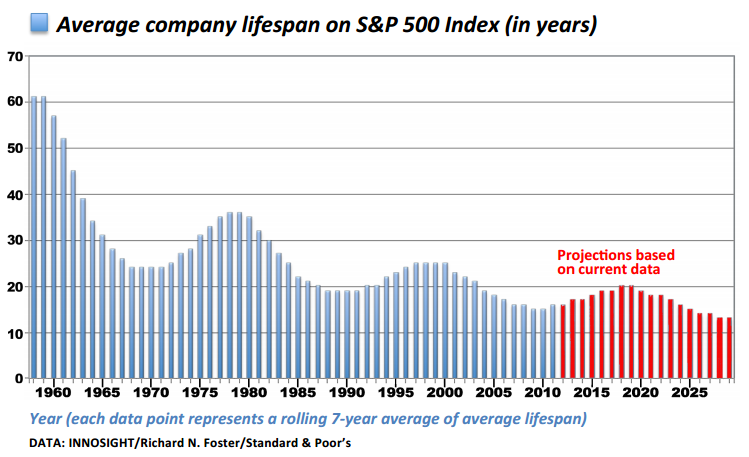 There are, of course, many reasons where corporates and startups working together would be a recipe for disaster that are oft-mentioned. These are boiled down to cultural dilemmas — a prime example is the corporate "bear hug" of startups, where corporate processes and 100-page "Terms & Conditions" sheets end up stifling the startup's autonomy and freedom of action.
However, as growth in Deep Technology (AI, Machine Learning, Drones/Robotics) startups begins to surge —  the number of AI startups in Israel alone has nearly tripled since 2014 — the imperative for startups and corporates alike to work through these cultural differences is more critical than ever.
The Case for Startups
The "lean startup" methodology doesn't apply to Deep Technology startups…yet. Due to its blending of science and technology, they face unique problems that a majority can't simply solve from their garage or with the help of a group of mentors.
These problems, according to a BCG Research Report on Deep Technology Startups, can be boiled down to (1) a protracted time-to-market, (2) complexity of new technologies, and (3) a crucial need for capital early on.
The first two problems can be — at least partially — remedied via partnering with corporates, as AI & Machine Learning startups need large amounts of data to train their algorithms & execute on their vision — and corporates have a substantial supply of it. Additionally, finding that "killer app" or product-market validation can be achieved via commercial pilots with large companies.
The complexity of the technologies involved and the deep expertise of the teams required also necessitates the demand for more capital early on than mobile startups of the past decade. The dilemma is that as the size of Series A rounds have increased so have the milestones required to obtain that money. This has made raising money an even more hellish experience than it already is for Deep Technology startups, considering that many require expensive equipment to experiment and prototype.
The Case for Corporates
In 2016 alone, according to a recent McKinsey Global Institute Study, tech giants including Baidu and Google spent between $20B to $30B on AI, with 90% of this spent on R&D and deployment, and 10% on AI acquisitions.
According to McKinsey, "AI's dependence on a digital foundation and the fact that it often must be trained on unique data means that there are no shortcuts for firms. Companies cannot delay advancing their digital journeys, including AI."
The roadblocks towards corporate innovation in this new technological frontier are, of course, the same as they have been in the past — lack of support from C-level management, innovation-hindering corporate processes, and more — but the implications, like with the introduction of digital and social media, are the same.
Early adopters who've already begun marching on the path towards AI development and capabilities are starting to build competitive AI moats via data network effects. Eventually the gap will be too wide for those arriving late to the AI party to catch up.
How We Facilitate Corporate Innovation
Unique among early stage investment vehicles for the breadth of its network, F2 Capital maintains strategic partnerships with global giants like HP, SAP, Munich Re, Enel, Deloitte, as well as broader corporate partners eager to facilitate "win-win" commercial pilots. For startups at the cross section of Big Data, Artificial Intelligence, and Connectivity, this translates to access to huge data sets and global customer traction.
As part of its core investment strategy, F2 Capital also set up and operates The Junction, a six-month execution platform (and Israel's first commercial accelerator) for deep technology startups. Corporate partners are heavily involved in the selection process of the 5 startups that participate per wave for the program — from initial scouting to interviewing and ultimate selection. Partners then influence the development roadmap to ensure resources are prioritized for the biggest commercial opportunities.
This unique model for corporate early stage collaboration has seen the development of new forms of insurance, digital transformations of supply chains, and next generation cybersecurity solutions developed and deployed with end customers. F2 Capital provides $100,000 to each company to cover the practical expenses of flights, as well as R&D, and stands ready to deploy roughly 10x more capital in the next financing round of companies that execute and validate their product market fit.
Wrapping It Up
Despite the very real threat of being made obsolete for not innovating fast enough, conditions are ripe for win-win partnerships and the opportunities are out there. While 95% of 400 deep technology startups surveyed by BCG wish to develop long-term corporate partnerships, only 57% have done so. We believe that the latter percentage will climb to meet the demand for partnerships, and aim to expedite the growth of these partnerships in Israel.
Interested in more content like this? Download the Innovation Report here.